Popular, easy to grow bulbs for containers and pots
Growing flower bulbs in containers is a great way to brighten up your backyard or balcony.
If you have limited garden space or a shady backyard, container bulbs are perfect.
You can move the pots around to catch the sun and if you move house, you can easily take your potted bulbs with you.
Using flower bulbs that bloom at different times means you'll have flowers for a longer period of time.
You can also add some annual seedlings, like primulas, violas or alyssum to your containers for extra color.
This post about flower bulbs for pots contains affiliate links. Please read the disclosure for more info.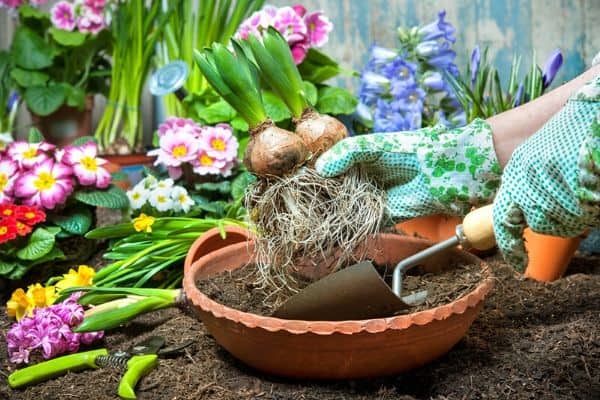 The key to a successful container garden, especially when planting bulbs, is to make sure your containers have good drainage. Most bulbs will rot if the soil is overly wet for long periods.
It's also a good idea to ensure that your bulbs don't touch the edge of the pot as it can get hot and damage the roots of the plant.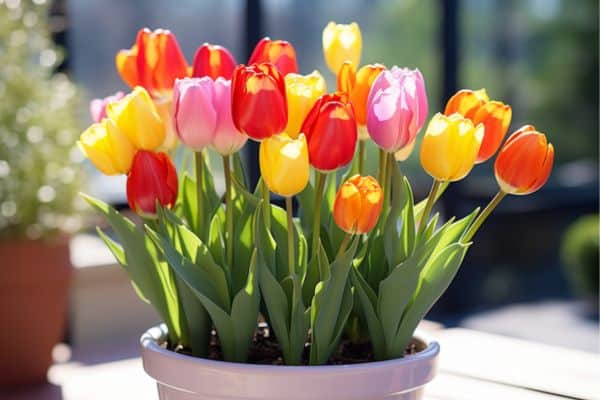 10 BEST BULBS FOR CONTAINERS AND POTS
1. Tulips
Tulips are one of the most popular bulbs for containers and pots.
In cool areas, the bulbs can be stored in a cool, dry place before planting or in warmer areas they can be stored in the refrigerator.
The best time to plant tulips is in early fall for spring blooms.
Water them after planting and you won't need to water them again until spring.
Tulips grown in containers will bloom at the same time as those planted in the ground.
Once the flowers have faded, you can transplant the bulbs into your garden.
RELATED: How to Make Tulip Flowers Last Longer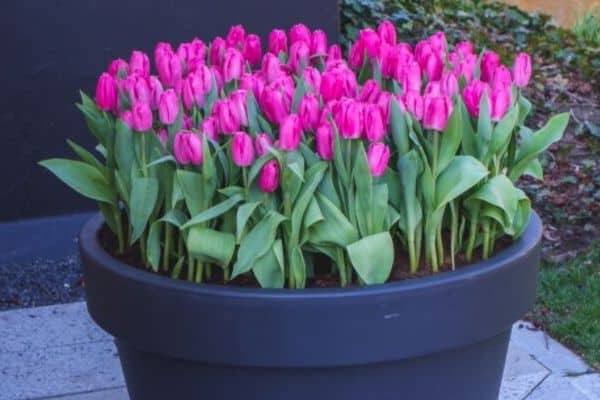 2. Hyacinths (Hyacinthus)
Hyacinth bulbs
can be planted in fall for beautiful spring flowers in a variety of colors including blue, purple, pink, cream and white.
Hyacinths have sturdy foliage, which means you can get away with shallow planting in containers.
After Hyacinths are finished flowering in late spring, the flower stalks can be cut back, but the leaves should be left to die off naturally.
The foliage helps the Hyacinths to gather energy for the next year's flowers.
Important Note: Hyacinth bulbs contain oxalic acid, which can irritate the skin.
It's a good idea to wear gloves if you're working with Hyacinth bulbs for long periods.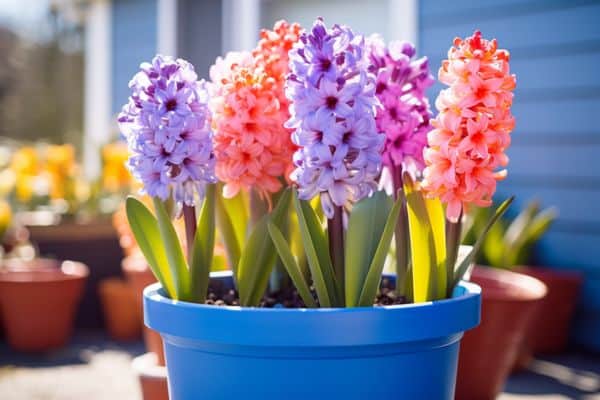 3. Daffodils (Narcissus spp.)
Daffodils
are beautiful, bright, spring flowering bulbs that come in a range of colors including yellow, white and cream.
They grow best in cool to temperate climates but they can also be grown in warmer areas as an annual.
After the plants have finished flowering and the foliage has died off, the bulbs can be removed from the soil and stored in a cool, dry place for the next year.
RELATED: 10 Beautiful Yellow Perennial Flowers
4. Crocus (Crocus sativus)
Crocuses are popular perennials with blooms in a variety of colors including yellow, purple, pink, red, orange and blue.
Crocus bulbs
, or corms, can be planted in fall and they will flower in late winter and early spring.
They're frost tolerant and will grow well in full sun or part shade.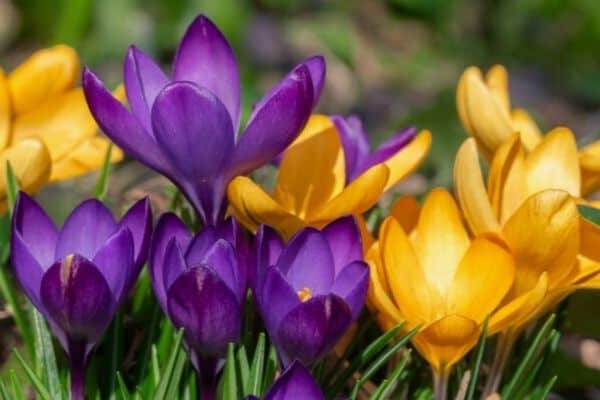 5. Iris (Iris germanica)
Irises
come in a variety of colors, including blue, violet and deep purple.
Irises will bloom best in full sun. They can tolerate partial shade, but without enough light, they won't bloom.
The rhizomes should be planted horizontally with the top exposed. In hot climates, the rhizome can be planted just below the soil surface.
Irises are frost hardy, deer resistant and can reach 2 – 3 feet (60 – 90 cm) in height.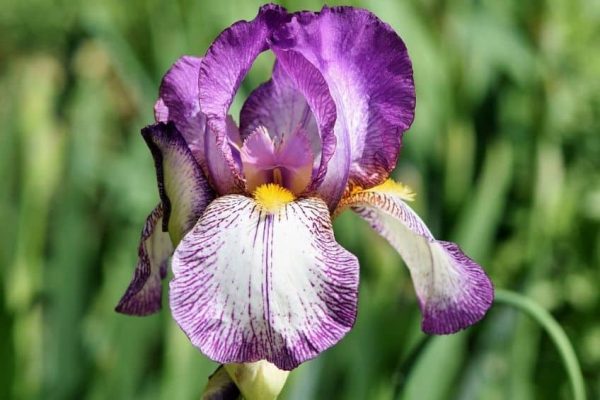 6. Millenium Flowering Onion (Allium Millenium)
The Millenium Flowering Onion
is an easy to grow bulb that has grass-like green foliage and rich purple sphere-shaped blooms.
Alliums should be planted 3 inches (7 cm) deep and 6 inches (15 cm) apart.
They flower in mid-summer and can grow from 15 – 22 inches (38 – 56 centimetres) in height.
Alliums can be grown in partial shade but develop stronger stems in full sun.
RELATED: 15 Purple Perennial Flowers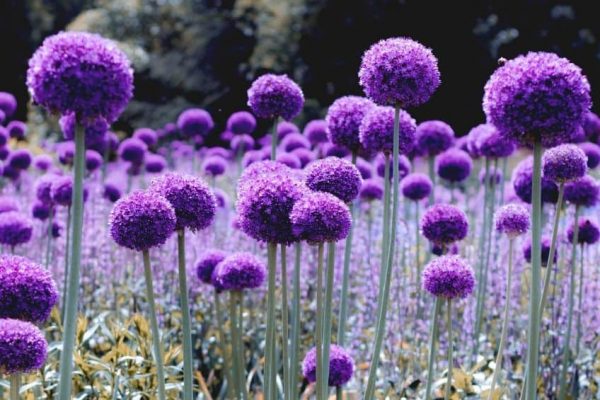 7. Winter Aconite (Eranthis hyemalis)
Winter Aconite
is a beautiful yellow, winter flowering plant.
Technically, Winter Aconite is a tuber, not a bulb. The tubers store moisture and food for the plant's growth and survival over the winter just like bulbs.
Winter Aconites should be planted in late fall and they need to be well-protected from harsh winter weather, so plant them about 5 inches (12 cm) deep from the base of the tuber to the surface of the soil.
RELATED: How To Grow Winter Aconite Flowers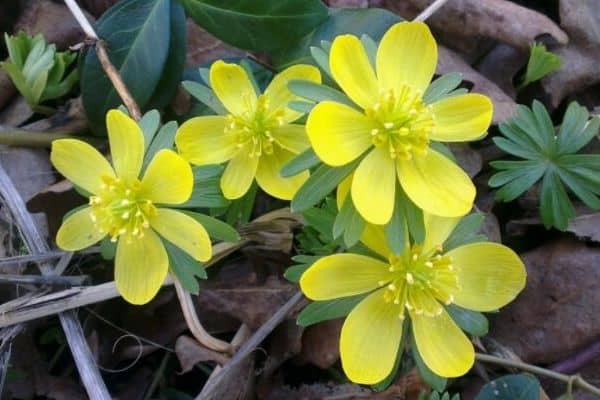 8. Belladonna Lily (Amaryllis belladonna)
Belladonna Lilies
are easy to grow, late-summer flowering bulbs.
They have long stems with trumpet shaped flowers in white, red and pink colors.
The teardrop-shaped bulbs should be planted with their tips just at the surface of the soil.

Belladonna will grow well in a container in full sun with well-drained soil.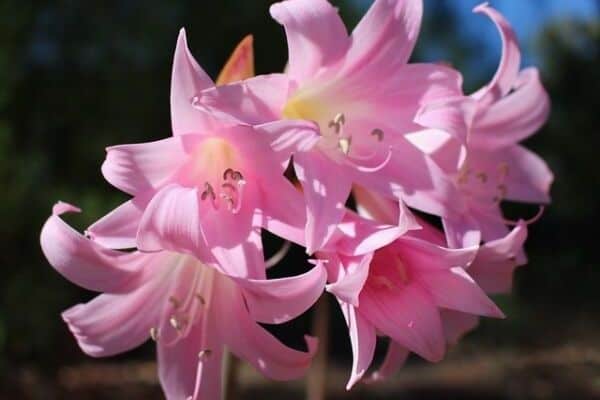 9. Anemone
Anemones are beautiful, brightly colored flowers that are perfect for pots and containers in a sunny spot in your yard.
They produce a succession of flowers over spring and can produce up to 20 flowers per bulb.
Anemone bulbs
benefit from being soaked in water overnight to help them grow. [1]
Anemones should be planted 1 – 2 inches (2.5 – 5 cm) deep and 1 – 2 inches apart. It doesn't matter which side of the bulb is facing upwards.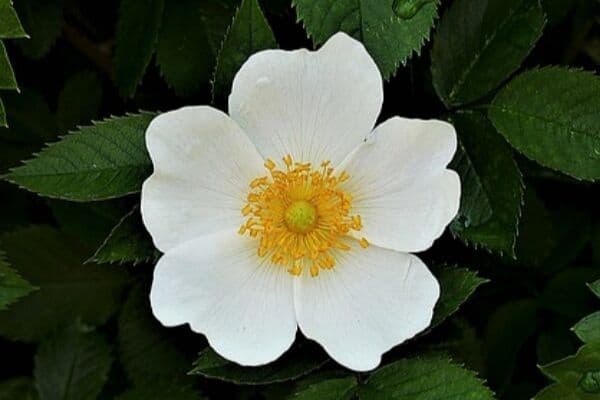 10. Bluebells (Hyacinthoides)
Bluebells are common British woodland flowers but they can also be grown in containers.
Bluebell bulbs
should be planted at least 4 inches (10 cm) deep and grow best in shady spots or partial sun.
Once they've finished flowering, the bulbs can be lifted and planted elsewhere in the garden.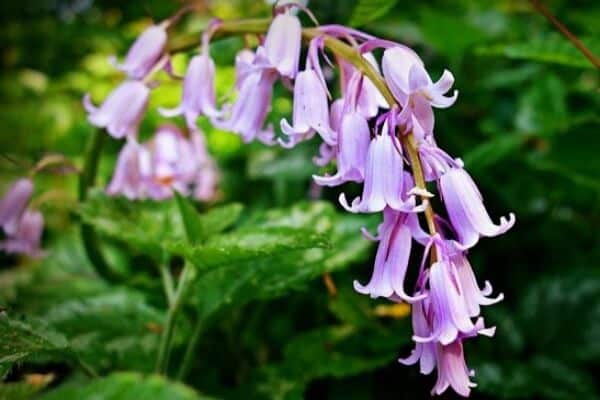 So, that's my list of popular bulbs that can be grown in containers and pots.
Here's a quick video that shows how to plant tulips in containers to make a beautiful floral display. I think you'll like it.
RELATED ARTICLES
Have you tried growing bulbs in containers? Let me know in the comments below.
Are you on Pinterest? I have boards dedicated to Flower Gardening and Container Gardening that you may enjoy. You can also find me on Facebook.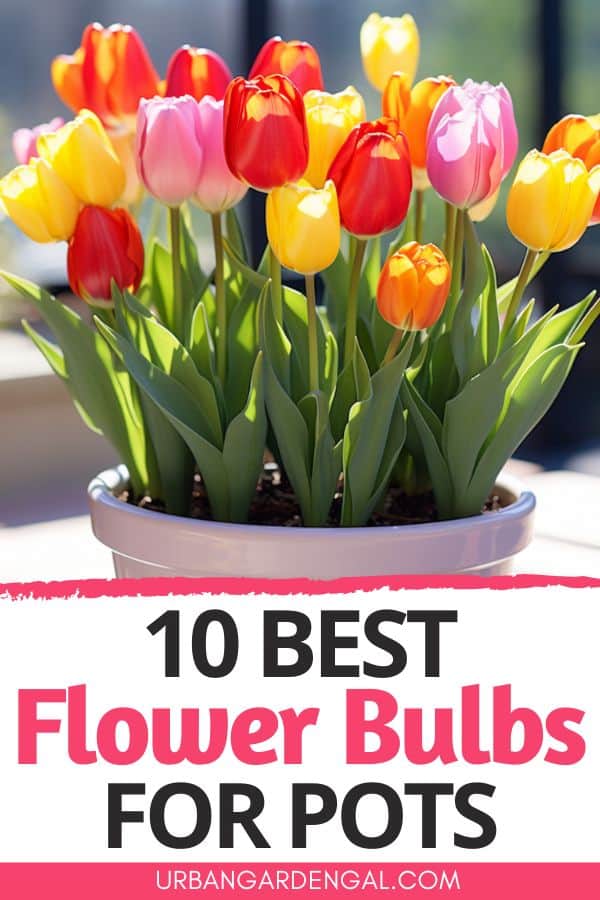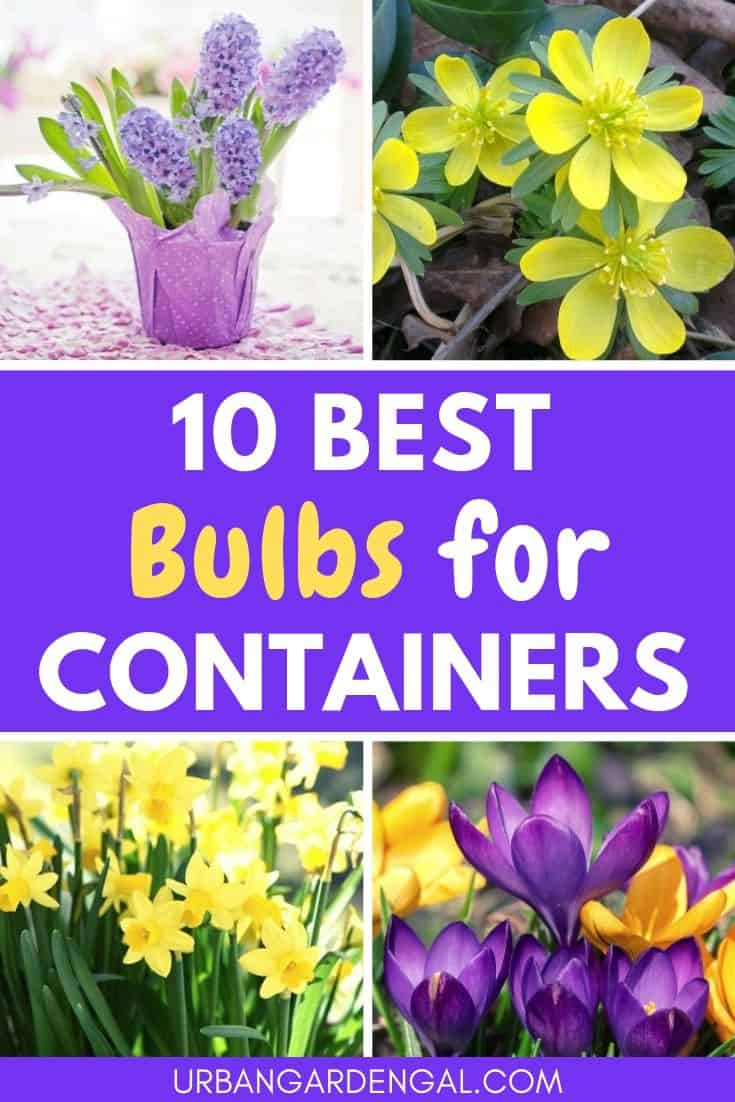 Best bulbs for pots and containers