Most people have seen beautiful pink or white peony flowers, but did you know there are peonies available in just about every shade of the rainbow?
If you love peony flowers, you're sure to find some beautiful options on this list of colorful peonies.
This post about peony colors contains affiliate links. Please read the disclosure for more info.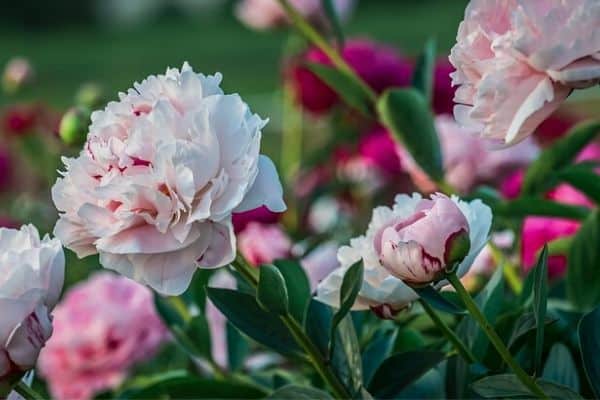 Peonies are gorgeous perennial flowers that are best suited to areas with a cool winter climate.
This is because cold winter temperatures help the flower bud to develop.
Peony flowers are available in different forms including:
Herbaceous peonies that grow 2 to 4 feet (60 to 120 cm) tall and bloom in late spring / early summer.
Tree peonies can grow up to 5 feet (1.5 m) tall and wide but they don't need staking.
Itoh peonies are a cross between tree peonies and herbaceous peonies. They grow up to 2.5 feet (75 cm) tall and bloom for about 3 weeks. [1]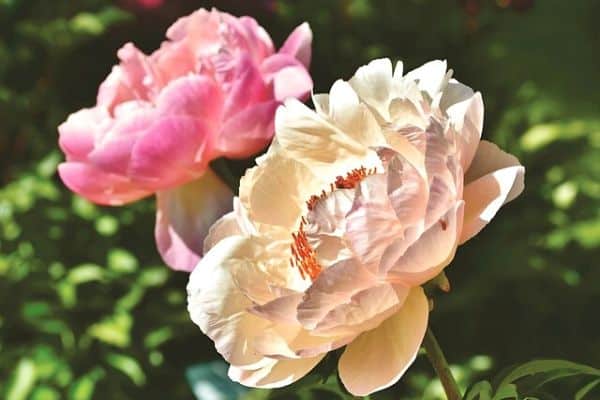 PEONY COLORS
Pink Peonies
There are many different shades of pink peonies ranging from delicate pastel pink to bright pink.
Madame Emile Debatene
is a beautiful pink peony that grows up to 2 feet (6o cm) tall and spreads out 2 to 3 feet (60 to 90 cm) wide.
It grows best in full sun to partial shade and prefers moist, well drained soil.
Alexander Fleming
is another beautiful pink peony.
It has large, rose pink double flowers which are a paler pink towards the edges.
It's a herbaceous peony that can grow up to 3 feet (90 cm) tall.
White Peonies
White peonies are popular flowers that are often used for wedding bouquets and decorations.
There are many off white, cream, blush and coral shades of peonies so there's one to suit everyones' taste.
Festiva Maxima
is a white double peony with red flecks on the petals.
Red Peonies
Red peonies really stand out in the garden and they can range from dark red to bright red or burgundy.
Mudanji
has large bright red flowers, while Miami
is a dark burgundy tree peony.
Yellow Peonies
Yellow shades of peonies can include pastel yellow, butter yellow and lemon.
The yellow shades are great for brightening up the garden. A vase of yellow peonies also looks great indoors.
Orange Peonies
Bright orange colored peonies are another great option to brighten up your flower beds.
There are some beautiful shades of apricot, peach and bright orange peonies to choose from.
Purple Peonies
If you love purple you're spoiled for choice with gorgeous violet, lavender, purple/pink and deep purple colored blooms.
If you're looking for blue peonies there are shades of purple that come close to blue.
Bicolored Peonies
Another great option is to choose bicolored peonies in cream and pink or pale pink and dark pink.
Growing Peonies
Peonies are usually sold as bare root tubers but they can also be grown from seed.
Growing peonies from seed will take a lot of patience though because it can take up to five years for the first flowers to appear.
Choose a sunny spot in the garden that is protected from strong winds and keep the soil moist but not overly wet.
Making peony flower arrangements
The best time to cut peonies for flower arrangements is just before the bud starts to open.
Cut the flowers in the morning and place them in a clean vase away from direct sunlight.
A vase of colorful peonies is sure to brighten up your home.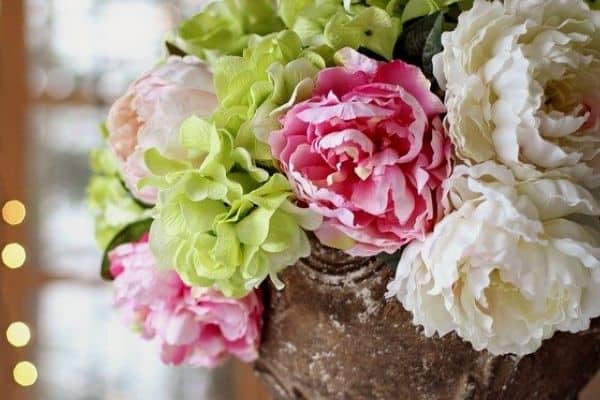 So there are some beautiful shades of peonies to include in your flower garden.
Whether you choose just one color or a combination of different colors, you're sure to have a gorgeous looking flower bed.
RELATED ARTICLES
Which color peony do you like best? Let me know in the comments below.
Are you on Pinterest? I have boards dedicated to Flower Gardens and Perennials that you may enjoy. You can also find me on Facebook.
Don't forget to pin this post so you can come back to it later.
Peony flower color guide