Cheerful yellow perennial flowers to brighten up your garden
If you love the color yellow, there are many different perennials with yellow flowers that you can plant in your garden.
In this article I've put together a list of the most popular yellow perennials.
This post contains affiliate links. Please read the disclosure for more info.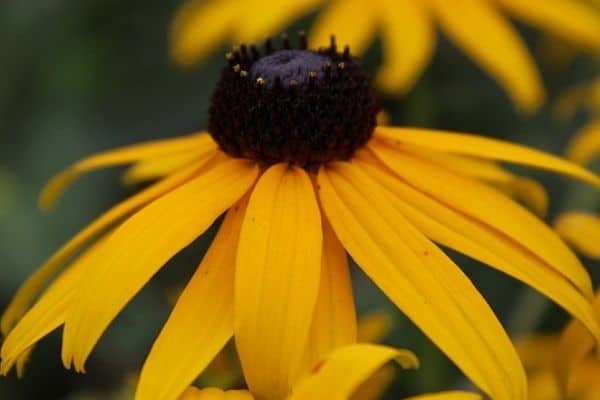 10 YELLOW PERENNIAL FLOWERS
1. Chrysanthemum
There are hundreds of varieties of Chrysanthemums
and they come in lots of different colors including yellow, white, pink, red and purple.
They grow best in a position with full sun and they especially like morning sun to dry off the dew and prevent mildew.
Chrysanthemums bloom from late summer to late fall and can be cut back after flowering.
They grow 1 – 3 feet (30 – 90 cm) tall and 2 – 3 feet (60 – 90 cm) wide.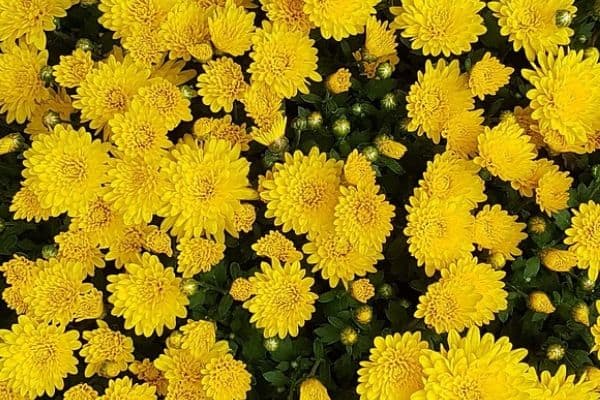 2. Sneezeweed (Helenium autumnale)
Sneezeweed
, also known as False Sunflower is a hardy perennial with bright flowers in colors of yellow, red and orange.
It can grow 1 – 5 feet (30 – 150 cm) tall and may need staking to protect against strong winds.
Sneezeweed should be deadheaded regularly to promote flowering and in fall it can be cut back to ground level.
Dividing Sneezeweed plants every 3 years will keep the plants healthy.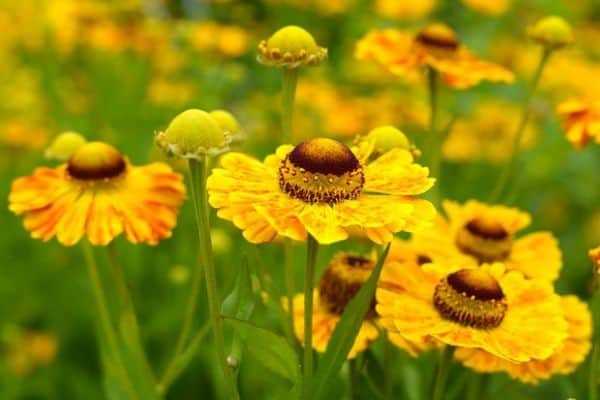 3. Black-Eyed Susan (Rudbeckia hirta)
Black-Eyed Susans
are part of the Sunflower family and can grow up to 3 feet (90 cm) tall.
They produce beautiful yellow flowers with black centers.
Black-Eyed Susans should be deadheaded regularly to prolong the bloom time and the plants can be divided every 3 – 4 years to reduce excessive spreading.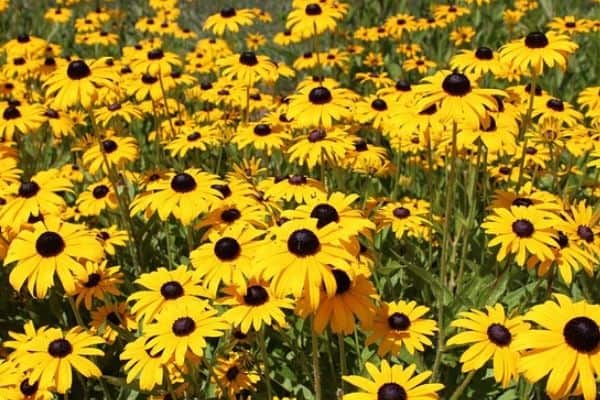 4. Yarrow (Achillea millefolium)
Yarrow
is a popular, hardy perennial that is easy to grow.
It has flower heads made up of clusters of tightly-packed flowers. The flowers can be yellow, pink, red or white.
Yarrow is frost and drought tolerant, pest resistant and attracts butterflies, bees and other beneficial insects to the garden.
Yarrow grows best in soil that isn't too rich in a full sun position.
RELATED: How To Grow Yarrow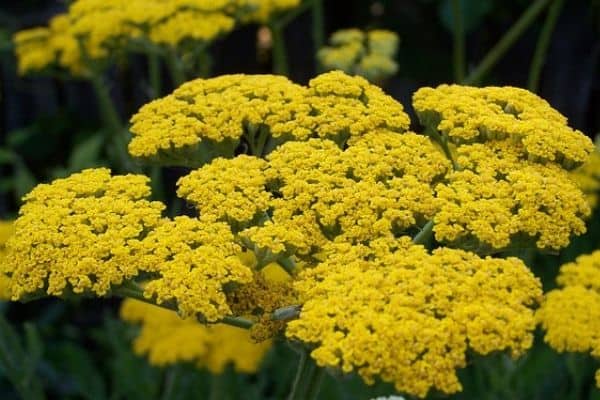 5. Daylily (Hemerocallis spp.)
Daylilies
are hardy perennials that will grow in most types of soil.
They have beautiful bright flowers that only open for one day and then die off.
Each flower stem usually has at least a dozen flower buds though, so the plants will stay in bloom for several weeks. [1]
Daylilies grow best in full sun, but in hot climates they may need some afternoon shade.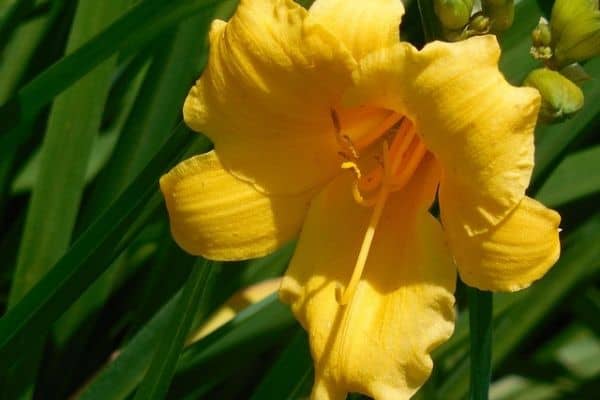 6. Poppy (Papaver somniferum)
Poppies
come in both annual and perennial varieties and they're great for brightening up the garden.
The flowers come in a variety of colors including yellow, orange, pink and red.
Most varieties of poppies grow best when planted directly in the garden.
The seeds need light to germinate, so just press the seeds lightly into the soil with your finger.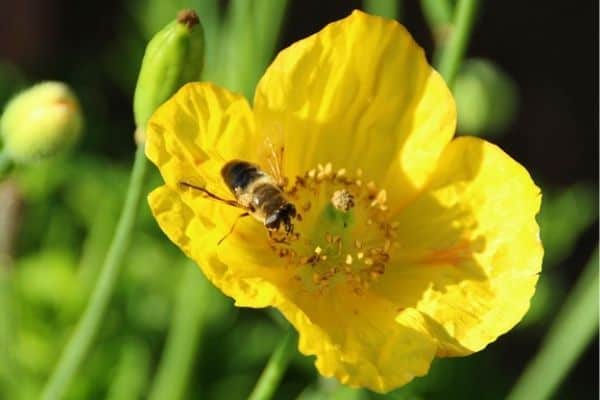 7. Evening Primrose (Oenothera biennis)
Evening Primrose
flowers open up in the late afternoon and usually close again around mid-morning the next day. The flowers can be yellow, white, or pink.
The leaves, flowers, roots and seeds of the Evening Primrose are all edible.
Evening Primroses grow best in full sun. They can tolerate partial shade but flower best in a full sun position.
The plants spread easily, through seed and underground runners.
They can be cut back after flowering to avoid unwanted plants popping up in your garden.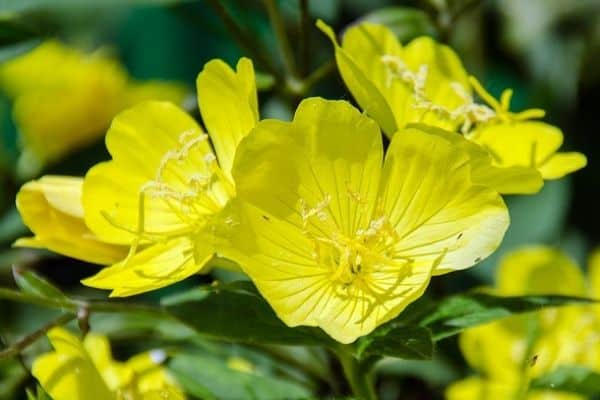 8. Goldenrod (Solidago canadensis)
Goldenrod
is a low-maintenance perennial with spiky yellow flowers.
It grows easily from seed but needs to be managed to avoid it becoming overgrown in the garden.
Goldenrod grows best in full sun and its drought tolerant, so it doesn't need to be watered often.
Some varieties can grow to 5 feet (150 cm) tall, while others grow to a more manageable 2 to 3 feet (60 – 90 cm).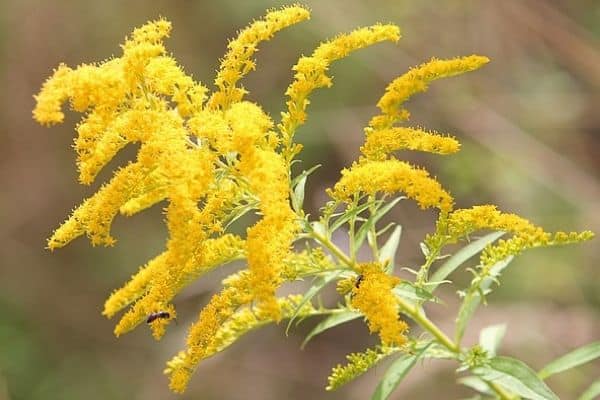 9. Tulips
Tulips
come back each year from underground bulbs, so they're classified as a perennial.
There are more than 3000 varieties of tulips in just about every color imaginable, including some beautiful yellow varieties ranging from pastel yellow to bright yellow. [2]
Tulip bulbs need to be exposed to cold temperatures before they're planted.
In cool climates, the bulbs can be stored in a cool, dry place before planting or in warmer climates they can be stored in the refrigerator.
The best time to plant tulips is in early fall for spring flowers.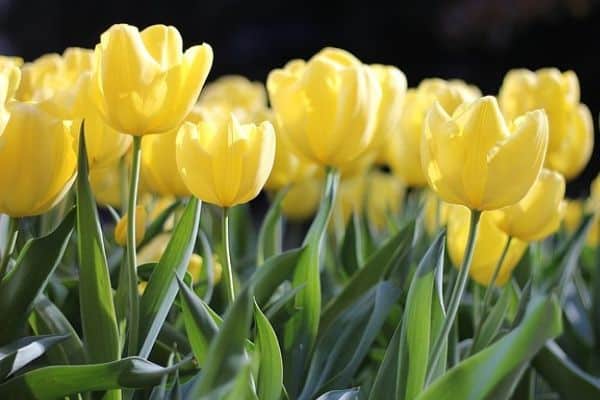 10. Daffodils
Daffodils
are beautiful, bright, spring flowering bulbs that come in a range of colors including yellow, white and cream.
They grow best in cool to temperate climates where they come up year after year, but they can also be grown in warmer climates as an annual.
So there's my list of yellow perennial flowers. 
RELATED ARTICLES
Do you have any yellow perennials growing in your garden? Let me know in the comments below.
Are you on Pinterest? I have boards dedicated to Flower Gardening and Gardening Tips that you may enjoy. You can also find me on Facebook.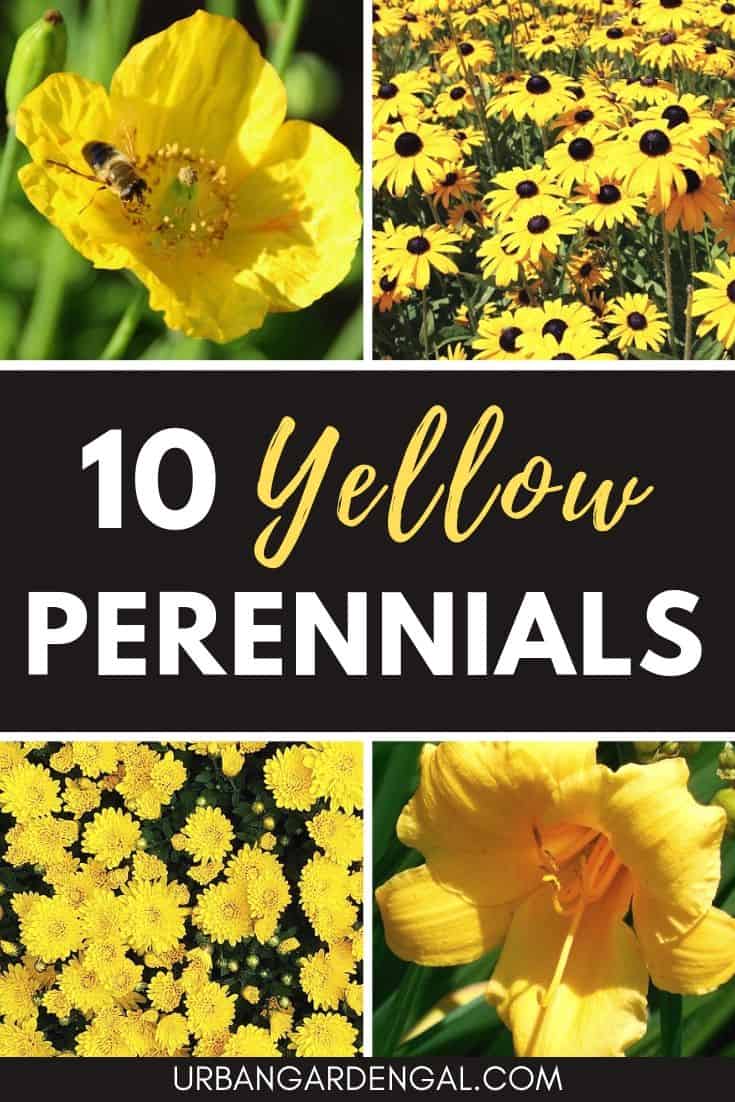 Popular yellow perennial flowers