Small lavender plants are ideal for planting in containers and small garden beds.
In this article I'll show you 10 beautiful compact lavender varieties that are perfect for small gardens.
I'll also share my tips for planting, pruning and caring for lavender plants to keep them small and compact.
This post contains affiliate links. Please read the disclosure for more info.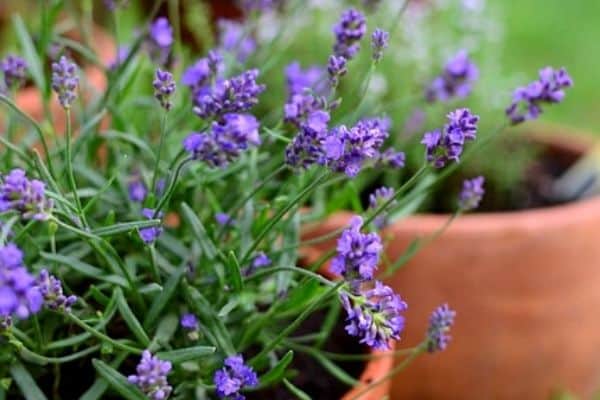 Lavender is a hardy perennial shrub with tall flower spikes that can be many different shades of purple, blue, pink or white.
Lavender grows best in a spot that receives full sun during the day and the soil should be easily draining to avoid the soil becoming waterlogged.
Some lavender varieties can spread out 36 to 40 inches (90 to 100 cm) wide, which can be a bit large if you have limited garden space, but you can keep them compact with regular pruning or choose a dwarf lavender that will stay small without the need for heavy pruning.
Dwarf lavenders
Choosing a dwarf lavender variety is an easy way to keep lavender to a smaller size without requiring a lot of pruning to keep them compact.
Most dwarf lavender varieties only grow 12 to 18 inches (30 to 45 cm) tall, so they're perfect for small garden beds, borders and containers.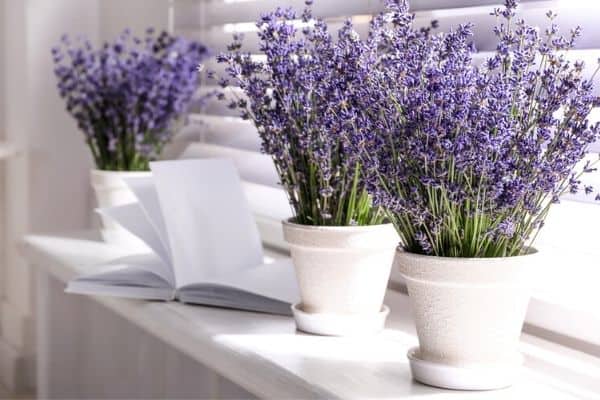 10 SMALL LAVENDER VARIETIES
Lavender Dwarf Munstead (Lavandula angustifolia) is a popular dwarf lavender variety with silver blue foliage and beautifully scented deep blue flowers that bloom from spring until fall.
It grows to a maximum of 20 inches (50 cm) wide and tall.
Thumbelina Leigh (Lavandula angustifolia) is one of the smallest lavender varieties, only growing 12 inches (30 cm) tall and it's one of the best lavender varieties for containers.
It blooms from late spring until mid-summer and has a compact rounded shape with short violet flower spikes.
Nana Alba (Lavandula angustifolia) has silvery green foliage and attractive white flower spikes in mid-summer.
It's very compact, only reaching 12 inches (30 cm) tall and spreads out to 20 inches (50 cm) wide.
Compacta (Lavandula angustifolia) is a beautiful petite lavender with light purple flower spikes that grows 12 to 18 inches (30 to 45 cm) tall.
Dwarf Blue (Lavandula angustifolia) has deep blue fragrant flowers and grows 10 to 12 inches (25 to 30 cm) tall and spreads 12 to 16 inches (30 to 40 cm) wide.
Little Lady (Lavandula angustifolia) is a compact dwarf lavender that is ideal for containers or low borders.
It only grows to a maximum of 20 inches (50 cm) tall and the flowers are highly fragrant.
Hidcote (Lavandula angustifolia) is a compact English lavender with dark purple flowers and gray-green foliage.
It grows 20 inches (50 cm) tall and the flowers are ideal for drying.
Fairy Wings is a drought tolerant small lavender variety that has beautiful pink petals on top of the flower spikes and grows 27 inches (70 cm) tall and wide.
Sarah (Lavandula angustifolia) is a small English lavender variety with green-gray foliage and long lasting purple flowers.
This variety only grows 12 inches (30 cm) tall so it's perfect for a low border or for growing in pots.
The last small lavender on this list is Silver Frost, a beautiful ornamental lavender with dark violet-blue flower spikes and silvery foliage.
It's drought tolerant and the beautiful foliage provides interest when the plants aren't in flower.
Growing lavender in pots
Potted lavender plants are perfect for sunny courtyards, balconies, window boxes and decks.
Growing lavender in containers will keep the plants to a smaller size than if they were planted out in the garden but they'll still need a tidy up trim after they've finished flowering.
Choose a large pot that has drainage holes in the bottom and fill it with a high quality potting mix that drains easily.
Make a hole in the soil large enough to fit the plant, place the plant in the hole and backfill with soil.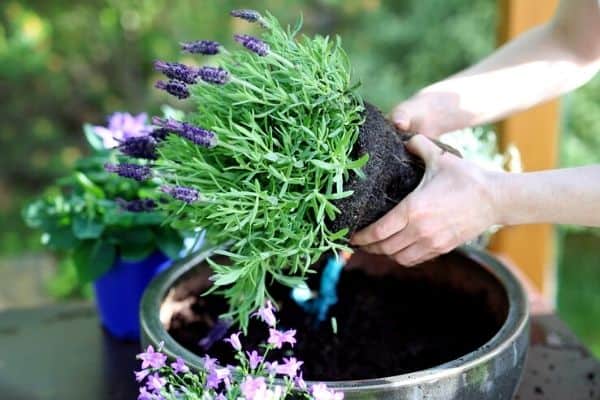 Give the plant a thorough watering and place the pot somewhere that receives plenty of sunlight during the day.
If you use a plant stand with wheels you'll be able to move it around to catch the sun.
Potted lavender plants will need to be watered at least twice a week during spring and summer and less often when the weather cools down.
Add a slow release fertilizer in early spring to promote flower growth.
Pruning lavender
Lavender should be pruned at least twice a year in spring and fall to keep the plants compact, tidy and healthy.
In early spring, trim the stems about 2 to 3 inches (5 to 7 cm) above the woody base to help stimulate new growth.
In fall after the plants have finished blooming you can deadhead the flower spikes and give the plants a tidy up before winter.
Don't remove more than a third of the growth otherwise the plants will struggle through the winter months. [1]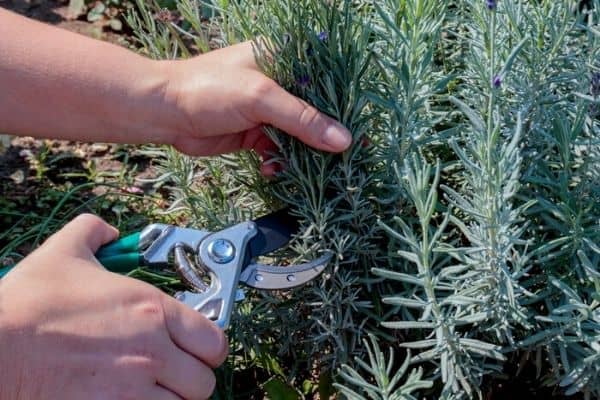 RELATED ARTICLES
So there are 10 small types of lavender to plant in your flower garden or container garden.
I hope this article has helped you to choose the best small lavender variety for your garden.
No matter how much space you have available there's sure to be a small lavender plant that will suit your garden.
Have you had success growing any of these compact lavender varieties in your garden? Let me know in the comments below.
Are you on Pinterest? I have boards dedicated to Flowering Plants and Gardening Tips that you may find helpful. You can also find me on Facebook.