Growing flowers vertically on a trellis, arch or fence is a great way to maximize your garden space and beautify your yard.
In this article I've listed some creative ways to grow vertical flowers and I'll tell you about some beautiful climbing plants and vines that are suited to growing on vertical structures.
This post contains affiliate links. Please read the disclosure for more info.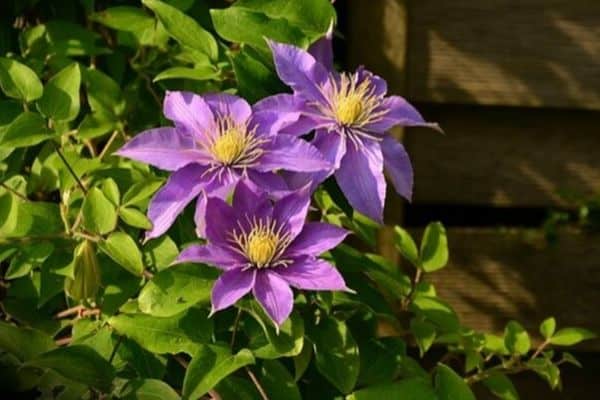 How to grow flowers vertically
Trellis
Trellises make it easy to grow flowers vertically in small spaces.
There are a wide range of trellises to choose from including some beautiful wrought iron designs
and they can be freestanding or attached to a wall.
In the picture below, a clematis vine is climbing up a wooden trellis
.
Clematis is a perennial flower that is ideal for cool climates and comes in a range of different colors including pink, red, purple and white.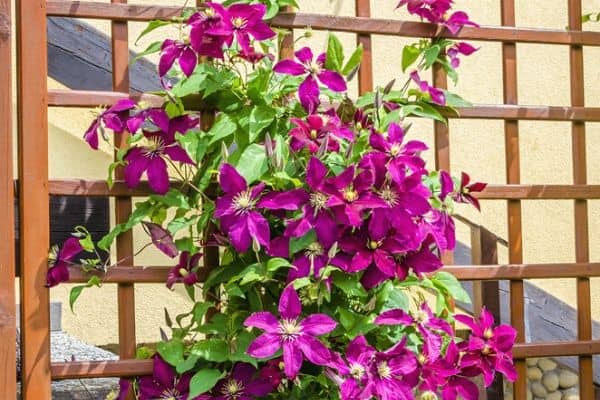 Arch
Flower arches
look beautiful in the garden and they're perfect for climbing roses.
You can use a few arches spaced apart to create a flowering tunnel or shade a path in the garden.
A flower arch also makes the perfect spot for a bench to sit and enjoy the garden.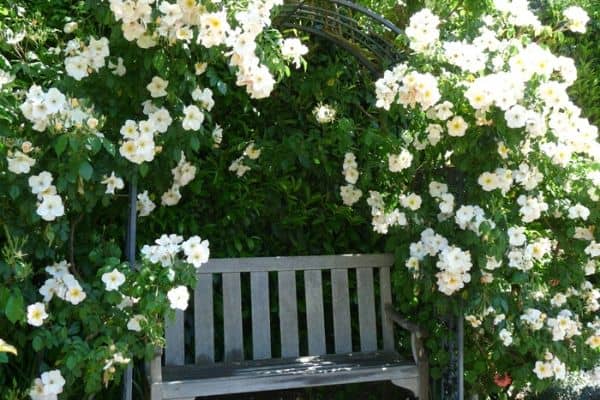 Arbor
Arbors
can be used in a similar way to arches and they look great at the entrance of a garden.
They can be made from timber or metal and they usually have a section of lattice on the side, which makes it easy for the vines to cling on.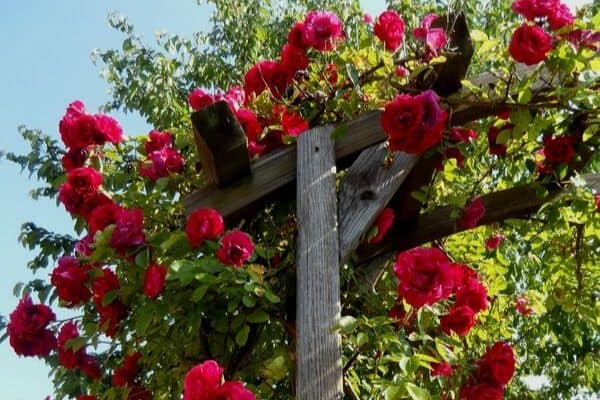 Pergola
Pergolas
are large outdoor structures with wooden or metal beams but no roof.
They're ideal for climbing vines with cascading flowers like wisteria.
Wisteria's beautiful purple flowers will hang down from the pergola providing color and shade during spring and summer.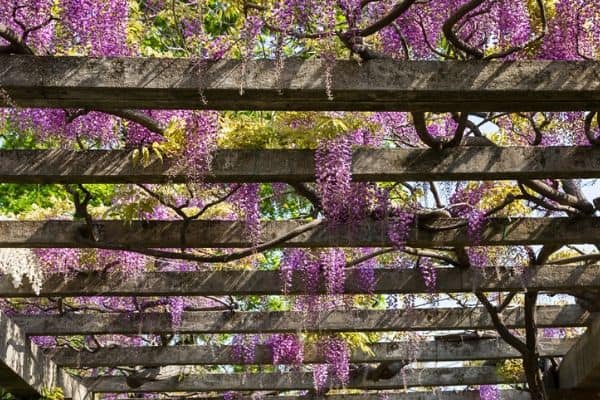 Flower Tower
A flower tower
is a tall cylindrical planter with holes for the flower plants.
As the flowers bloom, they fill out to create a spectacular display.
You can also use a stackable planter
with trailing plants like petunias to create a beautiful floral effect.
These types of planters are perfect for balconies, courtyards and patios.
Wall
Many climbing plants can be trained to grow up a wall and they're great for covering up unsightly bricks or ugly walls.
In the example below, a beautiful pink bougainvillea is growing up and across the wall to brighten it up.
Fence
Wire fences and even timber fences are great for growing flowers along.
You can use wire or thick string to train the flowers to grow across the fence.
The paling fence below is decorated with a beautiful bougainvillea plant.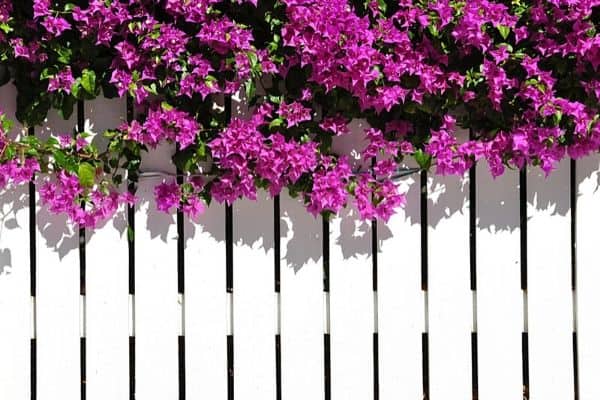 Most climbing vines will grow up a wire and you can also use a plant cage or teepee to grow flowers vertically.
If you're renting, you can plant a small climbing plant in a container and take the whole structure with you when you move.
Best flowers to grow vertically
Earlier I mentioned bougainvilleas, wisteria and clematis, which are ideal flower plants to grow vertically, but there are a few other good options.
Trumpet Vine
Trumpet vines
are suited to warm or cool climates and their beautiful red and orange flowers will attract hummingbirds to your garden.
Star Jasmine
Star Jasmine
is an evergreen climbing vine with fragrant white flowers.
They're easy to care for and grow well in full sun or part shade.
Passion Flower
Passion flowers
are fast growing vines with spectacular flowers.
You can plant them in full sun or partial shade.
Morning Glory
Morning Glories
are annual climbing vines with beautiful bright flowers.
They bloom throughout summer and fall, and they self-seed easily, so you'll have lots of new plants the next year. [1]
RELATED: 10 Flowering Climbers
Tips for growing vertical flowers
Choose a spot that receives at least 5 to 6 hours of sunlight each day.
Secure the plant well to the structure to avoid it being damaged by strong winds.
Cut the plants back when they finish flowering to keep them to a manageable size.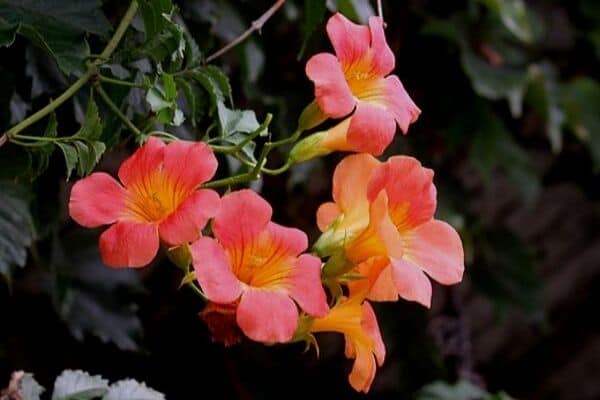 So there are a few ways to plant beautiful vertical flowers at home.
Growing flowers vertically is a great way to make use of the space in your garden, especially if you have a small backyard.
Whichever structure you choose, you're sure to enhance the beauty of your yard with these climbing flowers.
RELATED ARTICLES
Have you tried growing flowers using one of these vertical methods? Let me know in the comments below.
Are you on Pinterest? I have boards dedicated to Climbing Plants and Gardening Tips that you may enjoy. You can also find me on Facebook.
Don't forget to pin this post so you can come back to it when you're ready to start planting.