Growing geraniums in a window box is a great way to beautify the front of your home.
Geraniums are low maintenance plants that have a long flowering period from late spring until late summer or even fall in some areas.
In this article I'll tell you how to plant and care for geranium flowers in a window box or planter.
This post contains affiliate links. Please read the disclosure for more info.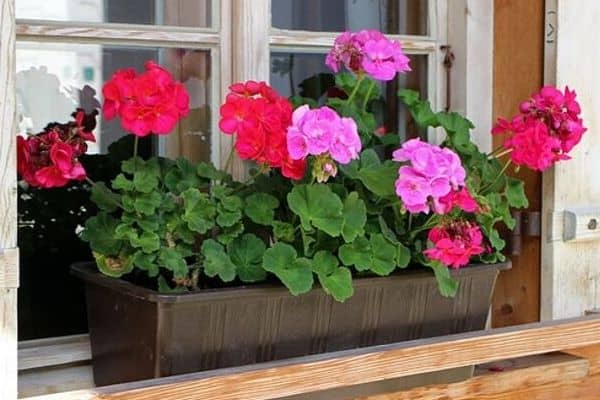 Geraniums are fragrant perennial plants that originate from South Africa.
They're sometimes called pelargonium flowers, and the leaves and flowers come in a variety of colors and shapes.
Types of Geraniums for window boxes
Ivy geraniums (Pelargonium peltatum) have trailing flowers so they're perfect for window boxes and hanging baskets.
Lemon scented geraniums (Pelargonium crispum) can help to repel mosquitos.
Zonal geraniums (Pelargonium x hortorum) have sturdy flower stems so they can withstand windy conditions. [1]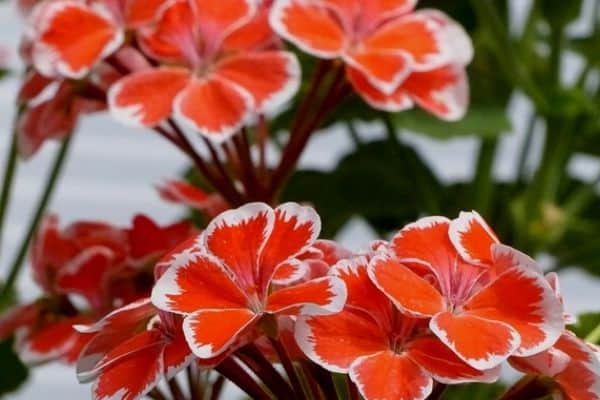 How to plant Geraniums in window boxes
Geranium plants are frost sensitive, so wait until the chance of frost has passed before planting them out.
1) Fill your window box planter with high quality potting mix and make a hole deep enough for planting.
2) Remove the plant from the pot, place it in the hole and gently press the soil around the roots to ensure there are no air pockets.
The soil level should be just below the top of the window box, otherwise the soil will wash out when you're watering.
3) Give the plants a thorough watering to help them settle in.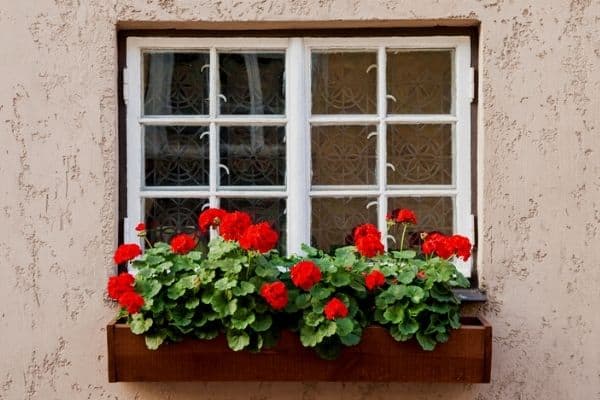 How to plant Geranium seeds
Geraniums are most commonly propagated from cuttings, but you can also plant geranium seeds if you're patient.
Fill a tray or pot with seed starting mix, sprinkle the seeds on top of the mix and then cover with a light dusting of the seed starting mix.
Keep the soil moist with a spray bottle and place it in a warm spot.
Geranium seeds germinate best when the temperature is around 70 to 75 °F (21 to 24 °C). You can place the pot on a heat mat if the temperature is still cool.
The seeds are sometimes slow to germinate, so it could be up to a few weeks before you see any signs of growth.
Once the seedlings are about 2 to 4 inches (5 to 10 cm) tall you can transfer them out to the window box (making sure there is no risk of frost).
It usually takes about 16 weeks from planting geranium seeds until flowering.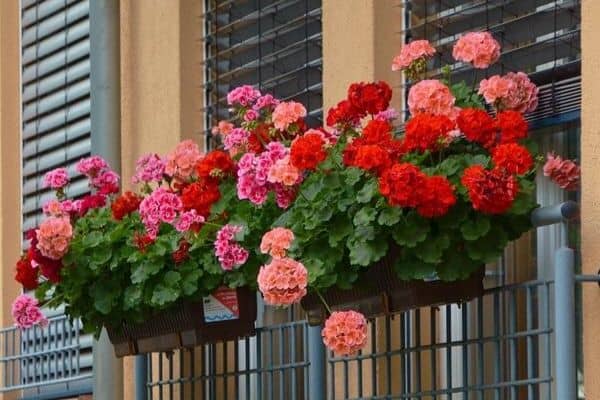 How to care for Geraniums in window boxes
Geraniums grow best in a spot that receives 4 to 6 hours of sunlight each day.
Once the plants start blooming, feed your geraniums using a water soluble fertilizer every two weeks or use a slow release fertilizer in spring and then again before they start flowering.
Water them thoroughly at least once a week to keep the soil moist, but avoid overwatering as this could cause root rot.
Pinch off the spent flowers regularly to promote a longer flowering period.
How to overwinter Geraniums in window boxes
As the weather starts to cool down you can stop watering the plants and give them a few weeks to go dormant.
If you live in a warm climate that doesn't receive frost or snow, you can leave the geraniums in your window box through the winter.
Cut them back by one third and water them just enough so that the soil doesn't dry out completely.
In cool climates you can transplant your geranium plants into containers and move them indoors to a bright, warm spot for the winter months.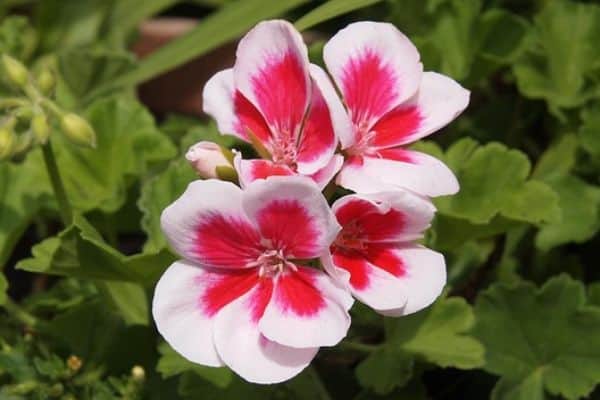 What type of window boxes should you use for Geraniums?
There many different styles of window boxes, so there's sure to be one that will suit the exterior of your house.
Timber window boxes are ideal for older houses, while metal window boxes have a more contemporary look.
Plastic window boxes are inexpensive, lightweight and come in a variety of different colors.
If you live in an apartment, there are pots that attach directly to your windowsill so you can enjoy beautiful geranium flowers right outside your window.
RELATED ARTICLES
So there are my tips for planting and caring for geraniums in window boxes or planters.
Installing a window box is a great way to maximize your growing space and beautify the front of your home.
Now that you know how to grow geraniums in window boxes, you can enjoy these beautiful fragrant plants and be the envy of your neighbors.
Have you had success growing geraniums in a window box? Let me know in the comments below.
Are you on Pinterest? I have boards dedicated to Flowering Plants and Container Gardens that you may enjoy. You can also find me on Facebook.