Composting is a great way to reduce green waste and make your home more eco-friendly.
Even if you have limited garden space, you can still create your own compost from kitchen scraps and garden waste that would normally go into landfill.
Here are some handy tips for composting in a small garden.
This post about small garden composting contains affiliate links. Please read the disclosure for more info.
Why compost?
When food and garden scraps are sent to landfill they create harmful methane gas as they break down.
By composting your kitchen and garden waste you can prevent methane production while also creating beneficial compost for your garden.
Compost helps to improve sandy and clay soil, while also enriching the garden with nutrients and trace minerals.
Even in a small apartment you can use a benchtop compost bin to create nutritious compost for your indoor plants.
How composting works
Composting requires oxygen, moisture, heat, plant materials and microbes.
Bacteria and other microbes consume the garden waste, breaking it down to form a highly nutritious, crumbly compost that your plants will love.
It can take between one month to a year or more for the compost to fully break down depending on the size of the garden scraps you add to the compost bin. [1]
It's a good idea to start with veggie peelings and dry leaves and you'll have beautiful rich compost in only a few months.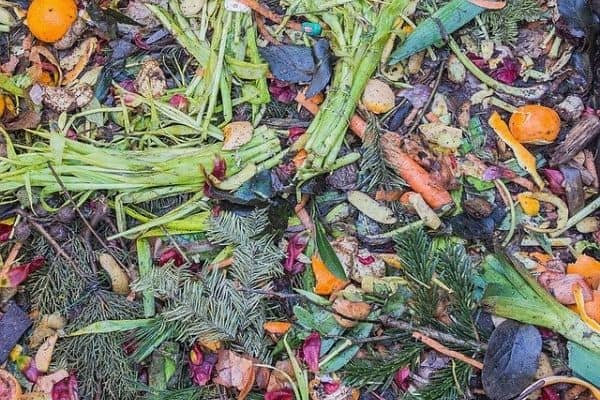 What can be composted?
Green waste
Lawn clippings
Green leaves
Fruit and vegetable scraps
Coffee grounds
Teabags
Dry waste
Straw
Dry leaves
Shredded paper
Wood chips
Sawdust
Hair
Dryer lint
Vacuum cleaner dust
Avoid adding dairy, meat scraps and dog and cat faeces to your compost bin.
The ideal ratio is two parts green waste to one part dry waste. This will enable the compost to break down quickly without becoming smelly.
Best compost bins for small spaces
If you have a small backyard, the last thing you want is an ugly, smelly compost heap taking up valuable garden space.
Here are a few different types of compost bins that are ideal for small backyards, courtyards and even apartments.
Indoor compost bins
The Bokashi bin
is an indoor compost bin that uses beneficial bacteria to break down kitchen waste in two to four weeks.
It's odorless and will easily fit underneath the kitchen sink or on your kitchen benchtop.
The Bokashi system produces a nutrient-rich liquid that you can dilute and use to water your houseplants or veggie garden.
Compost Bags
Heavy duty compost bags
are a good option for patios, balconies or small gardens.
Just load your garden and kitchen waste in the top and there's a flap at the bottom to access the broken down compost.
The bags can be easily folded up when you're not using them.
Tumbling compost bins
These types of compost bins make it easy to aerate your compost and they don't take up too much space.
The Envirocycle
is an attractive, compact compost bin that is ideal for balconies or small gardens.
The drum rotates on top of the base to create solid compost and you can also collect the compost tea to use as a powerful liquid fertilizer.
If you have a bit more garden space, this compost tumbler
is a great option.
It makes turning the compost very easy and efficient. Just close the door and turn it 5 to 6 times every few days.
Worm Farms
Worm farms
are another great option for creating compost in small gardens.
Just put your fruit and vegetable scraps in the top and the worms will break them down to create a nutritious liquid compost for your plants.
So there are some easy ways to compost when you have a small garden.
No matter which system you choose, you'll no longer have to feel guilty about scraping your kitchen scraps into the trash.
Hopefully this has inspired you to make your own compost, even if you have limited space in your garden.
RELATED ARTICLES
Have you tried any of these compact composting methods? Let me know in the comments below.
Are you on Pinterest? I have boards dedicated to Urban Gardening and Gardening Tips that you may enjoy. You can also find me on Facebook.