Planter ideas for small gardens, courtyards and balconies
Hanging, vertical and stackable planters are great space savers when you have limited space to work with in your garden.
These clever planter designs help to maximize the space in your backyard or balcony so you can get the most out of your garden.
This post contains affiliate links. Please read the disclosure for more info.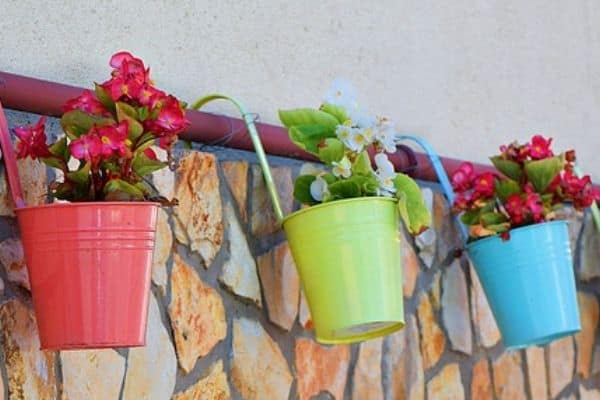 Here are 15 Space Saving Planters
This vertical hanging planter has 7 pockets and can be easily attached to a wall.
The waterproof material protects the wall from water stains and the leak-proof design prevents drips on the ground below.
This is an ideal planter for herbs, flower plants, strawberries and salad vegetables.
This planter on wheels makes it easy to move your plants around the backyard or balcony to catch the sun.
The metal frame is corrosion free and it comes with 9 small pots, 2 large pots and a micro irrigation dripping system, so you don't have to worry about watering.
It's perfect for growing salad greens, herbs, succulents and berries.
This 5 level stackable garden planter can fit 20 plants and doesn't take up much space.
It's perfect for growing strawberries, herbs, succulents and small plants.
This planter doesn't require any assembly – each pot fits on to top of the pot below.
This is another stackable planter that has 6 tiers and space for 18 plants.
If you water the pots at the top, the water will trickle down to the pots below.
It has wheels on the bottom to make it easy to move around.
This vertical garden planter makes it easy to grow salad greens, herbs and flower plants year round.
It features an LED lighting system, an automatic dripping system and a touch screen control panel that tells you when to add water.
It also turns the lights on and off automatically and waters the plants at set intervals.
This planter holds 8 plants to create a beautiful green wall without taking up too much space.
This hydroponic planter is great for growing leafy green vegetables and herbs.
The kit includes the pipes, water pump, planting sponge and hose. It has space for 36 plants.
This herb garden planter has space to grow 8 different herbs at a height that is comfortable for your back.
It comes with replaceable liners and has a storage rack underneath to store your pots or tools.
This balcony railing planter fits over the railing, giving you extra space on your balcony.
It's made of UV resistant plastic and has two holes in the bottom of each side for good drainage.
It comes with two additional clips to prevent the planter being blown over by strong winds.
This hanging garden planter system features a space saving design that is ideal for growing herbs, vegetables and flowers in limited spaces.
They can be hung vertically or horizontally, alone or together.
The self-watering grid in each planter creates water reservoirs that reduce the need for frequent watering.
The stainless steel fasteners ensure a secure fit on deck and patio railings and fences.
This self-watering planter is designed for growing a wide range of fruits, vegetables, herbs and flowers.
The built-in drip tray ensures that the surface underneath is protected from drips.
This handy wraparound hanging planter is perfect for square posts. It fits 4″x4″ to 6″x6″ posts.
The planter can be attached to house posts, porches, patios, pergolas and mailbox posts.
This wall planter is an attractive way to display your succulents while saving on space.
It features a built-in watering tray, water collection reservoir and 37 root securing pins.
This freestanding vertical planter stands 4 feet high and comes with 5 food grade containers.
It's perfect for maximizing the space in your backyard, courtyard or balcony.
These bright flower pots come in a pack with 10 different colors.
They're great for adding some color and interest to a fence and they're perfect for herbs and flowers.
This is another type of planter that can be hung on a fence or balcony railing to display your plants.
So, there's my list of space saving planters to maximize the space in your garden.
RELATED ARTICLES
Are there any planters on this list that you like? Let me know in the comments below.
Are you on Pinterest? I have boards dedicated to Planters & Pots and Garden Ideas that you may enjoy. You can also find me on Facebook.
Best space saving planters