Shrubs with beautiful red flowers are great for brightening up the garden.
If you love the color red, there are lots of different red flowering bushes that will provide color in your garden from spring through until fall.
Here are 15 beautiful red flowering shrubs to plant in your garden.
This post contains affiliate links. Please read the disclosure for more info.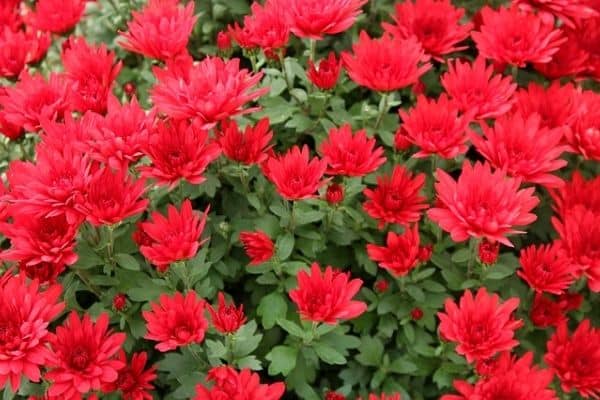 15 SHRUBS WITH RED FLOWERS
1. Azalea (Rhododendron)
Azaleas
are small perennial flowering bushes with flowers that can be red, orange, pink or purple.
They prefer acidic soil and grow best in a spot that is shaded from the hot afternoon sun.
Azaleas have shallow roots so they're ideal for pots and containers.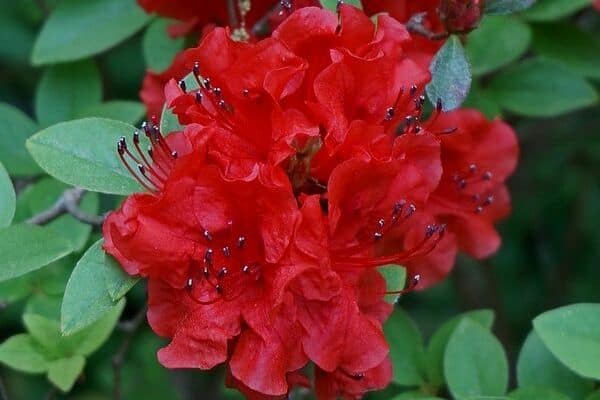 2. Camellia (Camellia spp.)
Camellias are evergreen shrubs with stunning large flowers that really stand out in the garden.
There are many different types of Camellias but the two most popular varieties are Camellia japonica
, which blooms from spring to fall and Camellia sasanqua
, which blooms from summer until winter.
Planting both varieties in your garden means that you can have almost year round blooms.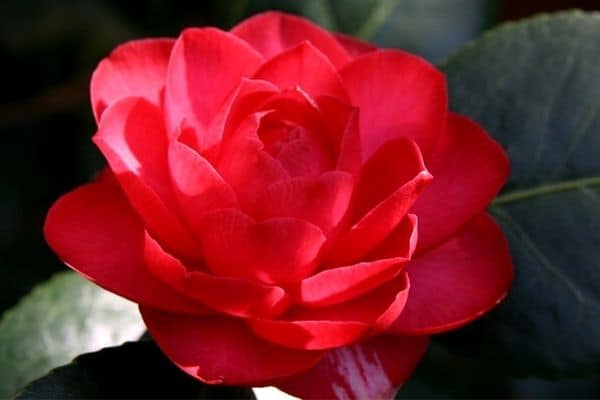 3. Hibiscus
Hibiscus
, also known as Rose Mallow, has beautiful big flowers that can be red, pink, purple or white.
They grow best in tropical areas that have lots of sunshine and high humidity.
You can increase the bloom time of Hibiscus shrubs by regularly removing the spent flowers.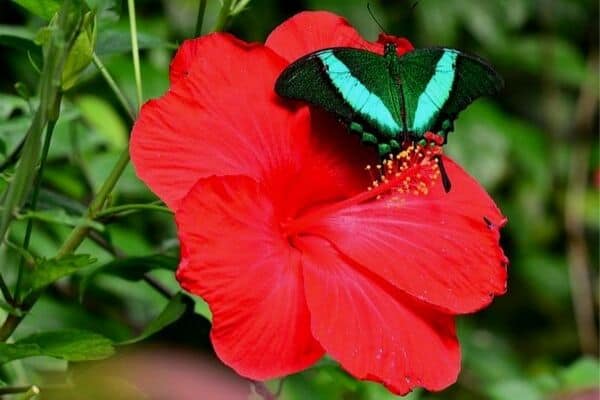 4. Roses
For beautiful, fragrant red flowers you can't go past the popular rose bush.
Roses grow best in a spot with full sun with well drained soil.
There are many different rose varieties to choose from including miniature roses, climbing roses, shrub roses and rambling roses. [1]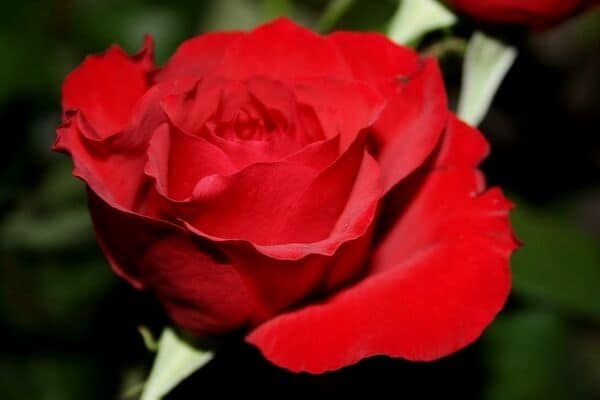 5. Chrysanthemums
Chrysanthemums
, or mums as they're commonly known, are small shrubs that produce an abundance of flowers.
They usually reach 1 to 3 feet (30 to 90 cm) tall and bloom from late summer to fall.
Chrysanthemums are ideal for containers and they can be trimmed back when they finish blooming to keep them neat and tidy.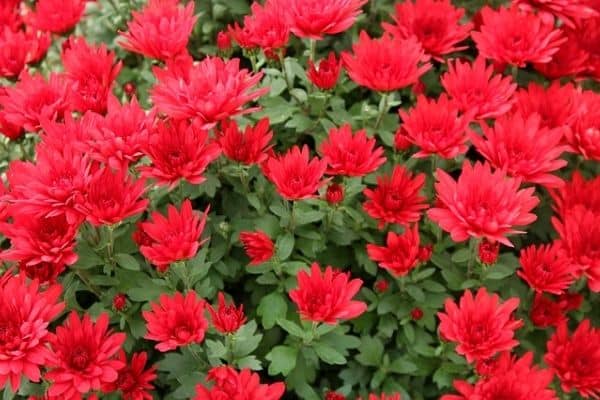 6. Bougainvillea
Bougainvilleas
are popular climbing plants that are mostly grown on trellises or arches but they can also be trimmed to form a round shaped shrub.
They grow best in full sun and they're heat and drought tolerant.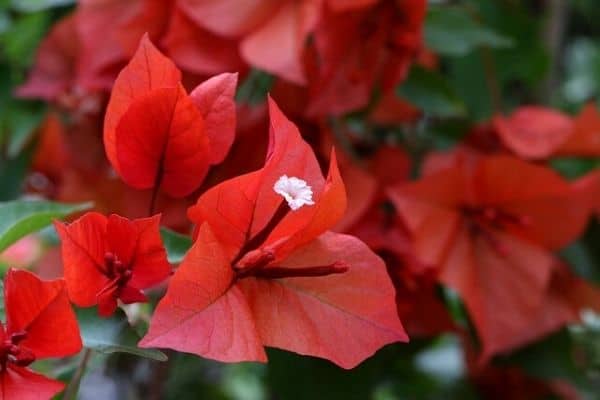 7. Weigela
Weigela
is an attractive perennial shrub with flowers that can be red, yellow, pink or white.
They flower best in full sun but they can also be planted in part shade in warm climates.
Weigela bushes can reach 6 to 8 feet (1.8 to 2.4 metres) tall but you can cut them back when they finish flowering to keep them to a manageable size.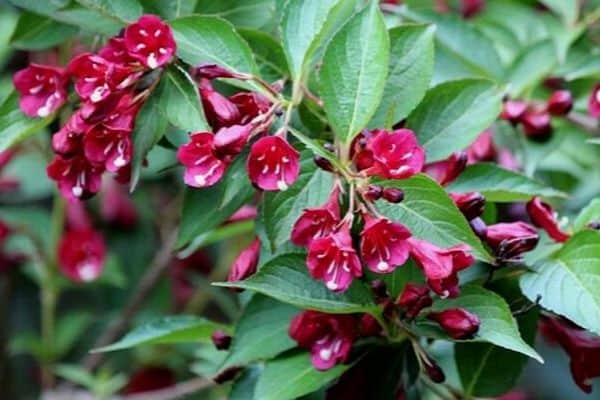 8. Flowering Quince (Chaenomeles speciosa)
Flowering Quince
is an early spring flowering shrub with beautiful red blooms that appear on the bare branches.
It flowers best in full sun and will grow well in most soil types.
Flowering Quinces have sharp thorns so it's best to plant them away from the house to avoid getting scratched. [2]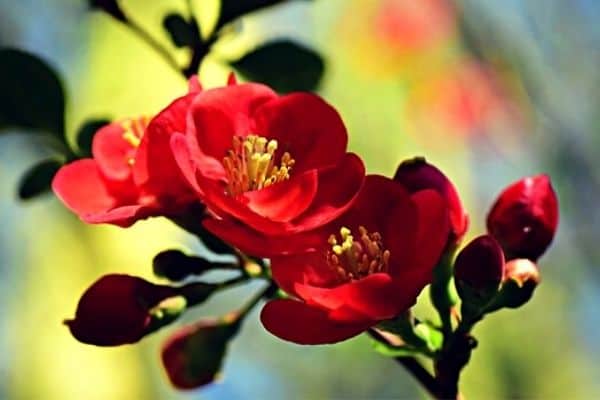 9. Hydrangea (Hydrangea macrophylla)
Hydrangeas
are popular flowering shrubs that grow best in a spot with morning sun and afternoon shade.
The flowers are most commonly pink, purple or blue but you can also find varieties with red flowers.
Hydrangeas need plenty of water, especially during the summer months.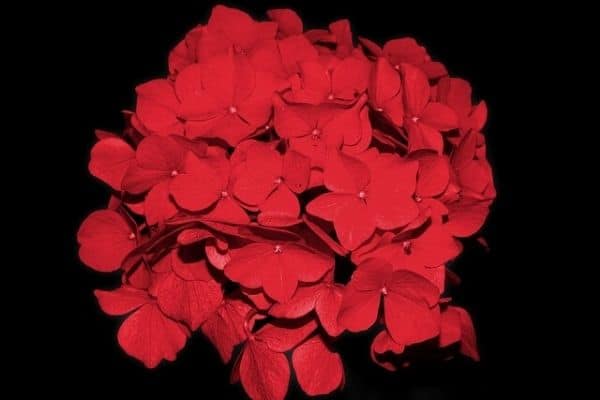 10. Bottlebrush (Callistemon spp.)
Bottlebrush
is a hardy red flowering shrub with beautiful flowers that last from spring into summer.
They can be cut back each year to form a small shrub or left to grow into a tree.
Bottlebrush plants are fairly drought tolerant and they're great for attracting birds to your garden.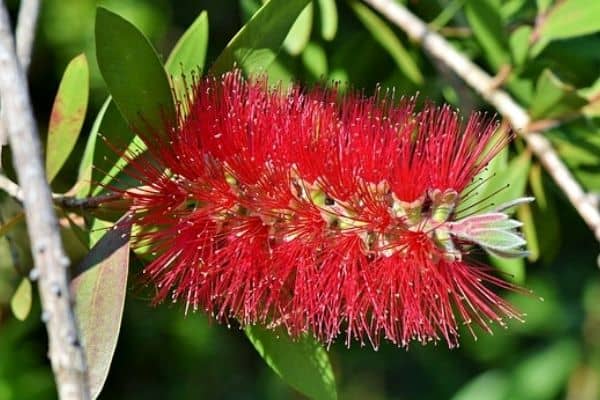 11. Protea
Proteas
are hardy evergreen shrubs with stunning large flowers which are technically bracts (modified leaves).
They bloom from late winter to spring and they'll tolerate a wide range of temperatures.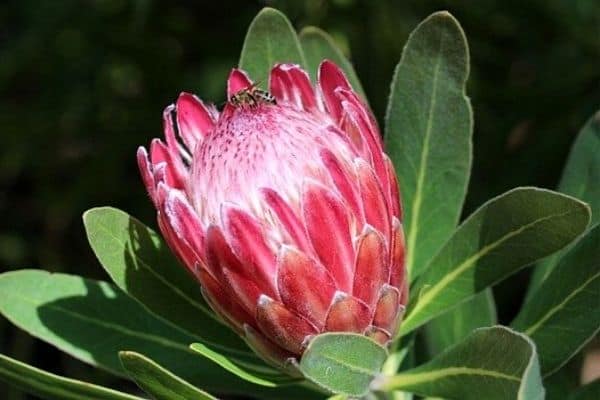 12. Waratah (Telopea)
Waratah shrubs are native to Australia and have beautiful big red flower heads.
They grow best in sandy soil and can reach as high as 13 feet (4 metres) tall.
Waratahs are great for attracting nectar loving birds to your garden.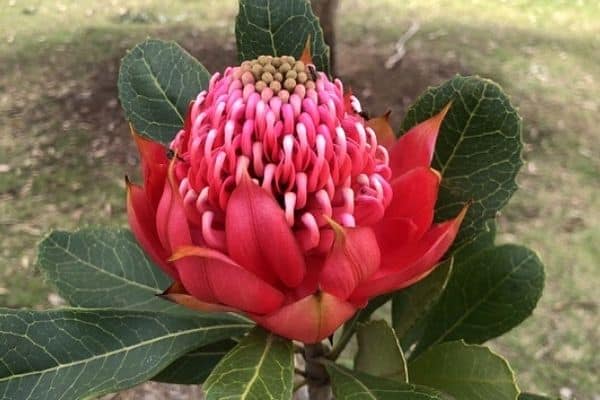 13. Pentas (Pentas lanceolata)
Pentas
, also called Egyptian Stars, is a small perennial shrub that usually grows 2 to 3 feet (60 to 90 cm) tall.
It has beautiful star shaped flowers during the summer months which help to attract an abundance of pollinators to your garden.
Pentas is a great choice for garden borders.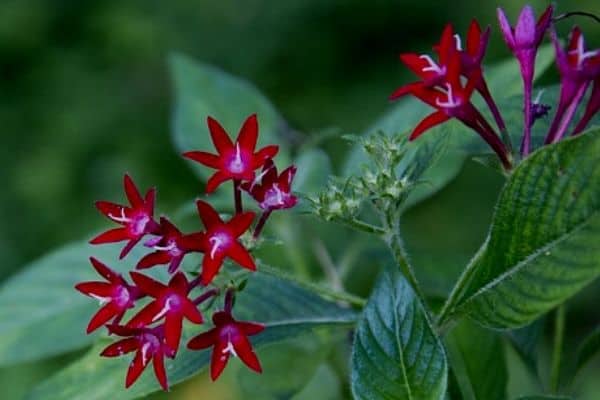 14. Barberry (Berberis vulgaris)
There are many different varieties of Barberry and their foliage and flowers are great for bringing color and interest to the garden.
Barberry shrubs can be evergreen or deciduous but they all have thorns so they're ideal for creating a secure hedge around your property.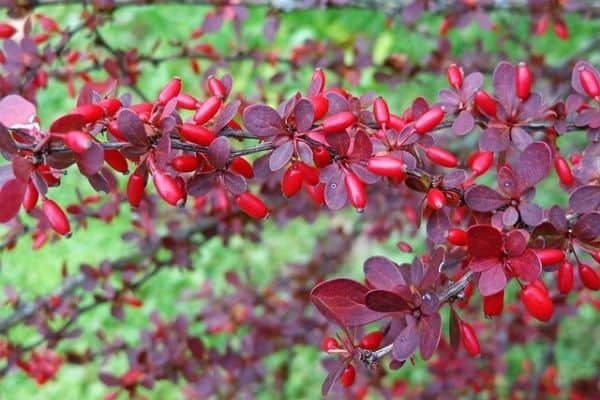 15. Lantana (Lantana camara)
Lantana
is a bright and cheerful flowering shrub that is very low maintenance.
It will grow in poor quality soil and it's drought tolerant.
Lantana flowers can be red, orange, yellow or pink.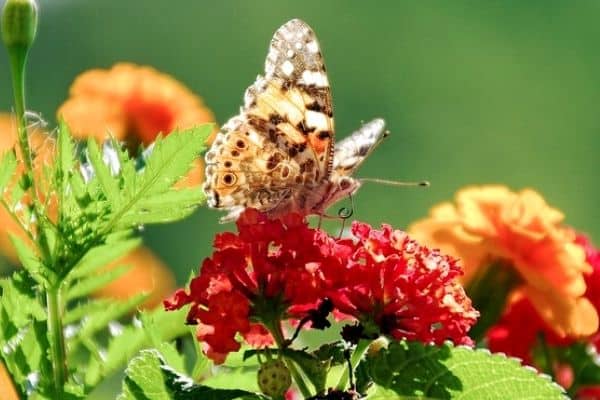 So there are 15 bright and colorful red bushes to plant in your flower garden.
These red flowering shrubs are sure to bring some beautiful pops of color to your garden.
RELATED ARTICLES
Which of these red shrubs do you like best? Let me know in the comments below.
Are you on Pinterest? I have boards dedicated to Flower Gardens and Gardening Tips that you may enjoy. You can also find me on Facebook.