Beautiful shrubs with cheerful yellow flowers to brighten up your garden
If you love the color yellow, (like me!) there are many different shrubs with bright yellow flowers that you can plant in your garden.
In this article I've put together a list of 10 easy to grow yellow flowering bushes that are ideal for pots, borders, shrubberies or privacy hedges.
This post contains affiliate links. Please read the disclosure for more info.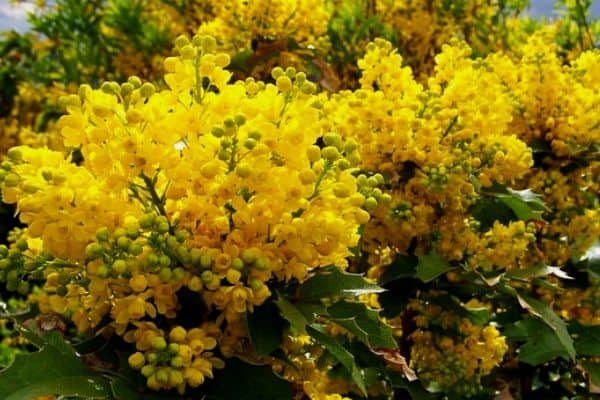 10 YELLOW FLOWERING SHRUBS
1. Azalea (Rhododendron)
Azaleas
are perennial shrubs with beautiful bright flowers in a variety of colors including pastel yellow and bright yellow.
They grow best in a spot with partial shade and need protection from hot afternoon sun.
Azaleas can be trimmed back when they finish flowering to keep the plant tidy and encourage bushier growth.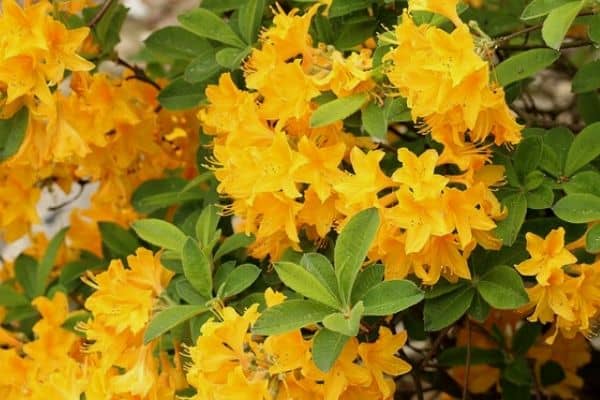 2. Lydian Broom (Genista lydia)
Lydian Broom
is a small deciduous shrub that blooms in early summer.
The yellow flowers are so densely packed that the foliage is completely hidden when it's in full bloom.
It grows 18 inches (45 cm) high and spreads out 2 feet (60 cm) wide, so it's a perfect ground cover plant and looks great in a rockery.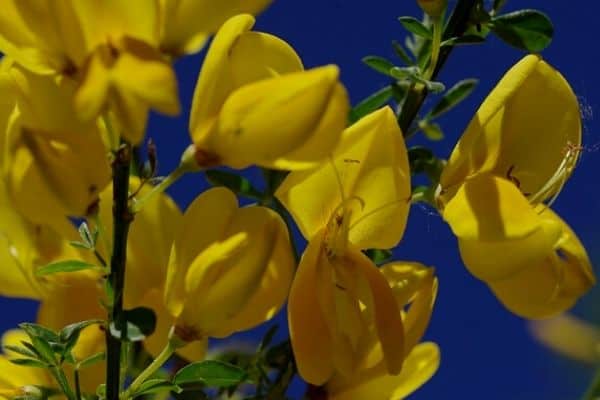 3. Mahonia Shrub (Mahonia spp.)
If you're looking for a shrub with masses of yellow flowers, Mahonia
, also known as Oregon grape, is a good choice.
It grows 3 to 7 feet (90 cm to 2.1 m) tall and up to 10 feet (3 m) wide with evergreen foliage and spiky thorns.
Mahonias flower during fall and winter with clusters of scented yellow flowers that are great for attracting bees to the garden.
The flowers are followed by purplish blue berries that are edible but have a sour taste.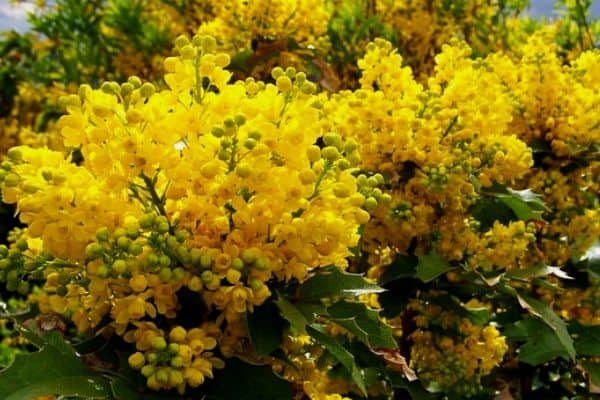 4. St. John's Wort (Hypericum perforatum)
St. John's Wort
is a perennial yellow flowering shrub that blooms from mid-summer until fall, followed by reddish colored berries.
It grows 1 to 3 feet (30 to 90 cm) tall and up to 2 feet (60 cm) wide and does best in a position with morning sun and some afternoon shade.
St. John's Wort is a prolific self-seeder, so it's a good idea to remove the berries before they ripen to prevent unwanted plants popping up in your garden.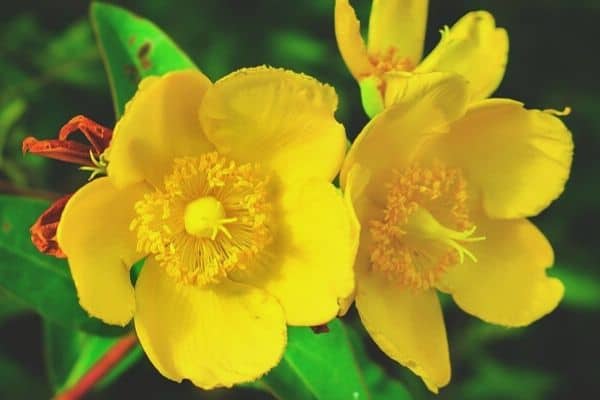 5. Forsythia
Forsythia
is a popular yellow flowering perennial bush that is great for brightening up the garden.
It grows 8 to 10 feet (2.4 to 3 m) tall and starts blooming in early spring with masses of bright yellow flowers along the branches. [1]
Forsythias grow best in full sun and will need to be pruned each year after they finish flowering to control their size.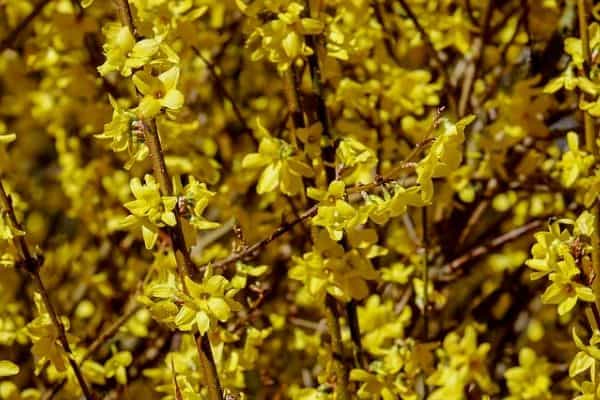 6. Witch Hazel (Hamamelis x intermedia)
Witch Hazel
is a deciduous yellow flowering shrub that can grow 10 to 20 feet (3 to 6 m) high.
It blooms towards the end of winter or early spring and can be cut back after flowering to keep it to a manageable size.
The yellow flowers are unusual and have long thin petals extending out from a brown ball.
Witch Hazel can be grown in full sun or partial shade.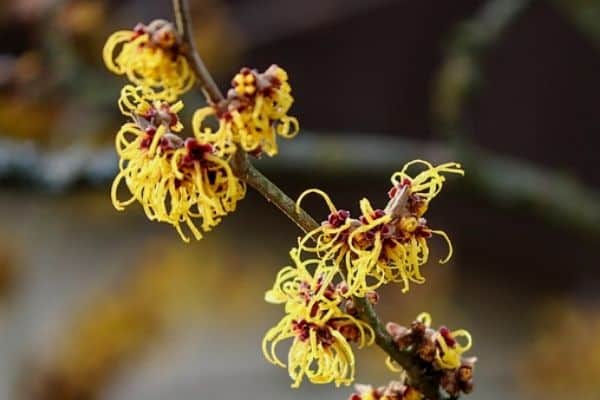 7. Rose
Rose bushes are always popular in flower gardens and there are many yellow colored roses
to choose from including creamy, pastel yellows and vibrant, bright yellows.
Roses bloom during spring and the flowers are highly fragrant.
Rose bushes usually grow 4 to 6 feet (1.2 to 1.8 m) high and they need to be pruned back each year.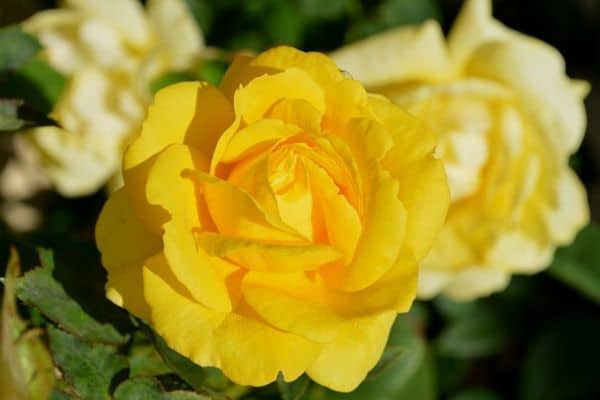 8. Potentilla Kobold (Potentilla fruticosa)
Potentilla
is a small deciduous shrub with beautiful yellow flowers from summer until fall.
It grows up to 2 feet (60 cm) tall so it's perfect for growing in containers or as a border in the garden.
9. Hibiscus
Hibiscus
are beautiful perennials with gorgeous big flowers that come in a variety of colors including bright yellow and creamy yellow.
Hibiscus plants thrive in warm, tropical, humid areas and grow best in full sun.
They can reach 15 feet (4.5 m) tall and can be planted to make a beautiful flowering hedge for privacy in your yard.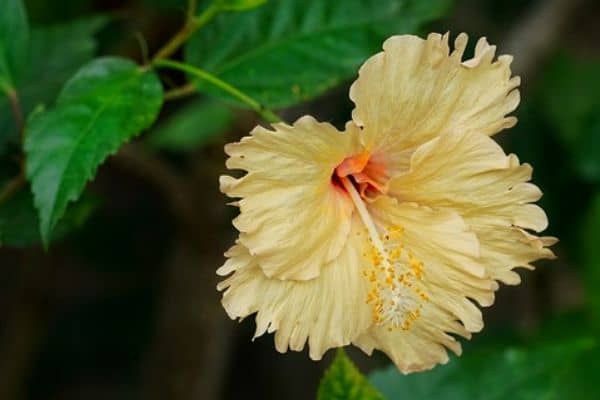 10. Golden Currant (Ribes aureum)
Golden Currant
is a small deciduous shrub that can grow 6.5 to 10 feet (2 to 3 metres) tall.
It has green foliage that turns red during fall and beautiful yellow flowers during spring.
Golden Currant is mostly grown for its brightly colored flowers but it also produces small black edible currants that can be eaten straight from the bush or used for cooking.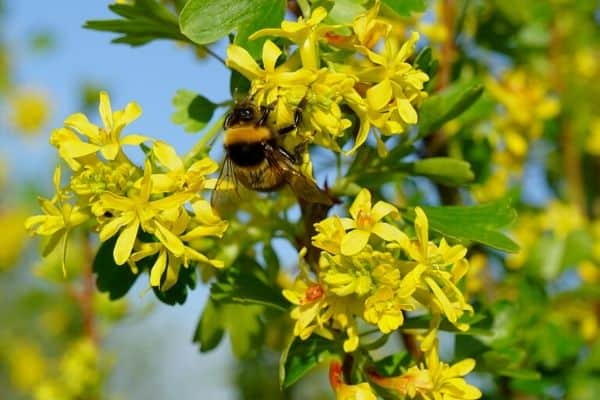 So there is my list of yellow flowering shrubs and bushes for your garden.
These colorful bushes are great for brightening up the garden and attracting bees and birds to your yard.
Here's a quick video that shows the most popular shrubs for small spaces. I think you'll find some great ideas for your garden here.
RELATED ARTICLES
What is your favorite yellow flowering shrub? Let me know in the comments below.
Are you on Pinterest? I have boards dedicated to Flowering Plants and Gardening Tips that you may enjoy. You can also find me on Facebook.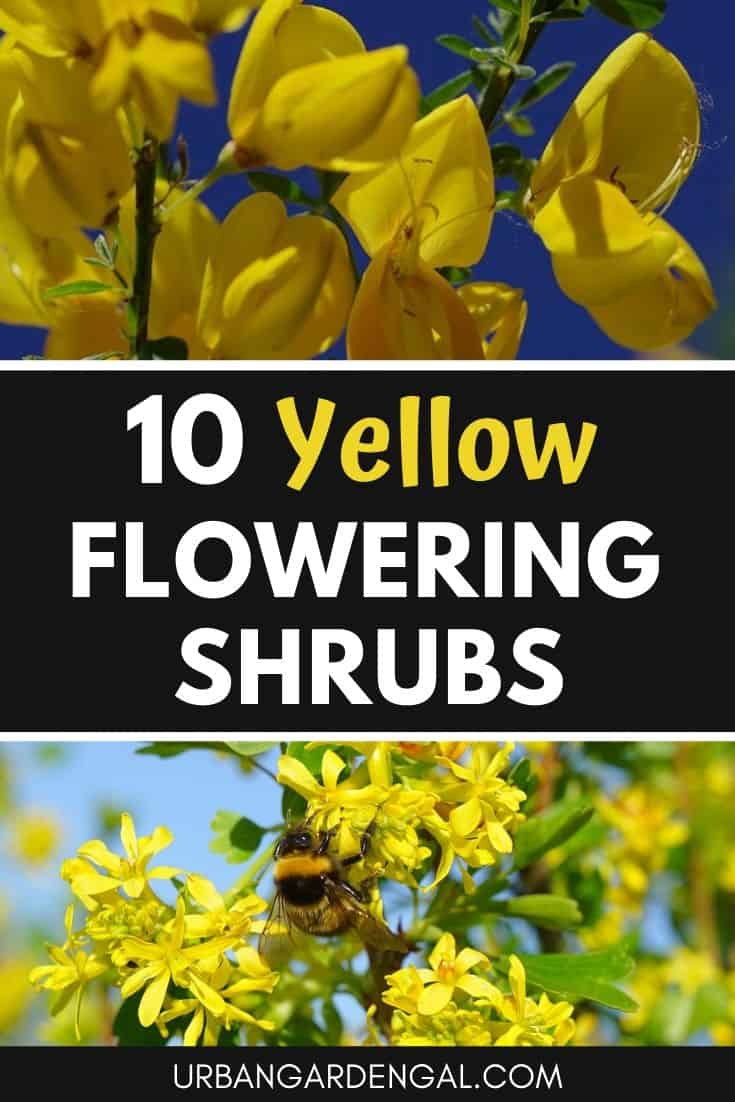 Yellow flowering bushes