Beautiful orange perennial flowers in shades of bright orange, apricot, peach and coral
If you love the color orange, there are many different perennials you can plant in your garden for a spectacular display of orange colored flowers.
In this article I've put together a list of the most popular and easy to grow orange perennial flowers that will attract hummingbirds, butterflies, bees, and other beneficial insects to your garden.
This post contains affiliate links. Please read the disclosure for more info.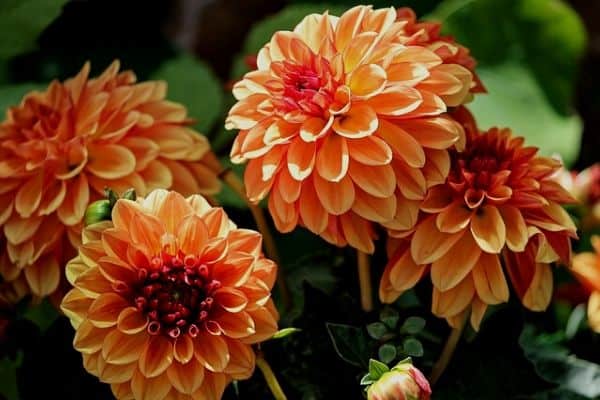 15 ORANGE PERENNIALS
1. Ranunculus (Ranunculus asiaticus)
Ranunculus
, also known as Rose of the Spring and Persian Buttercup, is a hardy perennial flower that will grow in a range of conditions as long as their roots are cool and moist.
The flower petals are ruffled and layered and come in a variety of colors including orange, pink, red, purple, white and yellow.
Ranunculus grows from tubers and each tuber can produce up to 40 flowers, so you only need a few plants for a spectacular display.
In warm climates, the tubers can be left in the ground during the winter months, but in cool climates the tubers will need to be dug up and stored indoors over the winter.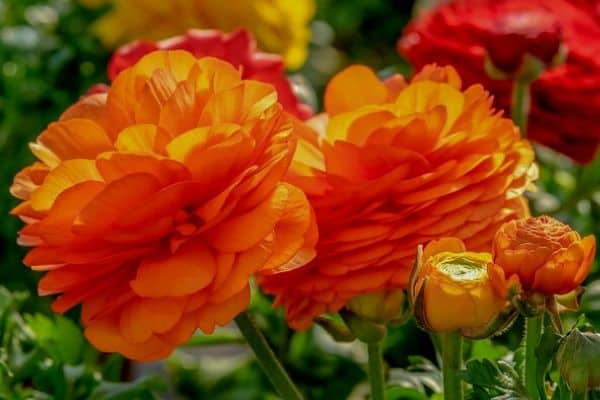 2. Poppy (Papaver somniferum)
Perennial poppy flowers are classified as short-lived perennials because they only live for 2 to 3 years.
They come in a variety of colors including orange, yellow, red and pink.
Poppies
are great for brightening up the garden and they grow best in a position with full sun.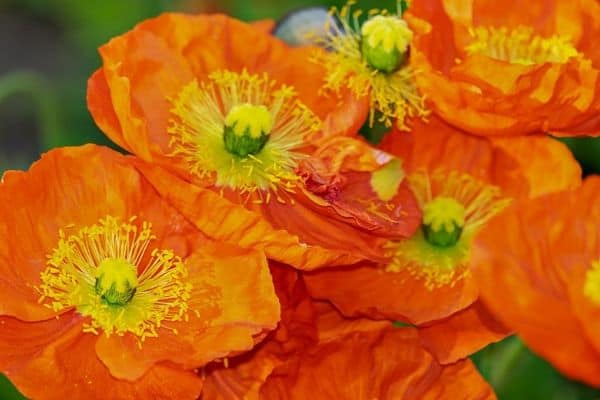 3. Daylily (Hemerocallis spp.)
Daylilies
are hardy perennials with beautiful bright flowers in colors of orange, red, pink and yellow.
The flowers are very short lived, only opening for one day and then dying off, but each flower stem has about a dozen flower buds, so you'll have blooms for a couple of weeks.
Daylilies grow best in full sun, but in hot climates they may need some shade in the afternoon.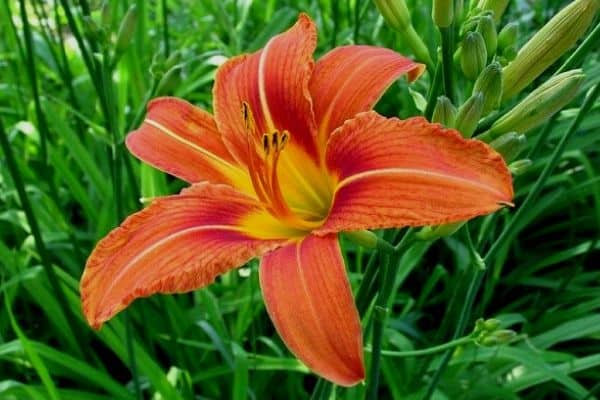 4. Chrysanthemums
Chrysanthemums
, also known as mums, come in hundreds of varieties and many different colors including yellow, pink, white, red, purple and orange.
They grow best in a position with full sun and can reach 1 to 3 feet (30 to 90 centimetres) high and 2 to 3 feet wide.
Chrysanthemums flower from late summer to late fall and can be cut back after flowering to keep them looking tidy.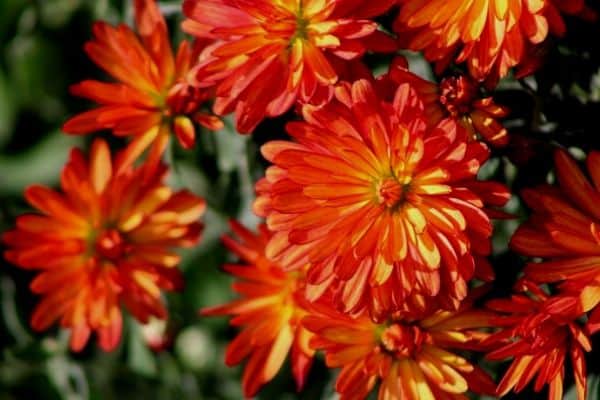 5. Dahlia
Dahlias
are stunning flowers that come in a wide range of shapes and sizes.
They bloom from late summer into fall and can be orange, red, pink, purple or yellow.
Dahlias can be grown from tubers or seeds and some varieties can grow 5 to 6.5 feet (1.5 to 2 m) high.
They grow best in a position with full sun and need at least 6 hours of sunlight each day.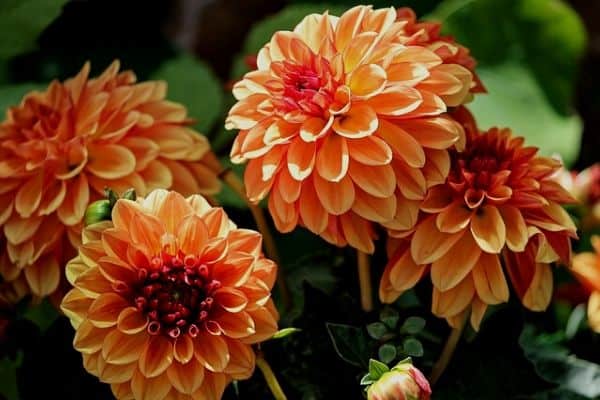 6. Iris (Iris germanica)
Irises
are hardy perennials that can grow 2 to 3 feet (60 to 90 cm) tall.
They're frost tolerant and grow well in full sun to part shade and bloom from early spring.
Irises can be divided when they've finished flowering by removing the old middle section of the plant and replanting the newer growth in the outer sections.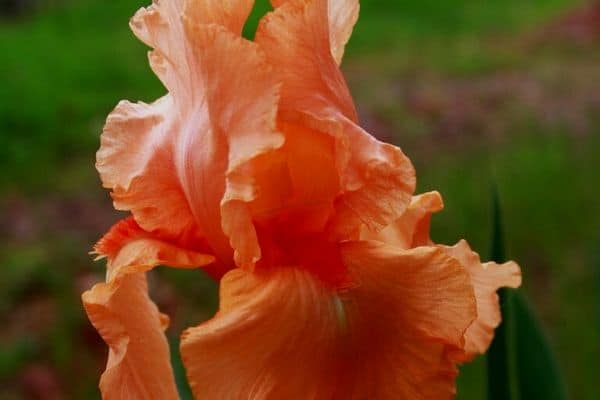 7. Sneezeweed (Helenium autumnale)
Sneezeweed
, also known as False Sunflower or Helenium, is a hardy perennial with brightly colored flowers that can be orange, yellow or red.
It can grow 1 to 5 feet (30 to 150 cm) tall and may need to be staked to protect against strong winds.
Sneezeweed needs to be deadheaded regularly to increase flowering and it can be cut back to ground level in the fall.
The plants can be divided every 3 years to keep them healthy.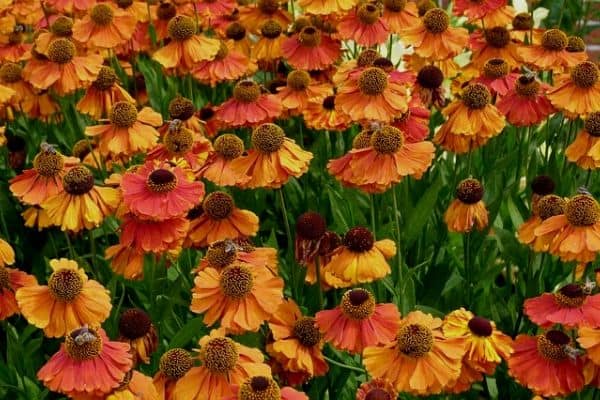 8. Bird of Paradise (Strelitzia reginae)
Bird of Paradise
is a tropical plant with stunning brightly colored flowers that look like flying birds.
The flowers can be orange, yellow, blue or purple in color.
Bird of Paradise grows best in warm, tropical areas but it can also be planted in containers in cooler climates and moved indoors when the weather starts to cool down.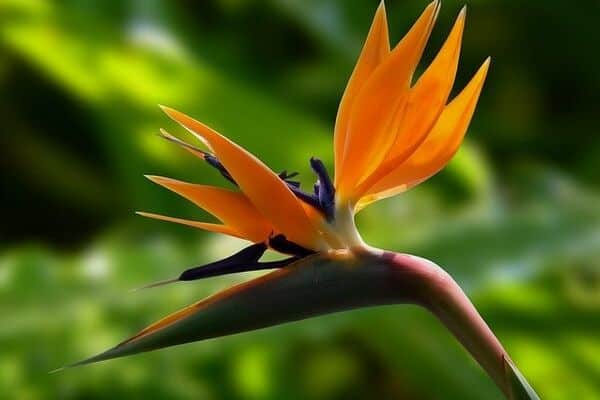 9. Lantana (Lantana camara)
Lantana
has clusters of small flowers including some beautiful shades of orange.
It can be grown as an annual or perennial and looks great in the garden or a container.
You can also grow trailing varieties of lantana in hanging baskets.
Lantana grows best in full sun and needs well-draining soil.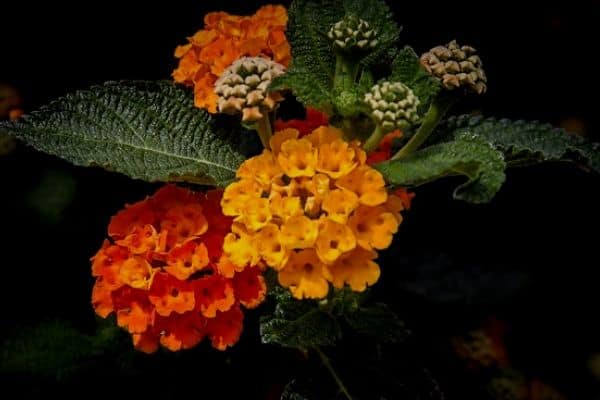 10. Rose
Roses
are always popular in flower gardens and there are lots of beautiful orange colored roses ranging from bright orange to pastel orange to choose from.
Roses bloom in the spring and the flowers are beautifully scented.
Rose bushes usually grow 4 to 6 feet (1.2 to 1.8 m) high and they need to be pruned back each year.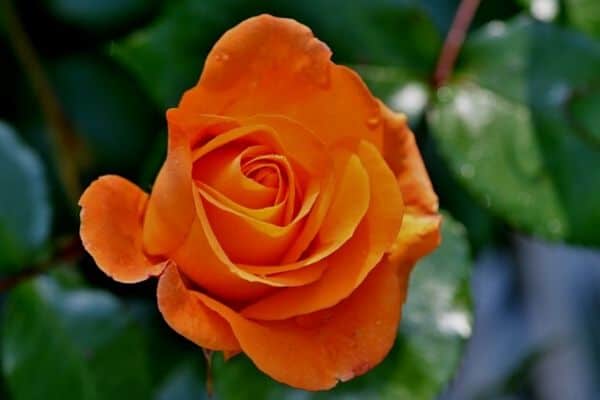 11. Butterfly Weed (Asclepias tuberosa)
Butterfly Weed
, also known as Orange Milkweed, is an ideal orange perennial flower for attracting butterflies, bees, lady beetles and hummingbirds to your garden.
It blooms from summer until the first frost, so you can enjoy the bright orange flowers for many months.
Butterfly Weed re-seeds rapidly, so if you don't want unwanted plants sprouting in your yard, you'll need to cut off the seed pods before they open. [1]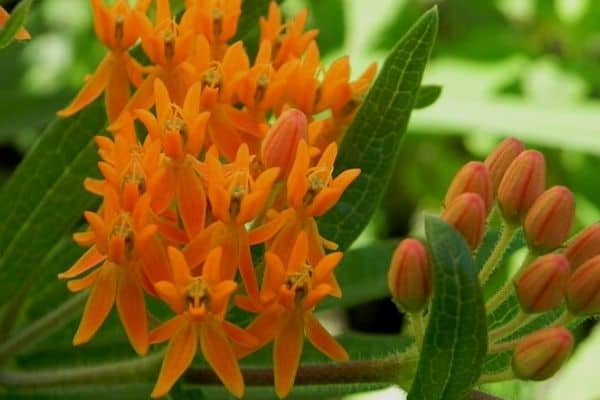 12. Canna Lily (Canna indica)
Canna lilies
are low maintenance perennials that grow from underground rhizomes.
The flowers can be orange, yellow or red with maroon, green or variegated foliage.
Canna lilies can be planted in full sun or part shade and in cool climate areas they can be grown as annuals.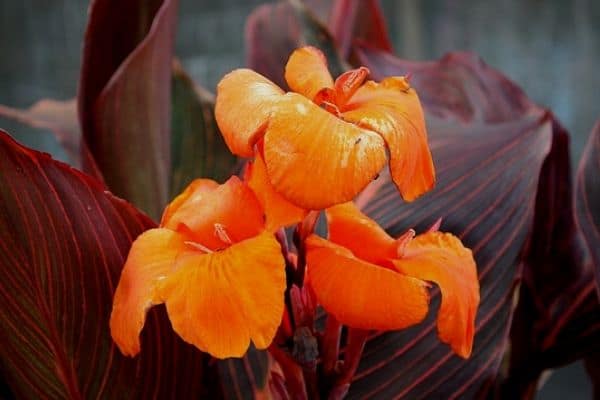 13. Gerbera Daisy (Gerbera jamesonii)
Gerbera daisies
are brightly colored perennial flowers that come in a range of colors including orange, red and yellow.
They're popular as cut flowers and great for adding color to the garden.
Gerberas grow best in warm climates in a position with full sun and sandy soil.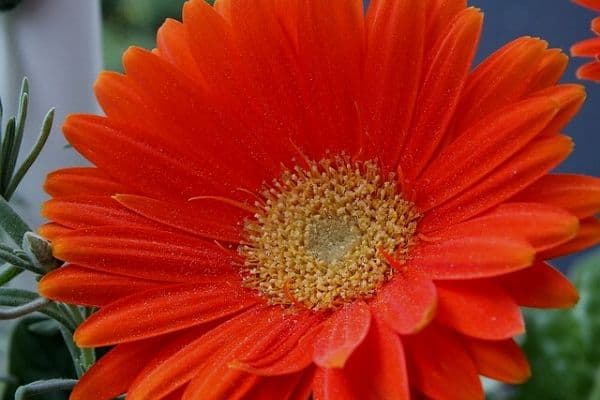 14. Red Hot Poker (Kniphofia uvaria)
Red Hot Poker
, also known as poker plant and torch lily, is a beautiful tall perennial plant that really stands out in the garden.
It can grow up to 5 feet (150 cm) high and spread out to 3 feet (90 cm) wide so it needs lots of space in the garden.
Red hot poker plants grow best in full sun and they're great for attracting birds and butterflies to your garden.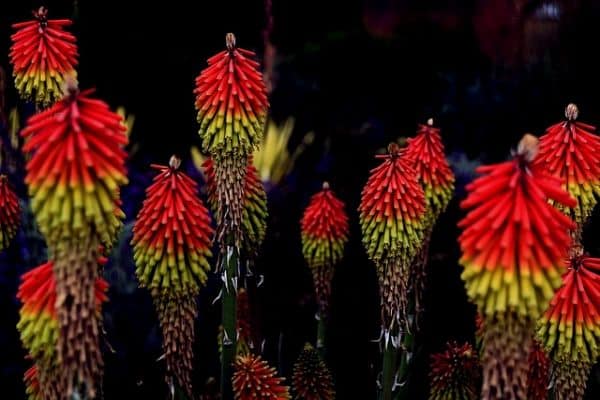 15. California Poppy (Eschscholzia californica)
California poppies
are perennial flowers that are also grown as annuals because they re-seed easily.
The orange colored flowers have four petals and they grow 6 to 12 inches high.
California poppies grow best in sandy, well-drained soil and prefer full sun. [2]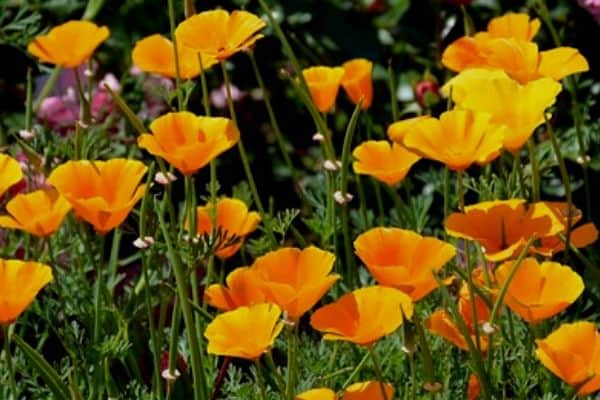 So there are 15 easy to grow orange perennial flowers.
These flowers are sure to brighten up your yard and attract lots of birds and beneficial insects to your garden.
RELATED ARTICLES
Which of these orange perennials do you like best? Let me know in the comments below.
Are you on Pinterest? I have boards dedicated to Flower Gardening and Gardening Tips that you may find interesting. You can also find me on Facebook.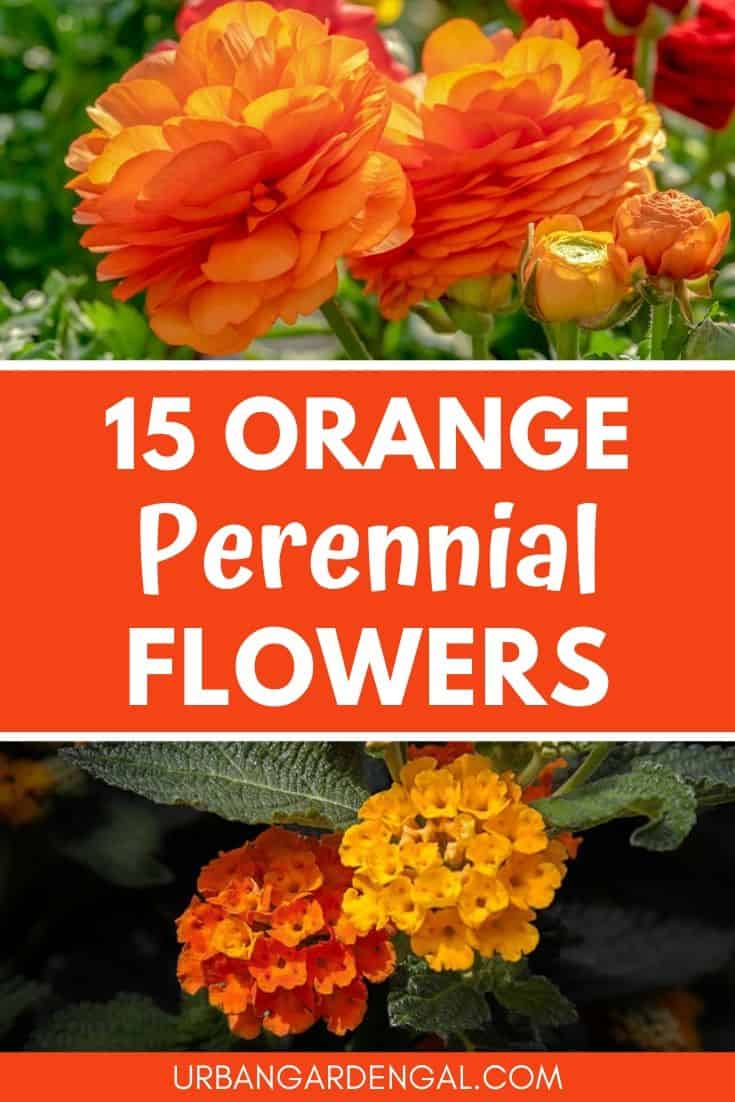 Best Orange Perennial Flowers For Your Garden