Growing kale indoors means that you can enjoy healthy and nutritious kale leaves all year round.
I like to grow a few kale plants at a time and pick the leaves for my salads as I need them.
Here are my best tips for growing healthy kale plants indoors.
This post contains affiliate links. Please read the disclosure for more info.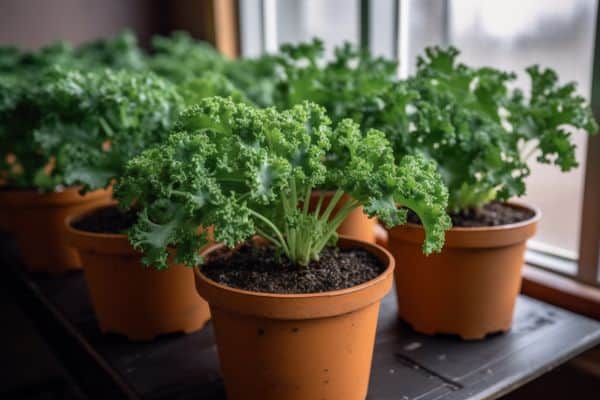 Kale (Brassica oleracea) is a fast growing salad vegetable that is easy to grow, even for beginner gardeners.
It's part of the brassica vegetable family that also includes broccoli,cauliflower and cabbage. [1]
Kale plants grow best in cool weather when planted outdoors but indoors you can grow them all year round.
Varieties of kale to grow indoors
Lacinato
, also known as Tuscan Kale or Dinosaur Kale, has long dark green dimpled leaves.
Red Russian Kale
has attractive green leaves with purple veins.
Redbor Kale
has dark purplish crinkly leaves and looks great as part of an ornamental vegetable garden.
Dwarf Curly Blue Kale
is a frilly leaf variety that is commonly seen in produce stores. It's ideal for making kale chips.
Siberian Kale
is a hardy variety of kale that can withstand very cold temperatures.
RELATED: 15 Frost Tolerant Vegetable Plants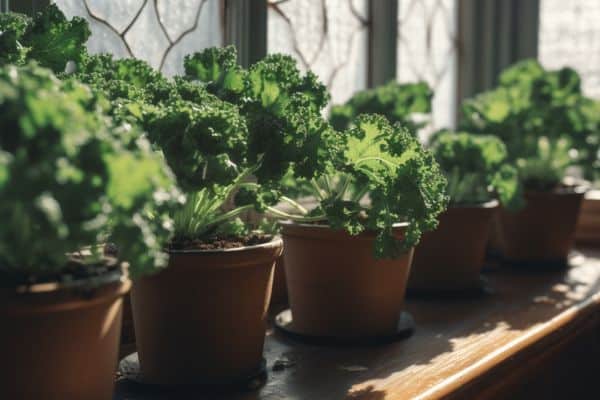 Planting kale seeds
Use small trays or containers with drainage holes in the bottom and fill them with a good quality potting mix.
Sow your kale seeds ¼ inch (approx. ½ cm) deep, lightly sprinkle some potting mix over the top and water with a spray bottle.
It's a good idea to sow a small batch of seeds every few weeks so that the plants aren't all ready to harvest at the one time.
Place the containers in a well-lit area indoors that receives about 6 hours of sunlight each day.
A position with morning sun is best because the hot afternoon sun can burn the plants and cause them to wither.
If you don't have access to a sunny window, you can use grow lights
to provide the light necessary for the plants to grow.
It's a good idea to place a saucer or tray underneath your containers so that your windowsill doesn't get water damaged.
When your kale seedlings reach a few inches tall they can be transplanted into larger pots.
Kale plants have shallow roots, so you may need to add mulch to keep the soil cool or move them away from the window in the afternoons.
Harvesting kale
It usually takes about two months for kale plants to grow to full size when you grow them from seed, but you can pick a few leaves off as you need them.
Just be sure to leave at least four leaves on each plant and take the outside leaves instead of the new growth in the middle of the plant.
It's a good idea to put your kale plants outside for a couple of nights before harvesting because cool temperatures help the plants to convert starches into sugars, so they taste a lot sweeter.
Kale is also an ideal microgreen crop and you can harvest them at around 10 to 12 days for nutritious microgreens.
RELATED: 10 Fast Growing Salad Vegetables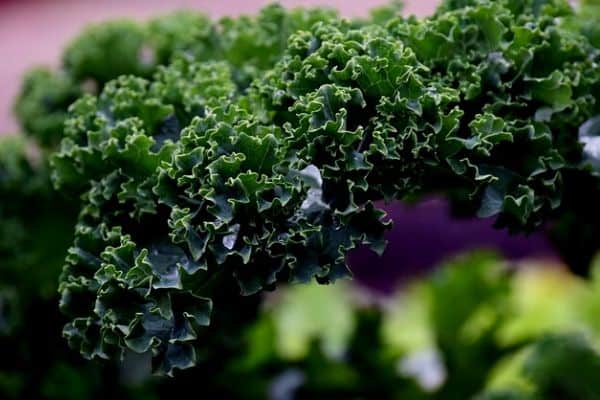 How to use kale
Baby kale leaves can be eaten raw in salads and sandwiches or added to smoothies.
Mature kale leaves can be lightly steamed, stir fried or baked to make kale chips.
If you have lots of kale ready to harvest at the one time you can freeze the leaves in small portions to add to soups or smoothies later on.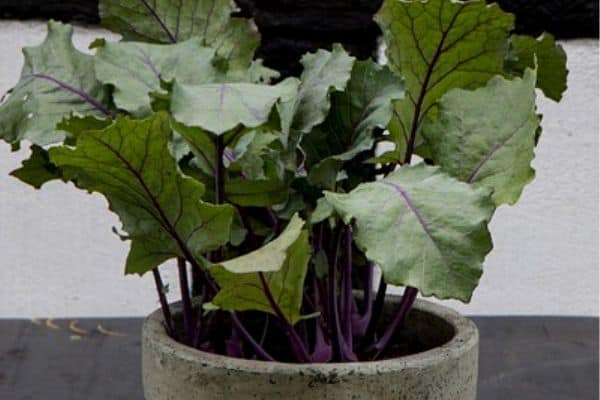 So there are my tips for growing kale plants indoors.
Growing salad vegetables indoors means that you can pick beautiful fresh homegrown leaves for your meals without having to harvest the whole plant.
RELATED ARTICLES
Have you tried growing kale inside? Let me know in the comments below.
Are you on Pinterest? I have boards dedicated to Indoor Gardens and Gardening Tips that you may enjoy. You can also find me on Facebook.
Don't forget to pin this post so you can come back to it when you're ready start growing kale.