Pumpkin season is one of my favorite times of year and it's very satisfying to harvest the homegrown pumpkins that I planted from seed.
Are you wondering when pumpkins are in season?
In this article I'll tell you all about the pumpkin growing season, along with some handy tips to get the most out of your pumpkin crop.
This post contains affiliate links. Please read the disclosure for more info.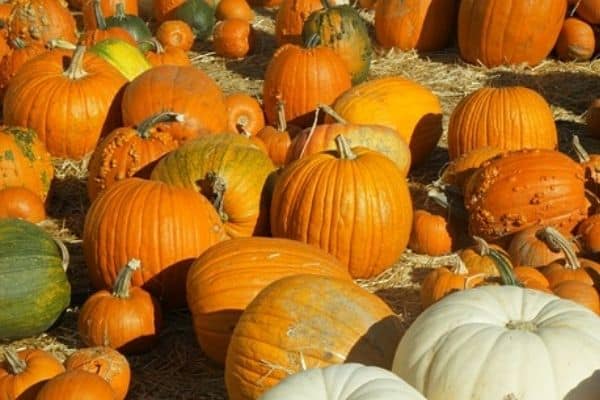 Fall is the peak pumpkin season in North America. The pumpkin harvest time will vary depending on which part of the country you're in.
Pumpkins grown in southern states will be ready to harvest in early fall, while in the northern states pumpkins can be harvested in mid to late fall.
Planting pumpkin seeds
Pumpkin plants grow best when the seeds are planted directly in the garden.
You'll need to wait until the soil has warmed up to at least 70ºF (21ºC) before planting pumpkin seeds outdoors.
Pumpkins are tender plants that are sensitive to cold temperatures and they're not frost tolerant.
If you live in an area with a short growing season you can start the seeds indoors and transplant them out to the garden when the temperature warms up or choose a fast maturing variety like Idaho Gem that only takes about 70 days from planting to harvest.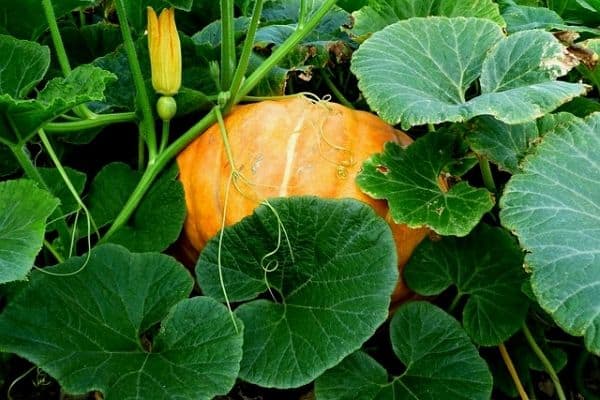 Pumpkin season in the USA
Pumpkins have a long growing season, usually 75 to 100 days so you need to plant them by mid to late spring in most locations.
If you sow your pumpkin seeds in late April or early May, they'll be ready to harvest sometime in August.
Pumpkins are commonly used in the United States as decorations for fall holidays like Halloween and Thanksgiving.
The pumpkins can be used in table or front porch arrangements, carved or used for cooking.
Pumpkin season in Australia
In the warm, frost free areas of Australia you can start planting pumpkin seeds in late August or early September and your pumpkins will be ready to harvest before Christmas.
In cooler climates you'll need to wait until the risk of frost has passed, which can be as late as mid November in some areas of the southern states.
This means that the pumpkins will be ready to harvest in late February.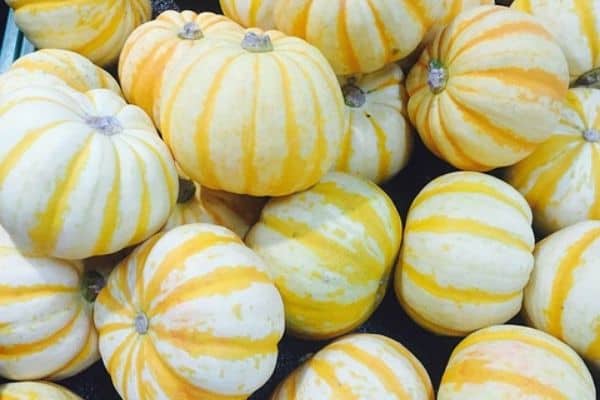 Pumpkin maturing time
There is some variation in ripening time between different varieties of pumpkins.
If you're looking for a fast growing pumpkin it's best to plant one of the smaller varieties like Jack Be Little, Bumpkin or small sugar pumpkins.
These varieties are usually ready to harvest about 90 to 100 days after planting, depending on the conditions.
Harvesting pumpkins
There are a couple of ways to tell when pumpkins are ready to pick.
I like to wait until the vine starts to turn brown and becomes withered but you can also tap on the outside of the pumpkin.
If it sounds hollow it means your pumpkins are ready to harvest.
Cut the pumpkins from the vine with a knife and leave at least 3 inches (about 7 cm) of the stem attached to each pumpkin.
The great thing about growing pumpkins is they keep for months, so you can enjoy them right throughout fall and winter, as long as they're cured properly.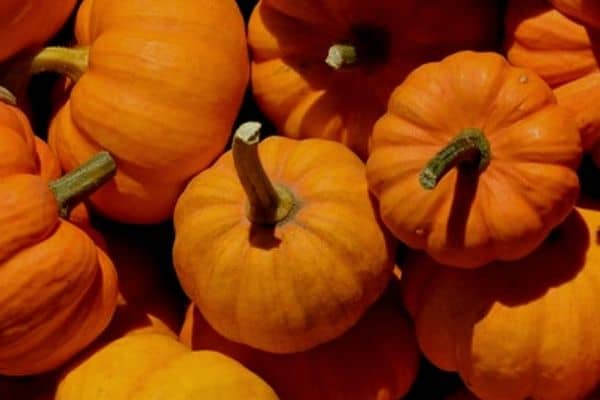 Once the pumpkins are harvested you'll need to leave them outdoors in a sunny spot to cure for about two weeks.
This helps the skin of the pumpkins to harden which means they'll keep for many months.
Pumpkins that are in the process of curing shouldn't get wet so if there is rain predicted you'll need to move the pumpkins to a covered area to finish curing.
Pumpkins can be stored for six months or longer in a cool, dark room.
Just make sure there's enough space for the air to circulate between them.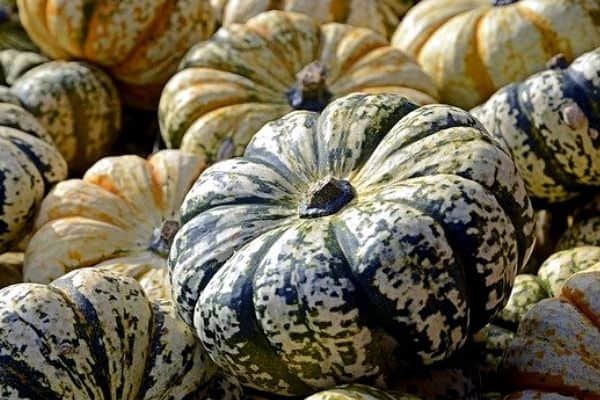 I hope this post has helped you to work out when pumpkin season is in your area.
Plant pumpkins seeds anytime from early spring as long as there is no risk of frost and they'll be ready to harvest three and a half to four months later.
RELATED ARTICLES
Are you on Pinterest? I have boards dedicated to Vegetable Gardens and Gardening Tips that you may enjoy. You can also find me on Facebook.