Growing small cucumbers in your garden means that you can enjoy crispy, fresh cucumbers straight from the vine and you don't need a lot of space to grow them.
Here are 8 easy to grow, small cucumber varieties to plant in your garden. They're also ideal for pots, containers and vertical gardens.
This post contains affiliate links. Please read the disclosure for more info.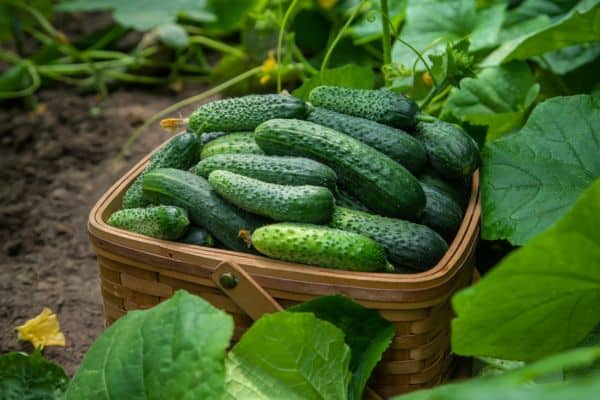 8 SMALL CUCUMBER VARIETIES
1. Lebanese cucumbers
Lebanese cucumbers
are one of the most popular small cucumber varieties and they're ideal for snacking because they have thin skin and minimal seeds.
The vines can reach 6 feet (1.8 metres) in length so they'll take over the garden if you let them.
If you have a small garden you can train the vines to grow up a trellis or a wire fence to save on space.
2. Apple cucumbers
Apple cucumbers
have white skin and grow to about the size of an apple.
The plants are high yielding but it's important to keep the plants well watered to avoid bitter tasting cucumbers.
Apple cucumbers are ready to harvest about 70 days after planting.
3. Lemon cucumbers
Lemon cucumbers
are an interesting small cucumber variety that has yellow skin and a slightly lemony taste.
They grow to about the size of a tennis ball and take 65 days to reach maturity but you can pick them earlier for smaller fruits.
Lemon cucumbers contain lots of seeds so if you don't like seedy cucumbers you'll have to scrape out the seeds.
4. Spacemaster
Spacemaster cucumbers
are ideal for small gardens because they grow on compact vines.
They can be planted in containers and even hanging baskets.
Spacemaster cucumbers are also one of the fastest growing cucumbers and you can start harvesting them after only 56 days.
5. Picklebush
Picklebush
is another compact cucumber vine that only grows 2 feet (60 cm) long.
They're green with white stripes and ideal for pickling.
The vines are resistant to powdery mildew and the cucumbers are ready to harvest 52 days after planting.
6. Marketmore
Marketmore
is a popular slicing cucumber that is ideal for small vegetable gardens.
They're easy to grow and resistant to cucumber mosaic virus and powdery mildew.
Marketmore cucumbers can be harvested in 63 days.
7. Sweet gherkin
Sweet gherkin cucumber
vines only reach 18 to 24 inches (45 to 60 cm) long so they're perfect for containers.
They're ideal for pickling and can be planted in spring or early summer.
8. Cucamelon (Melothria scabra)
Cucamelons
, also known as Mexican sour gherkins aren't actually cucumbers but I couldn't resist adding them to this list.
The tiny fruits are about the size of a grape and they taste like a slightly sour cucumber.
You can eat them straight from the garden as a snack, add them to salads or pickle them.
Cucamelon seeds can be planted directly in the garden in spring once the chance of frost has passed and they'll be ready to harvest in 60 to 70 days. [1]
GROWING SMALL CUCUMBER PLANTS
Growing small cucumbers is fairly easy and they grow fast so you won't have to wait long to harvest your crop.
If you have limited garden space, it's best to train your cucumber vines to grow up a trellis to maximize your garden area.
Cucumber trellises should be at least 4 to 5 feet tall.
Prepare your garden bed by digging some compost into the soil before planting your cucumber seeds.
You can start cucumber seeds inside in early spring and move them out the garden once the temperature warms up and the risk of frost has passed.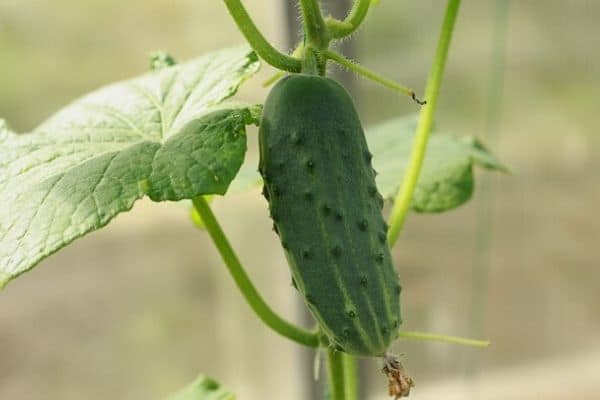 Small bush cucumber plants can also be grown in containers and they're great for courtyards and balconies.
Cucumber plants need full sun, so choose a position that receives at least 6 hours of sunlight during the day.
Most small cucumber varieties can be harvested in 50 to 60 days after planting.
Check the vines each day and harvest the cucumbers using a pair of garden shears or sharp scissors.
Here's a quick video that shows how to grow cucumbers step by step from sowing the seeds to harvesting. I hope you find it helpful.
So there are 8 types of small cucumbers to plant in your vegetable or container garden.
I love crispy cucumbers fresh from the garden so I like to experiment with a few different types of cucumbers each year to see which ones I like best.
I hope this article has helped you to discover some interesting compact cucumber varieties for your garden.
Even if you have a small garden there's sure to be a small cucumber plant that is suited to your space.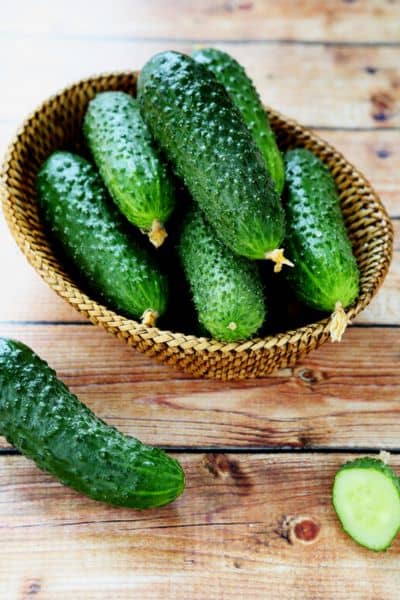 RELATED ARTICLES
Have you tried growing any of these small cucumber varieties in your home garden? Let me know in the comments below.
Are you on Pinterest? I have boards dedicated to Vegetable Gardening and Garden Ideas that you may enjoy. You can also find me on Facebook.