Snake head fritillaries are interesting, low maintenance flowers that come back year after year.
The flowers can be burgundy, purple or white and they have an attractive checked pattern that resembles snake skin.
In this article, you'll learn about growing and caring for snake head flowers, so you can enjoy them in your garden for many years to come.
This post contains affiliate links. Please read the disclosure for more info.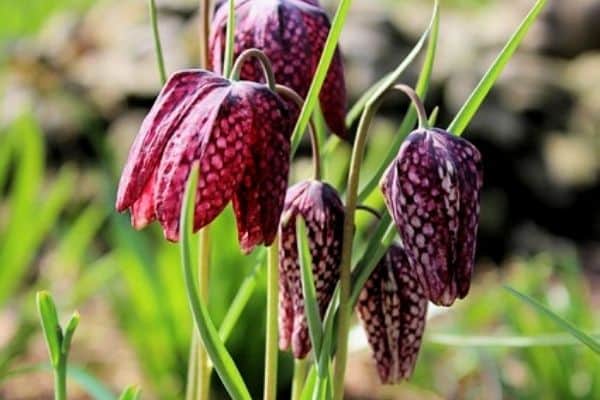 Snake head fritillaries (Fritillaria meleagris) grow 12 to 16 inches (30 to 40 cm) tall and begin blooming in late winter or early spring.
Before the flowers open they look similar to a snake's head, which is how they get their name.
The flowers then open into an attractive bell shape.
Location
Snake head fritillaries are naturally found in woodland areas and prefer climates with cool winter temperatures and plenty of rain in spring.
They'll grow best in a spot that is partially shaded, like underneath a tree or large shrub.
Snake head flowers are also great for garden borders, flower beds and cottage gardens that receive shade in the afternoons.
You can also plant fritillaries in containers.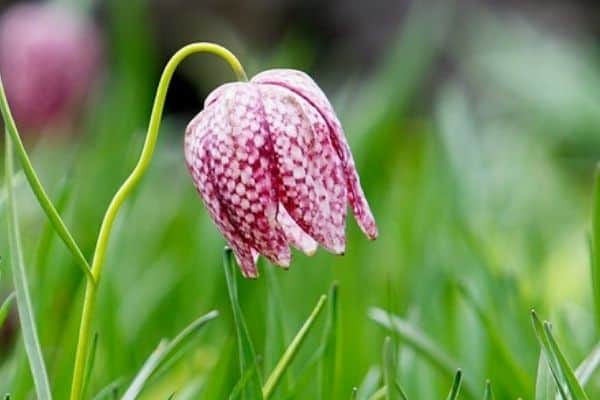 Soil
Snake head fritillaria bulbs can tolerate most soil types, but they grow best in well-draining soil that is rich in organic matter.
It's a good idea to enrich the soil with some well broken down manure or compost before planting your bulbs.
Planting snake head fritillaries
Fritillary bulbs are best planted in fall for beautiful blooms in late winter and spring.
Dig a hole and plant the bulbs at least 4 inches (10 cm) deep.
They can be planted in small clumps or if you prefer a more natural look you can scatter the bulbs on the ground and plant them where they land.
Planting fritillaries in containers
Snake head fritillaries look beautiful in containers on their own or combined with other spring bulbs or annual flowers.
Use a high quality potting mix
and choose a pot with good drainage holes in the bottom.
When they're finished flowering you leave the bulbs in place or dig them up, plant them somewhere in your garden and they'll pop up again next year.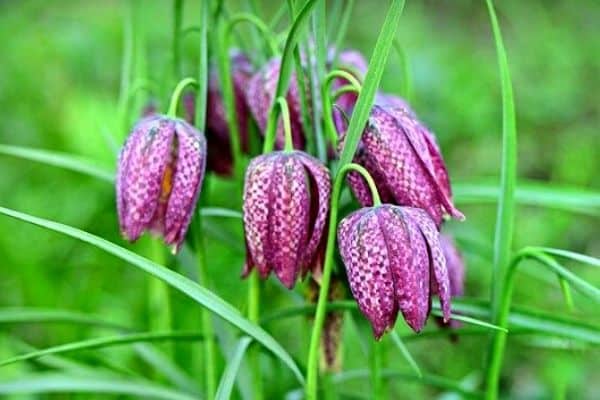 Growing fritillaria from seed
Fritillaries can also be grown from seed
that is collected from the plants at the end of summer.
Plant the seeds as soon as you collect them for the best results.
The seeds will germinate during the winter months and the seedlings will appear in late winter or spring.
Watering
Snake head fritillaries are susceptible to root rot so it's important to make sure that they're not overwatered.
Only water your fritillaries during long dry periods.
If you live in an area with high rainfall in spring and summer you may not need to water them at all.
Deadheading
After the flowers have finished blooming you can cut them off but try to leave as much foliage as possible to help the plant produce nutrients and energy for the next season.
Once the leaves have died off you can remove them.
Dividing snake head fritillaries
Fritillaria bulbs will need to be lifted and divided every few years to keep the bulbs healthy.
The best time to divide fritillaries is in fall when the bulbs are dormant.
Use a garden fork to dig up the bulbs and gently separate the bulbs and replant them a few inches apart.
Toxicity
If snake head fritillaries are eaten they can cause kidney problems, hypertension and cardiac arrest so it's best to avoid planting these flowers if you have small children.
The bulbs can also cause contact dermatitis so always wear gloves when handling the bulbs. [1]
Pests and diseases
Fritillaries are fairly pest resistant but they can be eaten by snails and slugs when the plants are young.
Set out some snail pellets
or use a beer trap to protect the seedlings.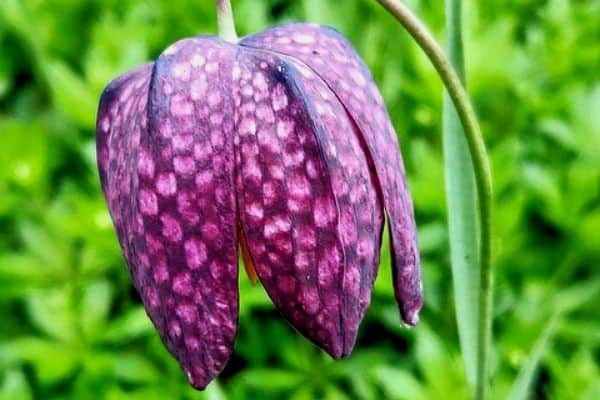 Questions about growing snake head flowers
Here are some of the most common questions about fritillary plant care. If you can't find the answer here, add it to the comment section below.
Are fritillaries frost tolerant?
Snake head fritillaries are fairly hardy and will tolerate cold winter temperatures and light frosts.
How tall do snake head flowers grow?
Snake head fritillaries grow to about 12 to 16 inches (30 to 40 cm) tall so they're ideal for the back of garden borders with smaller flowers planted in front.
Snake head fritillaria are also known by many other names including:
Chequered lily
Guinea hen flower
Chess flower
Drooping lily
So there are my tips for growing snake head flowers.
With the right care and location you can expect beautiful fritillaries to pop up in your garden for many years to come.
RELATED ARTICLES
Have you tried growing snake head fritillaries in your flower garden? Let me know in the comments below.
Are you on Pinterest? I have boards dedicated to Perennial Flowers and Flower Gardening that you may enjoy. You can also find me on Facebook.