Small tomato varieties are ideal for urban gardens because they don't take up much space.
Most people have heard of cherry tomatoes but there is a wide range of small tomato varieties available.
Here are 12 petite, small tomatoes to plant in your garden. They're also perfect for containers and pots.
This post contains affiliate links. Please read the disclosure for more info.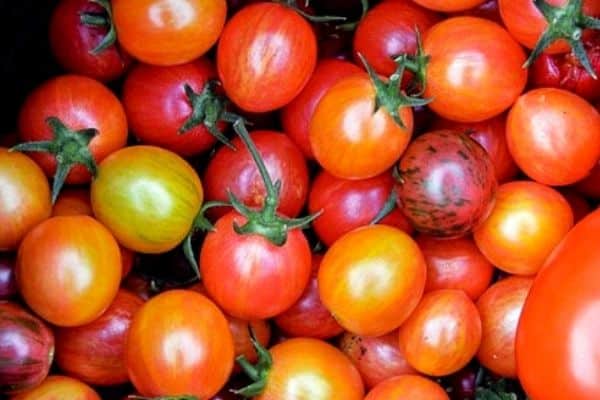 12 SMALL TOMATO VARIETIES
1. Tiny Tim
Tiny Tim
is a compact tomato variety that is ideal for containers or tubs.
It's a determinate (bush variety) of tomato that produces small, bright red cherry tomatoes that are about ¾ inch (2 cm) in size.
They're fast growing and you'll be able to start harvesting in just 60 days after planting.
2. Cherry Cocktail
Another small tomato variety is cherry cocktail
, which produces small bite-sized tomatoes that are full of flavor.
The plants are indeterminate (climbing), so they'll need staking and the time to maturity is about 70 days.
Keep picking the tomatoes as they ripen to encourage more fruit to grow on the vine.
3. Golden Nugget
Golden Nugget
tomatoes are rich yellow in color and their taste is milder than regular tomatoes because they're lower in acidity.
Golden Nuggets look great on the vine and they're ideal for salads or snacks.
4. Golden Grape
Another type of small yellow tomato is the Golden Grape
, an ideal snacking tomato that is low in seeds.
The plants are high yielding and produce an abundance of tomatoes.
5. Tumbling Tom
Tumbling Tom
tomato plants have a cascading or trailing habit which makes them ideal for hanging baskets.
They'll need consistent watering, especially if they're located in full sun and you can harvest the small bright red tomatoes in about 70 days.
6. Green Grape
Green Grape
tomatoes turn a beautiful yellow / green color when they're ripe.
They grow on small, compact bushes but they may need support because they produce an abundance of small tomatoes.
7. Baby Red Pear
Baby Red Pear
is a small juicy red tomato that grows to 1.5 inches (4 cm) in length.
The fruits ripen in clusters and they have a long fruiting season.
Baby Red Pear plants are climbers so they will need staking.
8. Super Sweet
Super Sweet
tomato plants begin producing in summer and continue right through until the first frost.
The plants are high yielding and produce many clusters of small, sweet tomatoes during the fruiting season.
9. Yellow Currant
Yellow Currant
is a tiny yellow tomato variety that makes a perfect bite-sized snack.
You can also add them whole to salads or pop them in the kids lunch box.
10. Sweetie
Sweetie
is a small, sweet tasting tomato that has a higher sugar content than most other tomatoes.
It has a long fruiting season and you can begin harvesting in about 65 days after planting.
11. Roma
Roma
tomatoes, also known as Italian tomatoes, are one of the most popular tomatoes for cooking.
They're ideal for canning and making pasta sauces.
If you cook a lot of Italian recipes it's definitely worth planting a few Roma tomato plants in your garden.
12. Black Pearl
Black Pearl
tomatoes are rich in color with a sweet, tangy flavor.
Black tomatoes get their color from anthocyanins, which are also powerful antioxidants.
The plants grow 5 feet (150 cm) tall and they will need a stake or cage for support.
Black Pearl tomatoes are ready to harvest in 65 days.
GROWING SMALL TOMATO PLANTS
Growing small tomato varieties is fairly simple, even for inexperienced gardeners and kids.
First, dig some compost into the soil before planting your tomato seeds.
You can start your seeds indoors in early spring and transplant them out the garden once the weather has warmed up and there is no more chance of frost.
Small tomatoes can also be grown in large containers with a wooden stake or tomato cage to support the plant.
Tomato plants grow best in full sun, so choose a spot that receives at least 6 hours of sunlight each day.
Tomatoes need consistent moisture for even growth and to avoid splitting.
Container grown tomato plants dry out quickly and may need watering once or twice a day on hot summer days.
Most small tomato varieties can be harvested in 65 to 70 days after planting. [1]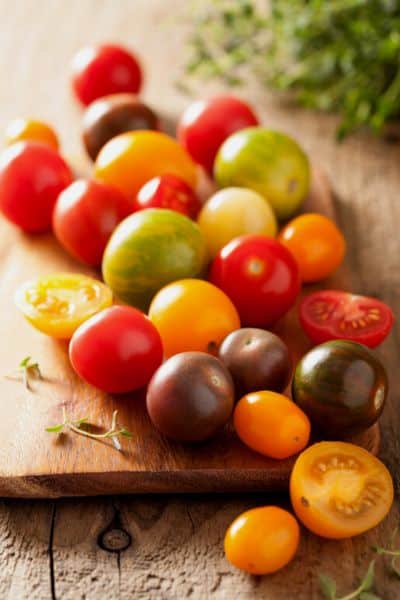 Tomatoes continue to ripen after they're picked but it's best to leave the tomatoes on the vine until they're bright red or yellow in color to maximize the flavor.
You can pick individual tomatoes as you need them or snip off the whole bunch with garden shears or sharp scissors.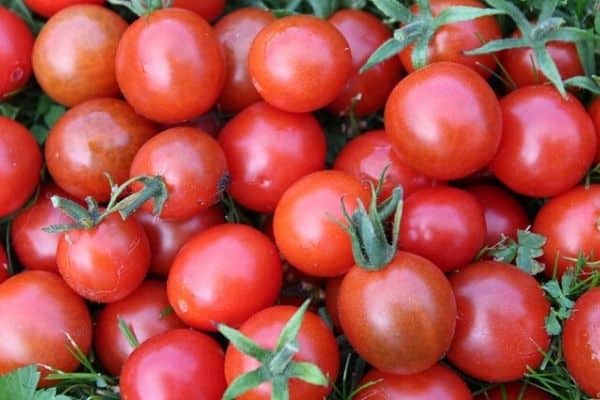 Here's a quick video that shows how to grow masses of tomatoes in a small space. I think you'll find it helpful.
So there are 12 small types of tomatoes to plant in your vegetable or container garden.
I hope this article has helped you to choose the best small tomato varieties for your garden.
No matter how much garden space you have available there's sure to be a compact tomato plant that is suited to your space.
I like to plant a few different types of tomatoes each year to see which ones I like best.
RELATED ARTICLES
Have you tried growing any of these compact tomato varieties in your garden? Let me know in the comments below.
Are you on Pinterest? I have boards dedicated to Vegetable Gardening and Urban Gardening that you may enjoy. You can also find me on Facebook.