Mini pumpkins are ideal for small gardens because they can be grown vertically on a trellis.
Many people think small pumpkins are just for decoration but they're also edible and make a great addition to pumpkin recipes.
Here are 10 cute small pumpkins to plant in your garden.
This post contains affiliate links. Please read the disclosure for more info.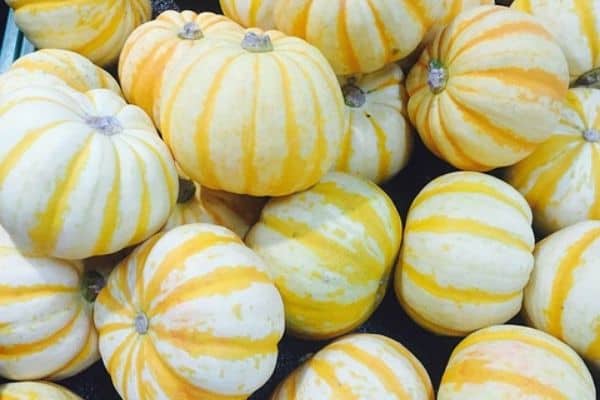 10 SMALL PUMPKIN VARIETIES
1. Jack Be Little
Jack Be Little
is one of the most popular and well known small pumpkin varieties.
They have a flattened, ribbed shape and will easily fit in the palm of your hand.
Jack Be Little pumpkins have a long shelf life and they look great as part of a table decoration.
They measure about 3 inches (7.5 cm) in diameter and 2 inches (5 cm) high.
2. Baby Boo
Baby Boo
is a beautiful small white pumpkin that can be edible or decorative.
Each plant will produce about 10 small pumpkins and the color isn't affected by sun or frost.
3. Casperita
Another small white pumpkin is the Casperita
, an attractive looking pumpkin variety that is great for Halloween decorations.
As well as looking good, they also have a delicious taste which is similar to acorn squash.
4. Hooligan
Hooligan
is a cute, tiny pumpkin with an interesting orange and white mottled appearance.
They're one of the most attractive small pumpkins for Halloween or fall decorations and they grow on compact vines so they won't take over your garden.
5. Gooligan
Gooligan
is a cute looking white Pumpkin that is ideal for decorating and you can paint them with beautiful designs.
They grow to about 6 inches (15 cm) in diameter so they're small enough to grow on a trellis.
6. Bumpkin
Bumpkins
are bright little orange pumpkins with sturdy green handles.
They're a little bit bigger than Munchkin pumpkins, but still small enough for compact gardens.
The plant is a semi-bush shape and it's resistant to powdery mold.
7. Wee B Little
Wee B Little
is another cute pumpkin for kids to grow in the garden.
The vines have a semi-bush habit, so they're ideal for small gardens and you can even plant them in large containers.
Like most of these small pumpkin varieties they grow to about 3 to 5 inches (7.5 to 12 cm) in diameter and 2 to 3 inches (5 to 7.5 cm) high.
8. Kabocha
Kabocha
pumpkins, also known as Hokkaido or Delica, look like a green pumpkin but they're really a type of squash.
They have a sweet flavor, which makes them ideal for baking recipes
9. Mini Tiger Striped Pumpkin
Mini Tiger pumpkins
can be mottled green, orange or white with vertical stripes.
They're small in size, growing to about 3 to 5 inches (7.5 to 12 cm) in diameter.
Mini Tiger pumpkins are tender and smooth with a sweet and slightly nutty taste.
10. Small Sugar Pumpkin
Small sugar pumpkins
are a small pumpkin variety reaching about 7 inches (17 cm) in diameter.
They're commonly used to make pumpkin pies and other delicious pumpkin treats.
GROWING SMALL PUMPKINS
Growing small pumpkin varieties is fairly simple, even for beginner gardeners.
Dig some compost into the soil before planting your pumpkin seeds.
It's best to sow the seeds directly in the garden in spring when the weather has warmed up and there is no more chance of frost.
Miniature pumpkins can also be grown in large containers next to a fence or trellis to climb up.
RELATED: How To Grow Pumpkins Vertically
You can let the vines spill over the sides of the container and onto the ground if you have enough room around the container.
Pumpkins like to grow in full sun, so choose a spot that receives at least 6 hours of sunlight each day.
Small pumpkins take between 90 to 110 days to mature. [1]
They're ready to harvest when the stem has dried out and turned brown.
Cut the stem with a sharp knife, being careful not to snap the stem.
So there are 10 small types of pumpkins to plant in your vegetable garden.
RELATED ARTICLES
Have you tried growing any of these mini pumpkin varieties in your garden? Let me know in the comments below.
Are you on Pinterest? I have boards dedicated to Vegetable Gardening and Gardening Tips that you may enjoy. You can also find me on Facebook.