Beautiful, easy care rose substitutes
Roses are one of the most popular flowers and they're a staple in many flower gardens around the world, but there are plenty of low maintenance rose alternatives that you can plant in your garden.
Here are 10 gorgeous flowers that are excellent rose bush alternatives.
This post contains affiliate links. Please read the disclosure for more info.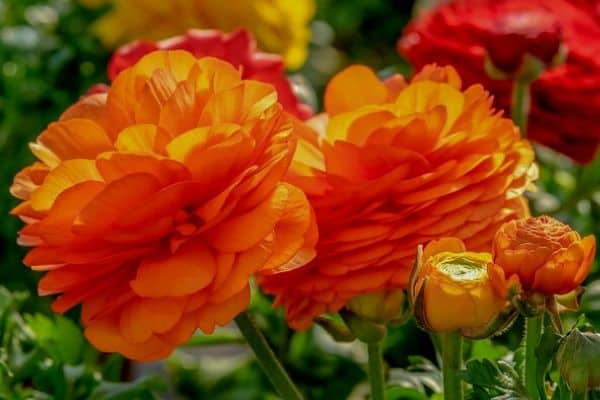 1. Dahlia
Dahlias
are showy, large flowers that really stand out in the garden.
They bloom from late summer into fall and come in a range of sizes, shapes and colors including red, pink, purple, orange and yellow.
Dahlias can be grown from tubers or seeds and some varieties can grow 5 to 6.5 feet (1.5 to 2 m) tall. [1]
They grow best in full sun and need at least 6 hours of sunlight each day and protection from strong winds.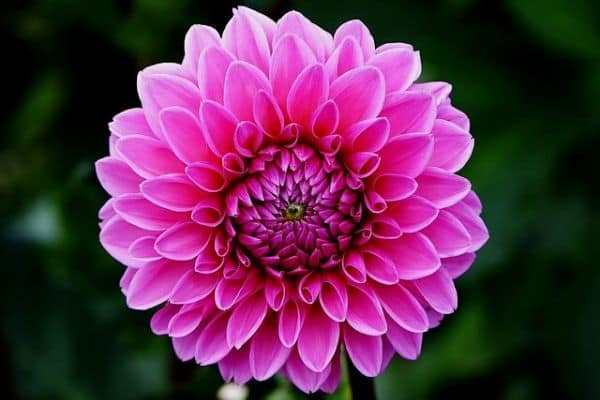 2. Ranunculus (Ranunculus asiaticus)
Ranunculus
, also known as Persian Buttercup or Rose of the Spring, are popular cut flowers and excellent rose alternatives.
The tightly layered, ruffled flowers come in a variety of colors including pink, purple, red, white, yellow and orange.
Ranunculus grows from tubers and each tuber can produce up to 40 flowers, so you'll have an abundance of blooms.
They're hardy plants that will grow in a range of conditions but they prefer to have their roots moist and cool.
In temperate climates, the tubers can be left in the ground over winter but in cool climates the tubers should be dug up and stored in a dry place during the winter months.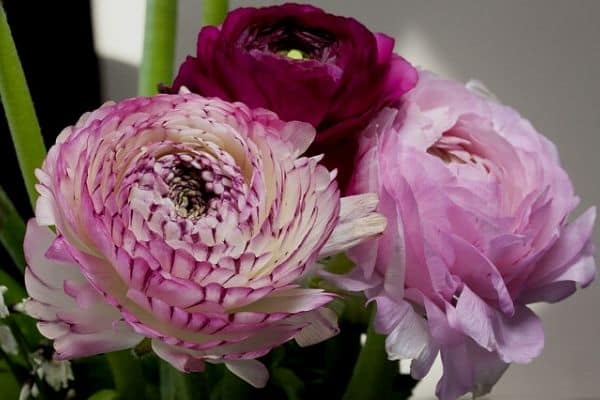 3. Gardenia (Gardenia jasminoides)
You don't have to plant roses to enjoy fragrant flowers in your garden.
Gardenias
are evergreen shrubs with beautifully scented white flowers and they're a great substitute for rose bushes.
They grow best in warm, humid climates in full sun or part shade and bloom from mid spring until summer.
Gardenias can grow from 2 to 8 feet (60 cm to 2.4 m) tall, depending on the variety. [2]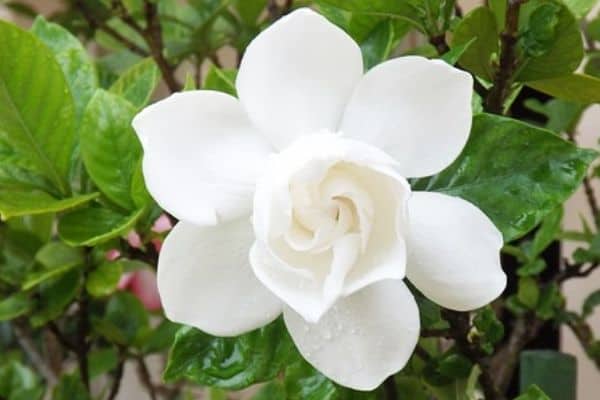 4. Peony (Paeonia)
Peonies
are popular perennial flowers that are excellent rose alternatives.
Their beautiful blooms come in a variety of colors including pink, purple, white and red.
They grow best in areas with cool winters because the cold temperatures help the flower bud to develop.
Peonies grow well in a spot with full sun but some afternoon shade is needed in areas with hot summers.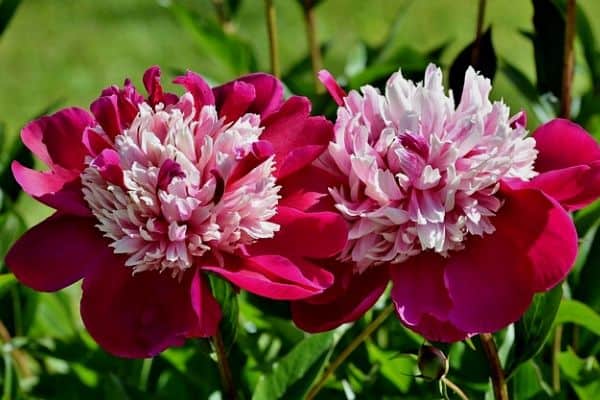 5. Lisianthus (Eustoma grandiflorum)
Lisianthus
are native to Southern USA and Mexico, so they grow best in areas that are warm and dry.
They like a position in full sun but in areas with hot summer temperatures they'll need some afternoon shade.
The flowers can be lilac, blue, pink, white or green in single or double forms.
Lisianthus plants grown from seed can take a long time to mature, so it's easier to buy seedlings from the nursery.
The plants can become top heavy when they're laden with flowers so you can stake them or cut off some of the top blooms to make a floral arrangement. They'll last a couple of weeks in a vase.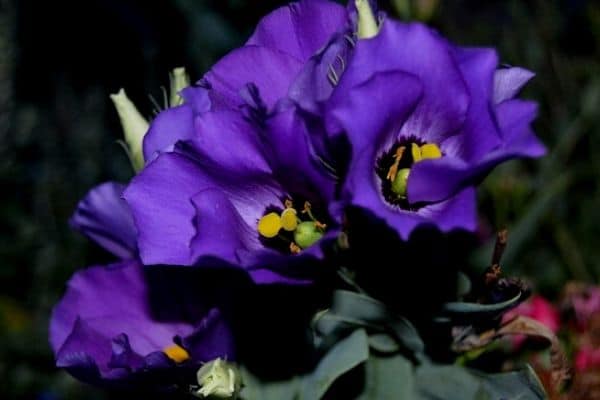 6. Azalea (Rhododendron)
Azaleas
are easy to grow perennial shrubs with beautiful bright flowers in a variety of colors including purple, pink, red, orange and white.
They grow best in a partially shaded position and need protection from hot afternoon sun.
Azaleas can be cut back when they finish flowering to keep the plant looking tidy and encourage bushier growth.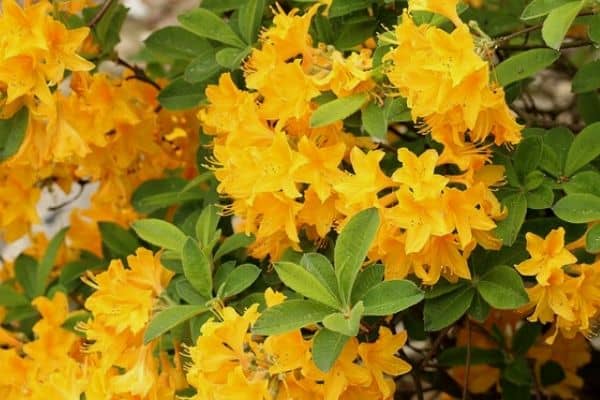 7. Chrysanthemum
Chrysanthemum
flowers are just as beautiful as roses and come in hundreds of varieties and many different colors including yellow, pink, white, red and purple.
They grow best in full sun and can reach 1 to 3 feet (30 to 90 centimetres) tall and 2 to 3 feet wide.
Chrysanthemums bloom from late summer to late fall and can be pruned back after flowering.
8. Camellia (Camellia spp.)
Camellias
are evergreen shrubs with beautiful large flowers that can be pink, white, cream, red or striped.
Camellia japonica blooms from fall to spring, while Camellia sasanqua blooms from summer until winter.
Sasanqua flowers are fragrant but japonica flowers don't have a scent. [3]
Depending on the variety, they can grow from 5 to 20 feet (1.5 to 6 m) high.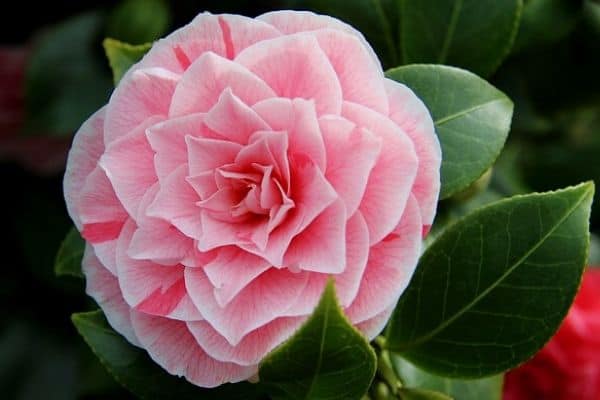 9. Weigela
Weigela
is another good rose alternative that comes in lots of different sizes and shapes.
The flowers can be pink, red, white or yellow.
Weigela plants with brightly colored flowers are best suited to full sun, but plants with variegated foliage need some afternoon shade.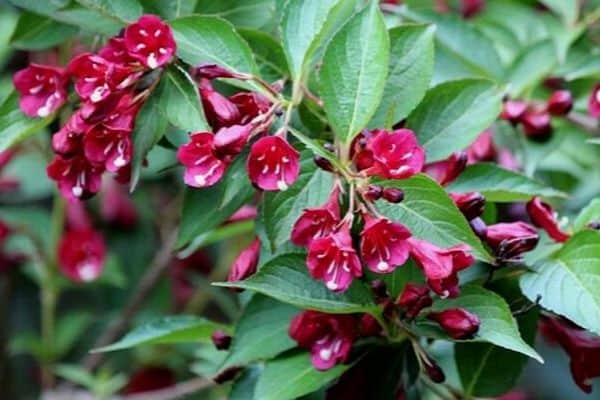 10. Zinnia (Zinnia elegans)
Zinnia
are popular annuals with large brightly colored flowers in a range of colors including purple, pink, yellow, orange and red.
Giant Zinnia varieties can grow up to 4 feet (120 cm) tall and they're fast growing, so you won't need to wait long to enjoy their beautiful blooms.
Zinnias like full sun and they grow best from seed planted directly in the garden because they don't like to have their roots disturbed.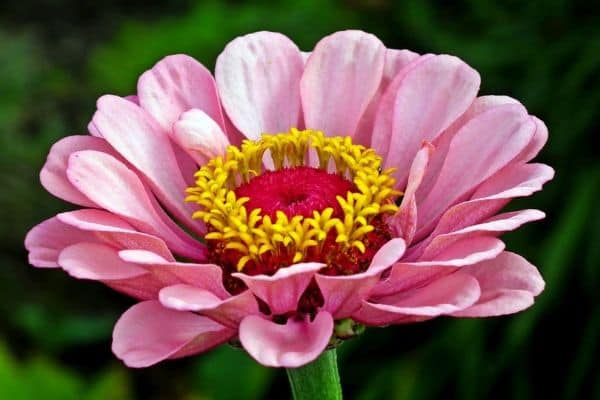 So there are my top 10 rose bush alternatives to plant in your garden.
I hope this has given you some attractive options to plant instead of roses.
RELATED ARTICLES
Which of these rose alternatives do you like best? Let me know in the comments below.
Are you on Pinterest? I have boards dedicated to Flower Gardening and Garden Ideas that you may enjoy. You can also find me on Facebook.