Pink flowering trees are great for bringing color to your yard during the spring and summer months.
You can plant one tree as a focal point in your garden or plant a row of trees alongside your driveway.
Here are 10 beautiful trees with pink flowers to plant in your garden.
Most of these trees also provide a stunning colorful display in fall.
This post contains affiliate links. Please read the disclosure for more info.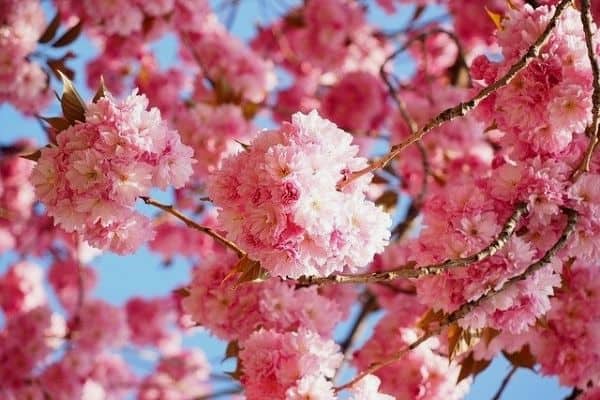 10 TREES WITH PINK FLOWERS
1. Eastern Redbud (Cercis canadensis)
Eastern Redbuds
are beautiful flowering trees with pink blooms that appear along the branches in spring.
They grow well in full sun or partial shade in warm climates and reach 20 to 30 feet (6 to 9 metres) tall.
Redbuds are fairly drought tolerant once established and they're a low-maintenance tree that will provide year round interest.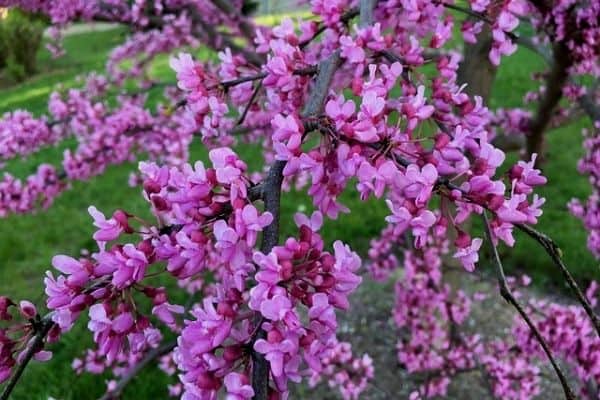 2. Flowering Cherry Trees
There are many different varieties of flowering cherry trees
that provide a stunning display of white or pink flowers in late winter and early spring.
Cherry trees grow best in full sun and they range in size from 9 to 32 feet (3 to 10 metres) tall, so there's sure to be one that fits your yard.
Flowering cherries usually bloom for several weeks and they're great for attracting birds to your yard.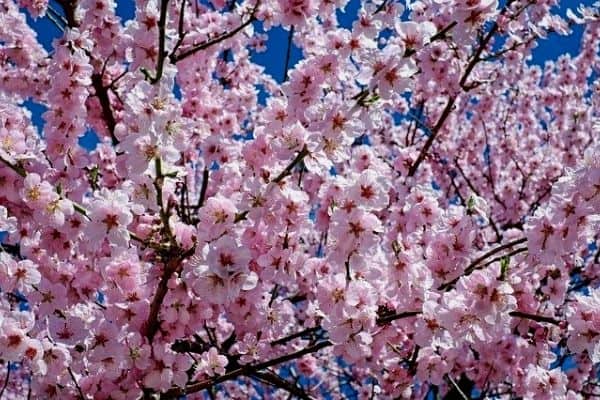 3. Magnolia (Magnolia grandiflora)
Magnolia trees
have beautiful flowers in a range of colors including pink, white, yellow and purple.
They usually grow 16 to 19 feet (5 to 6 metres) tall and will do well in full sun or part shade.
Magnolia trees have shallow roots so they need to be watered often during hot, dry weather.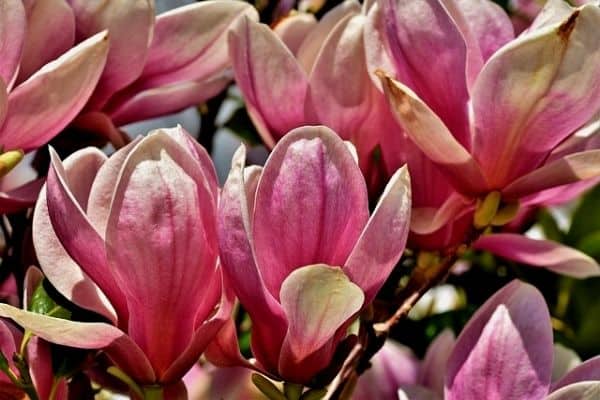 4. Crape Myrtle (Lagerstroemia spp)
Crape Myrtles
are deciduous flowering trees that can tolerate light frosts and hot summer temperatures.
They bloom from summer until fall and the flowers can be pink, purple, mauve, red or white.
The flowers have a ruffled appearance, a bit like crape paper, which is how they get their name.
Crape Myrtles also provide beautiful color to the garden in fall with the leaves turning yellow, orange and red before falling off.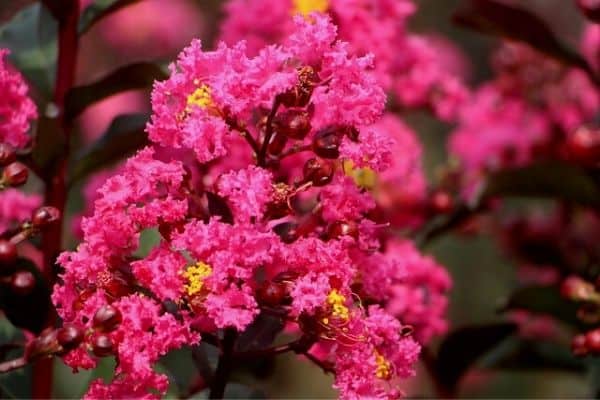 5. Dogwood (Cornus florida)
Dogwoods
are pretty deciduous flowering trees that thrive in areas with cool winters and warm summer temperatures.
They bloom in early spring and the flowers can be pink, white or red. In fall the leaves turn red before falling off.
Dogwoods grow best in full sun or partial shade and they usually reach about 16 feet (5 metres) tall. [1]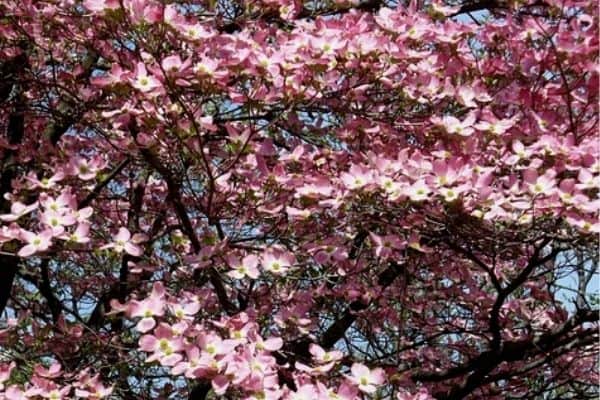 6. Crabapple (Malus)
Another gorgeous tree with pink flowers is the crabapple tree
.
The beautiful flowers of the crabapple can be pink, red or white in single, double or semi-double forms.
Some varieties are highly fragrant while others have very little fragrance.
In fall the trees produce tiny fruits that are about 2 inches (5 cm) in diameter.
Crabapples have a sour taste so they're not ideal for eating raw, but you can make a nice jelly or jam from them.
Crabapple trees grow best in full sun and they're fairly drought resistant once they become established.
It's a good idea to apply a thick layer of mulch around the base of the tree to help retain moisture.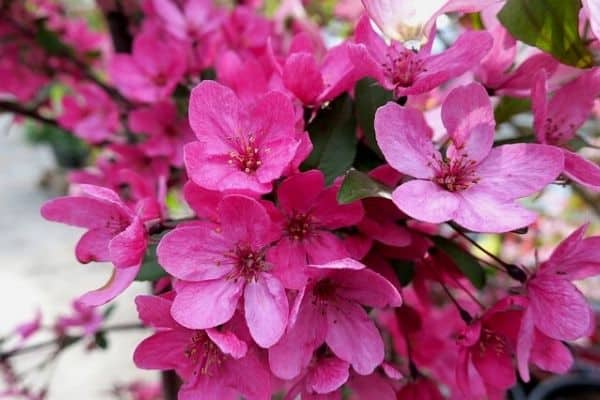 7. Royal Poinciana tree (Delonix regia)
Royal poincianas are beautiful evergreen trees that bloom in the spring and summer with red or pink flowers.
They can grow up to 40 feet (12 metres) tall and spread 40 to 60 feet (12 to 18 metres) wide so you'll need plenty of space in your garden for one of these trees.
Royal Poincianas grow best in warm climates and they're not frost tolerant.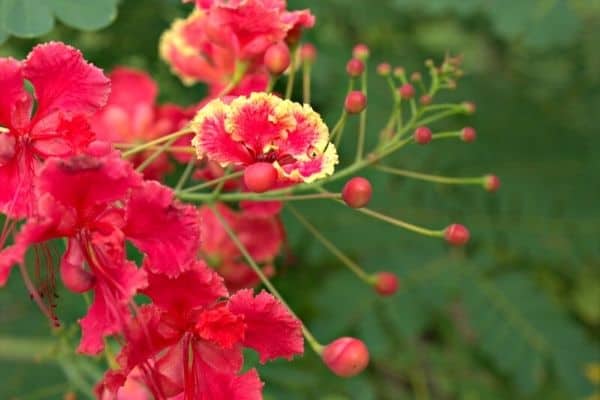 8. Flowering Almond tree (Prunus triloba)
Flowering almond trees are deciduous trees that produce beautiful pink blooms during spring.
They can grow up to 12 feet (3.5 metres) tall, so they won't take up too much space in the garden.
Flowering almond trees are drought tolerant and grow well in full sun or partial shade.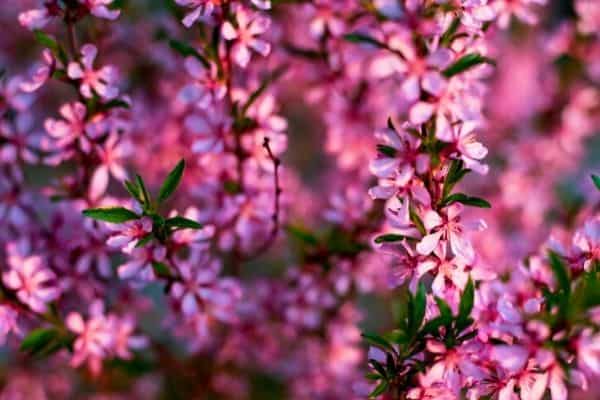 9. Orchid tree (Bauhinia variegata)
Orchid trees are low maintenance pink flowering trees that are best suited to warm climates.
They grow 6 to 10 feet (1.8 to 3 metres) tall and grow best in a position with full sun.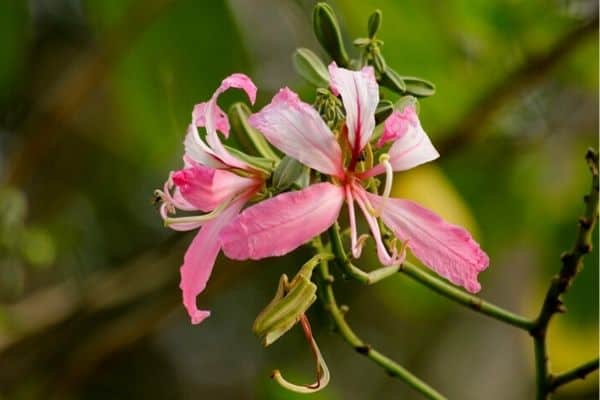 10. Bottlebrush (Callistemon spp.)
Bottlebrush is native to Australia and it can be grown as a shrub or small tree.
The brush shaped flowers are usually red but there are some beautiful pink varieties available as well.
Bottlebrushes bloom from summer to fall and they're great for attracting bees and birds to your garden.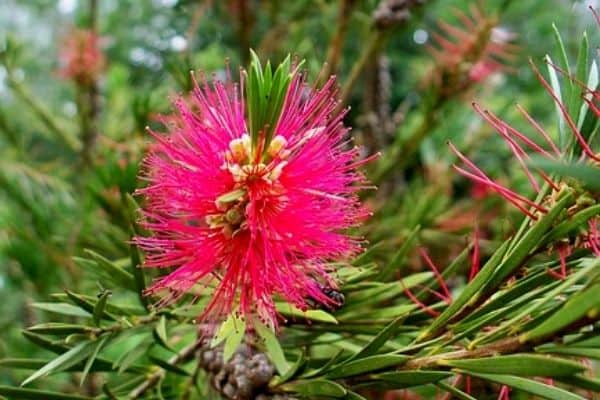 Tips for growing pink flowering trees
Ensure that you have enough space in your yard for the tree to grow and spread out.
Dig some organic matter into the soil before planting and water the young tree regularly until it becomes established.
Remove any dead or diseased branches as soon as you notice them.
Fertilize the trees in early spring to encourage large, long lasting flowers.
So there are ten beautiful pink flowering trees that are ideal for bringing color to your yard.
Planting one or more of these trees in your garden is a great way to brighten up your yard without the need for much ongoing maintenance.
RELATED ARTICLES
Which of these trees with pink flowers do you like best? Let me know in the comments below.
Are you on Pinterest? I have boards dedicated to Backyard Gardens and Gardening Tips that you may enjoy. You can also find me on Facebook.