Tips for growing and caring for Nasturtiums
Nasturtiums are easy-to-grow annuals that have beautiful, bright edible flowers.
They can be grown directly in the garden or planted in containers, hanging pots or window baskets.
This post about growing Nasturtiums contains affiliate links. Please read the disclosure for more info.
Nasturtiums (Tropaeolum majus) are native to Peru and have pale green, round leaves with long stems.
They have bright orange, yellow and red flowers and bloom in summer and fall.
There are about 80 different species of Nasturtium including dwarf, trailing and bushy types. [1]
Nasturtiums are popular annual flowers because they're edible, fast-growing and attract beneficial insects including butterflies and lacewings to the garden. They're also a great companion plant.
HOW TO GROW NASTURTIUMS
Best Soil for Nasturtiums
Nasturtiums thrive in poor quality soil and produce more flowers in poor soil than in rich, well-fertilized soil.
How much sunlight do Nasturtiums need?
Nasturtiums prefer to grow in a position that is in full sun or partially shaded in the afternoon. It hot areas they can become scorched in very hot afternoon sun.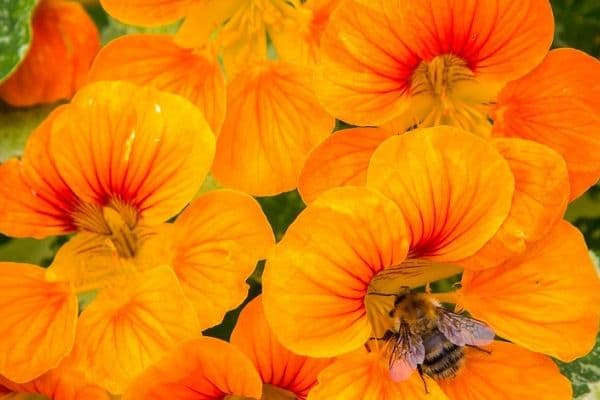 How long do Nasturtiums take to mature?
Nasturtium plants begin to bloom in 5 to 7 weeks and will flower from summer to fall.
RELATED: 10 Fast Growing Flowers
How tall do Nasturtiums grow?
There are many different varieties of Nasturtium that range from small dwarf plants that grow only 6 inches (15 cm) high to climbing varieties that can grow 8 to 10 feet (2.3 to 3 m).
How much space is needed between plants?
Each plant should have at least 10 inches (25 cm) space in all directions.
Growing Nasturtiums from Seeds
Nasturtium seeds
are fairly large and can be planted directly in the garden after the last frost of the season. They sprout best in warm soil.
In colder areas, or to get an earlier start, you can plant the seeds in containers indoors and transplant them to the garden in spring.
Nasturtium seeds are usually planted 1/2 inch (about 1.5 cm) deep and about 10 inches (25 cm) apart.
It usually takes about 10 to 14 days for nasturtium seeds to germinate.
Soaking seeds in water overnight prior to planting may speed up germination.
RELATED: 10 Easy Annuals To Grow From Seed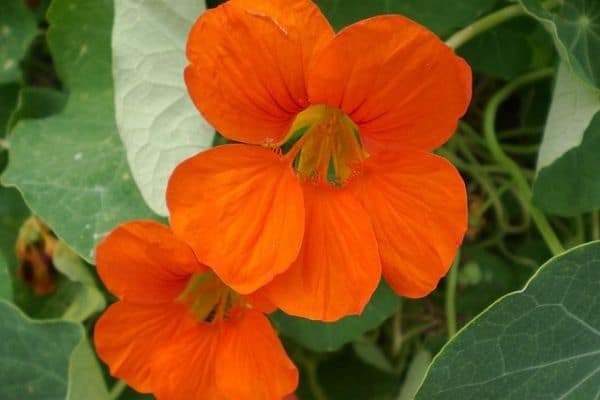 Nasturtium varieties to try in your Garden
Growing Nasturtiums from Cuttings
Nasturtiums can be propagated from cuttings, but the most common method is from seed.
To propagate nasturtiums from cuttings, take a 3 inch (7cm) section of stem and trim off the lower leaves.
Place the cuttings in moist perlite or sand and roots will form in two to three weeks.
Watering Nasturtiums
Nasturtiums need to be watered regularly throughout the growing season, especially in hot weather, but be careful not to over-water your plants.
Let the soil dry out a bit between watering.
Fertilizer for Nasturtiums
Nasturtiums flower better in poor soil, so they don't need fertilizer.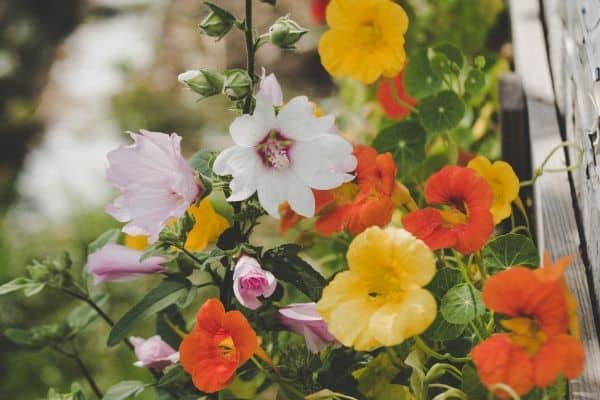 Pests & Diseases
Nasturtiums can be affected by aphids, slugs and caterpillars.
Pruning Nasturtiums
If the plants get a bit untidy or overgrown, prune them back to a manageable size and they'll quickly produce new growth.
Regular deadheading of flowers will also prolong blooming.
Companion Planting
Nasturtiums spread out over the ground, so they help to suppress weeds and shade the soil when grown near taller plants like tomatoes, sweet corn and sunflowers. [2]
They attract beneficial insects like ladybugs and lacewings to the garden and when planted in a vegetable garden they can be used as an aphid trap so that the vegetable plants won't be affected by aphids.
Harvesting and Using Nasturtiums
The best time to pick Nasturtium flowers is in the morning. The flowers and leaves can be used in salads or as a garnish or decoration.
Nasturtiums have a peppery taste, similar to watercress.
The seeds can be left to dry out on the vine and stored in an envelope to replant the next year.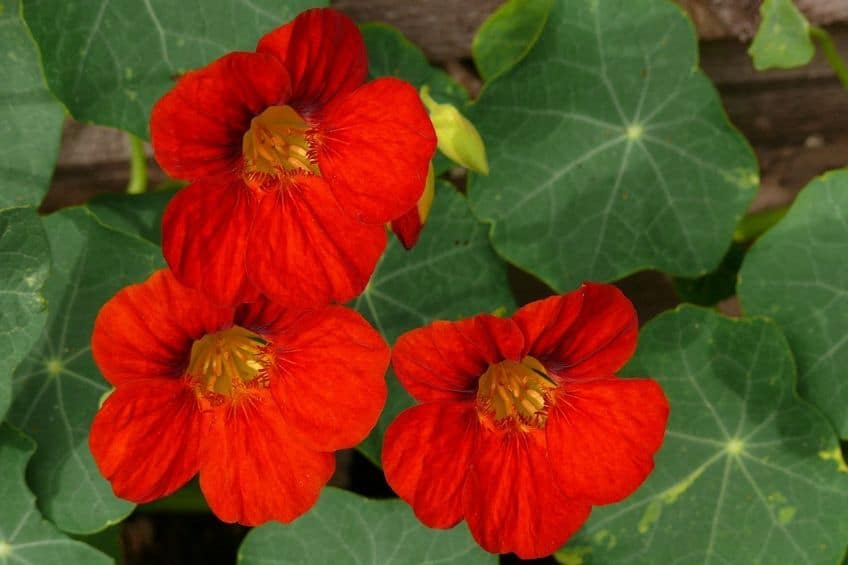 Common Questions
Can Nasturtiums Grow in the Shade?
Nasturtiums are best grown in full sun where they produce the most flowers, but they will also grow in partial shade.
Are Nasturtiums Frost Tolerant?
Nasturtiums aren't frost tolerant so it's best to make sure the risk of frost has passed before planting seeds outdoors.
Where Do Nasturtiums Grow?
Nasturtiums grow well in most areas, except for cold, mountainous areas.
Final Thoughts
Nasturtiums are one of the easiest annual flowers for beginner gardeners and kids to grow.
You can eat the entire plant and they're great for hanging pots, window boxes and ground covers.
Nasturtiums don't need much ongoing care so it won't matter if they're a bit neglected.
Here's a quick video about growing Nasturtium flowers that I think you'll enjoy.
RELATED ARTICLES
Have you tried growing Nasturtiums in your garden? Let me know in the comments below.
Are you on Pinterest? I have boards dedicated to Flower Gardening and Gardening Tips that you may enjoy. You can also find me on Facebook.