Growing strawberry plants in garden beds can take up a lot of room, so if you have limited space in your backyard, why not try growing strawberries vertically?
Vertical gardens are ideal for balconies, courtyards and small backyards and they're easy and inexpensive to set up.
In this article you'll learn how to grow delicious, juicy strawberries, no matter how much garden space you have available.
This post contains affiliate links. Please read the disclosure for more info.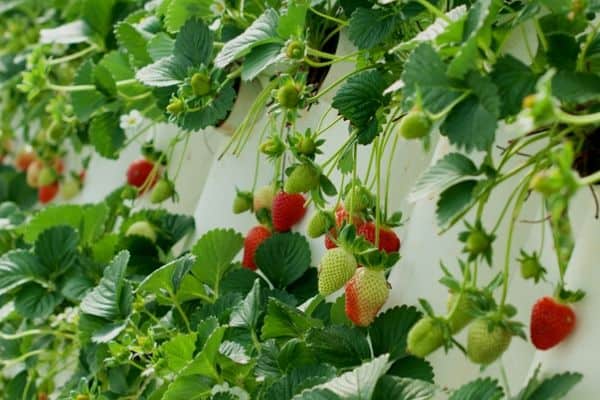 Advantages of growing strawberries vertically
Growing strawberries
in a vertical gardening system means that you can grow lots of strawberry plants in a very small space.
Growing strawberry plants off the ground helps to protect the fruit from pests and fungal diseases and you don't have to worry about weeding.
The fruit is also easier to harvest because you don't have to bend down and lift up the leaves to find the ripe strawberries.
According to the Environmental Working Group (EWG), commercially grown strawberries contain the most pesticide residue of all fruits and vegetables, so it's much better for your health to grow your own pesticide free strawberries at home. [1]
How to grow strawberries in a vertical garden
The first step is to choose a vertical strawberry planter.
There are many clever vertical planter designs including stackable and hanging planters that are ideal for growing strawberries and only take up minimal space.
This 5-tier strawberry and herb planter
can fit 20 plants and there's no assembly required – each pot fits on top of the pot below.
If you plant 20 strawberry plants you'll have an abundance of strawberries but you can also alternate the strawberry plants with some culinary herbs or fast growing salad greens.
Vertical hanging planters like this one
can be easily attached to a sunny wall in a courtyard or balcony.
It's made from waterproof material that protects the wall from water damage and the leak-proof design prevents water dripping on the ground underneath.
If you enjoy doing DIY projects you could also make your own vertical planter from old PVC pipe or rain gutters secured to a fence.
Once you have your planter set up, it's time to get planting.
The best time of year to plant strawberries is early spring, once the threat of frost has passed.
Use a high quality organic potting mix
to fill up your planter and place the crown of the plant just at top of the soil, so it doesn't rot or dry out.
Strawberry plants have shallow root systems, so you'll need to water your plants regularly, especially during hot weather.
The strawberries will be ready for harvesting about 4 to 6 weeks after the plants flower.
Wait until the berries are fully red before picking. It's always a good idea to do a taste test before you start harvesting.
Strawberries are perennials, so they'll come back year after year, but they do best in the first 2 to 5 years, so you may have to replace your plants after that.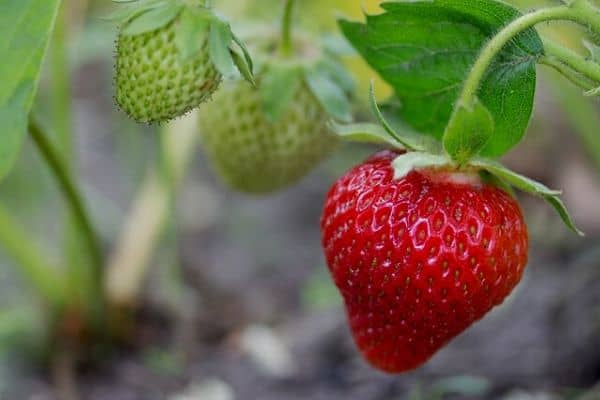 As well as regular strawberries, you can also use these vertical garden systems to grow white strawberries
, also known as pineberries.
They have similar growing requirements as red strawberries but they produce small white berries with red seeds.
White strawberries taste like a combination of strawberry and pineapple, which is how they get the name pineberries.
RELATED: How To Grow White Strawberries
So there are my tips for growing vertical strawberries.
With the right planter and a nice sunny spot, you can grow beautiful fresh strawberries in even the smallest spaces.
Here's a quick video that shows how to make an easy vertical strawberry planter.
RELATED ARTICLES
Have you tried growing strawberries vertically? Let me know in the comments below.
Are you on Pinterest? I have boards dedicated to Growing Fruit and Gardening Tips that you may enjoy. You can also find me on Facebook.
Don't forget to pin this post so you can come back to it later.