Best flowers for pots in full sun
Container flower arrangements are great for brightening up a sunny courtyard, balcony or patio.
When choosing your flower plants, it's important to select flowers that have the same level of sun tolerance so you don't get wilted, limp looking flowers.
Here are 12 beautiful container flowers that can withstand full sun.
This post contains affiliate links. Please read the disclosure for more info.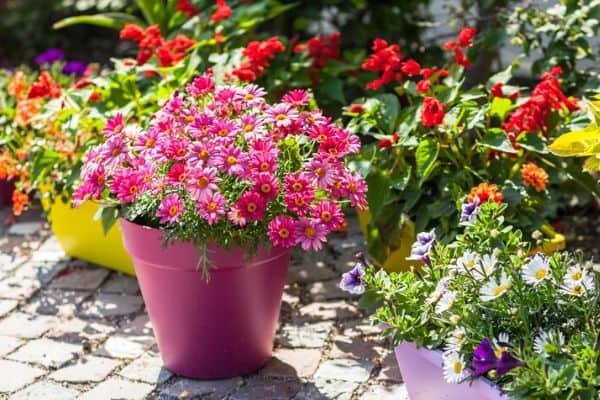 12 FULL SUN CONTAINER FLOWERS
1. Petunia (Petunia × atkinsiana)
Petunias are popular annual flowers that grow best in a sunny spot that receives at least 6 hours of sunlight each day.
Trailing petunias look beautiful cascading down from hanging baskets.
Plant your petunia seeds in early spring and you'll have beautiful bright container flowers throughout the summer months.
Try Shock Wave Yellow
or Super Cascade
for a spectacular display.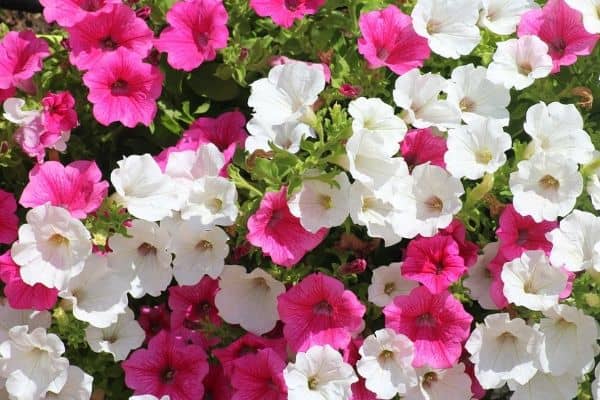 2. Million Bells (Calibrachoa)
Million Bells
look similar to petunias but their flowers are a bit smaller.
They're low maintenance annuals that thrive in full sun but they can also tolerate partial shade.
Million Bells bloom from spring until frost and they're great for pots and hanging baskets.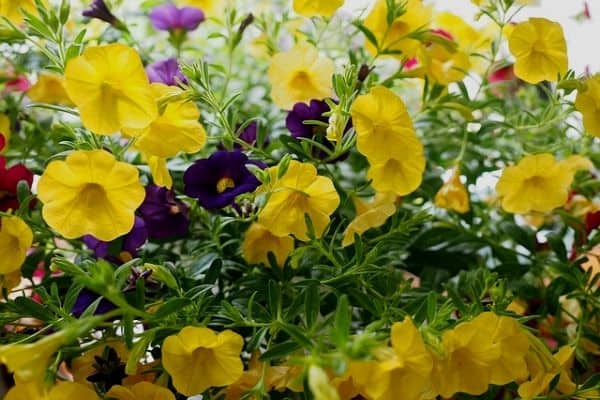 3. Portulaca (Portulaca grandiflora)
Portulaca
is a type of succulent that is ideal for areas with hot summer temperatures and drought affected areas.
The flowers can be red, pink, yellow, orange, cream or white and their foliage is able to store moisture so you don't have to water them too often.
Portulaca plants spread out easily, so they're ideal for large containers.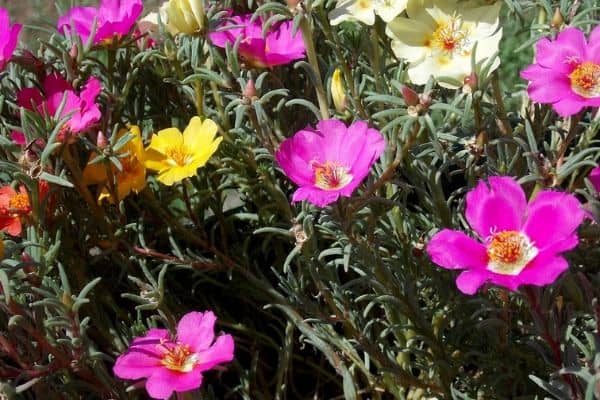 4. Aster
Asters
are summer blooming perennials with flowers in a variety of colors including pink, purple, red and white.
They can grow 2 to 3 feet (60 to 90 cm) tall and look spectacular in large pots.
Asters prefer cool summer temperatures but they can also be grown in warm areas in a spot with afternoon shade.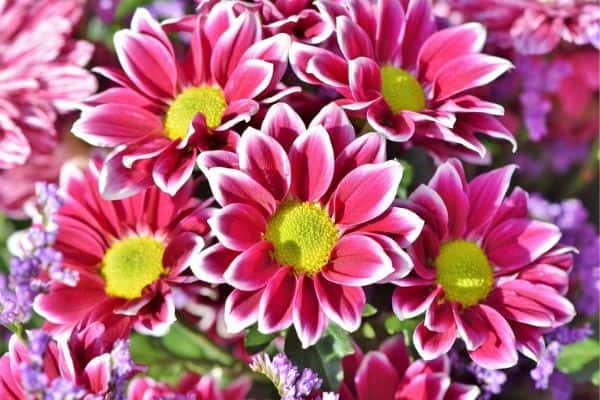 5. Marigold (Tagetes)
Marigolds are easy to grow annual flowers that do best in full sun.
They bloom from spring to summer and have beautiful bright yellow and orange flowers.
Marigold seeds can be planted directly in the garden when the weather begins to warm up, or you can start them indoors.
Try the beautiful, bright Sparky mix
or Crackerjack
, which has large flower heads.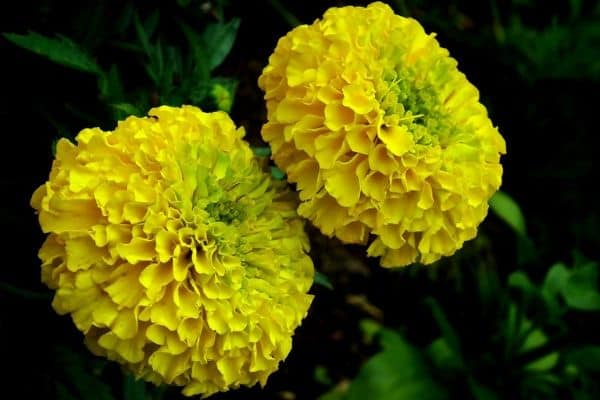 6. Sunflowers
Sunflowers are fast growing flowers and they'll start blooming in as little as 10 weeks.
Many varieties of sunflowers grow too big for containers but dwarf sunflowers
are perfect for pots.
They thrive in a position with full sun and bloom during the summer months.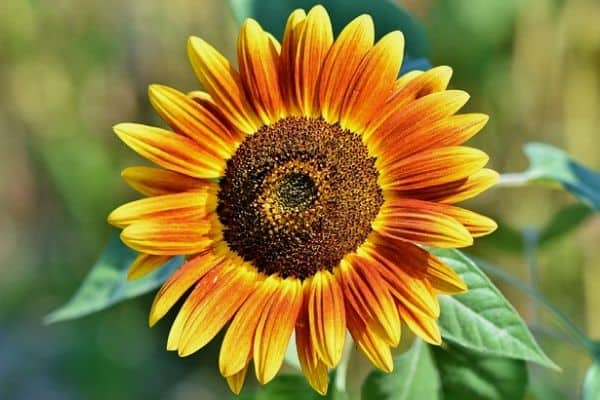 7. Geranium
Geraniums
are popular fragrant flowers that look great in window boxes and containers.
They prefer a sunny spot, but they will benefit from some afternoon shade during the hot summer months.
Geraniums are frost sensitive, so they'll need to be moved indoors before the frost arrives.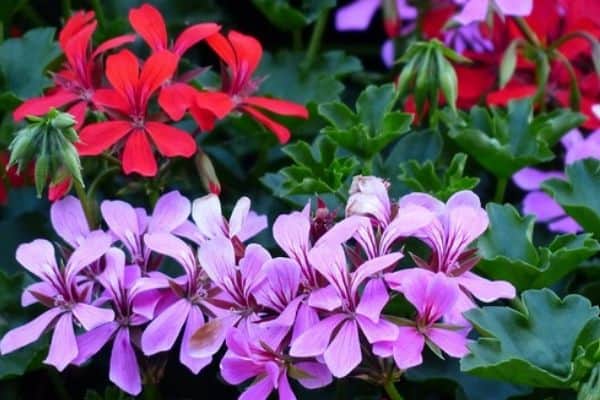 8. Zinnia (Zinnia elegans)
Zinnias
are beautiful annual flowers that like full sun.
The best time to plant zinnia seeds is in spring when the soil has warmed up.
They don't do well when they're transplanted, so it's best to plant zinnia seeds directly in the flower garden.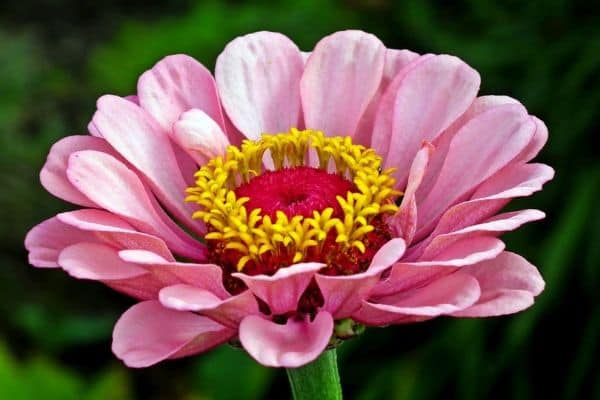 9. Celosia (Celosia Cristata)
Celosia, also called Cockscomb, are beautiful annuals that look great growing in pots.
They have bright, colorful flowers that come in a range of colors including red, yellow, orange, pink and purple.
Try planting Chief mix
or Flamingo mix
in containers for a stunning display.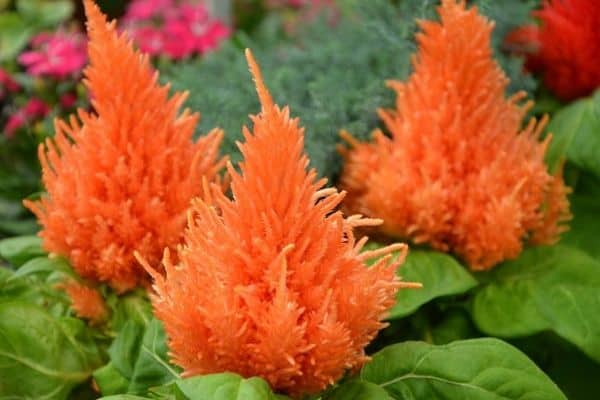 10. Gerbera Daisy (Gerbera jamesonii)
Gerbera daisies
are colorful perennial flowers that bloom from spring through to fall.
They come in a range of colors including yellow, orange and red.
Gerberas grow best in warm climates in a spot with full sun and they like sandy soil.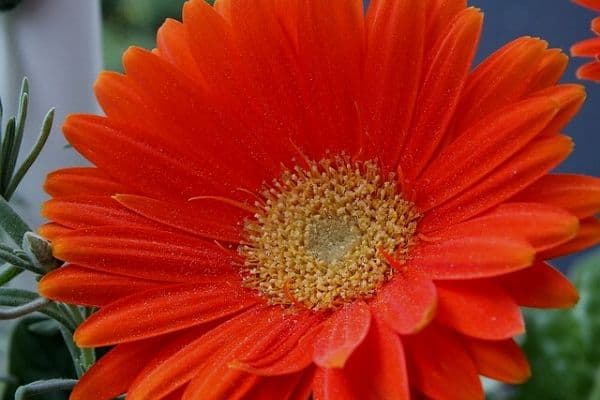 11. Lantana (Lantana camara)
Lantana
can be grown as an annual or perennial, depending where you live.
They have clusters of small flowers that can be pink, red, yellow, orange or white.
Lantana looks beautiful in pots and you can grow the trailing varieties in hanging baskets. [1]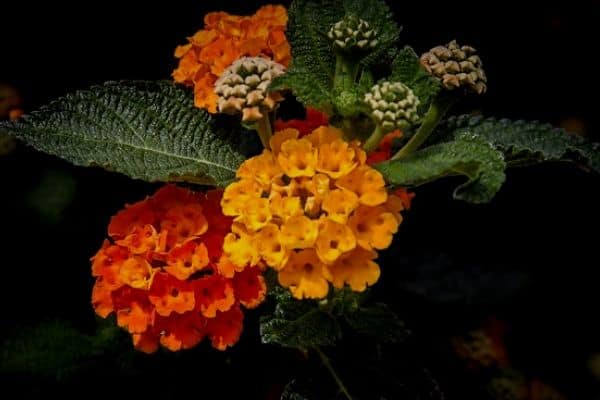 12. Begonia
Begonias
are great for attracting bees and other beneficial insects to your garden.
Their flowers can be red, pink, yellow or white and they flower from summer through to fall.
Begonias grow well in full sun or partial shade and they're perfect for containers and hanging baskets.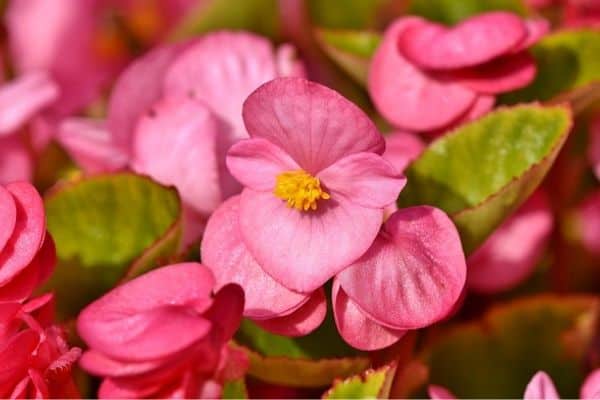 Choosing the right containers for full sun
Not all pots are suited to sunny positions. For instance metal pots will heat up very quickly in the hot summer sun.
Terracotta pots and wine barrel style planters will also dry out fast in the hot sun.
If you'd like to use these planters you can line them with plastic before filling the pot with soil.
Remember to make some drainage holes in the bottom of the plastic.
You can also seal terracotta pots to help them retain moisture better.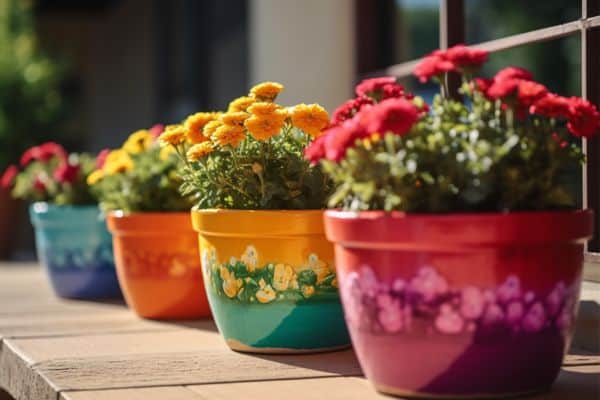 A moisture gauge
will let you know when the soil is becoming dry and if the pots are drying out quickly you can sit the pot in a saucer of water or install a simple drip irrigation system
.
Here's a quick video that shows how to plant a container of mixed flowers for a full sun position in the garden.
RELATED ARTICLES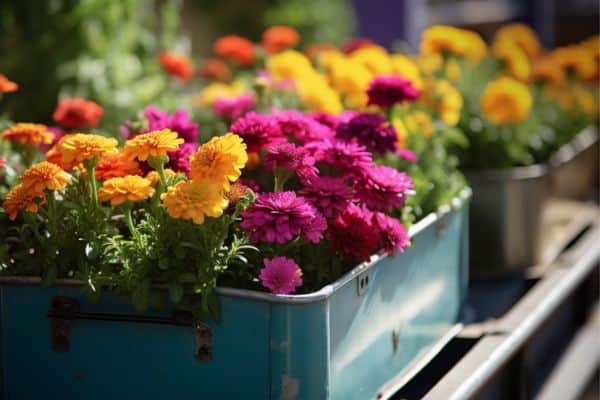 So there are 12 full sun flowers for containers and pots.
Which of these full sun container flowers do you like best? Let me know in the comments below.
Are you on Pinterest? I have boards dedicated to Container Gardens and Gardening Tips that you may enjoy. You can also find me on Facebook.
Don't forget to pin this post so you can refer back to it later.