Flowering herbs are easy to grow and look great in the garden.
Here are 10 low maintenance herbs with beautiful flowers to plant in your garden.
Some of these herbs can be used for cooking, while others are medicinal herbs that can be used to make herbal tea or remedies.
Most of these herbs will grow back for many years, giving you a long lasting supply of fragrant herbs.
This post about flowering herbs contains affiliate links. Please read the disclosure for more info.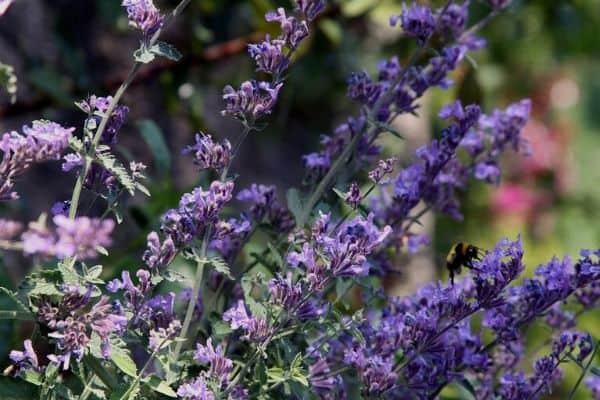 1. Lavender (Lavendula)
Lavender
is a popular fragrant perennial herb with beautiful purple flowers that appear from late spring to summer.
Most varieties of Lavender will tolerate hot temperatures and humidity but if you live in a cool climate it's best to plant English Lavender
.
Lavender can be grown from seeds or cuttings and blooms best in a position with full sun.
Lavender flowers can be used to make flower arrangements, essential oils, herbal tea or lavender sachets.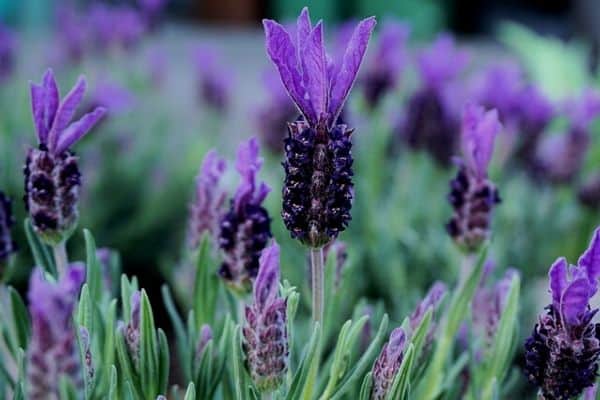 2. Chamomile (Matricaria recutita / Matricaria chamomilla)
Chamomile is a low maintenance herb with beautiful yellow and white flowers that are similar to daisies.
Roman Chamomile
is a perennial, while German Chamomile
is an annual, but it reseeds easily so you'll have lots of new plants popping up.
Both varieties are drought tolerant and will grow in full sun or partial shade.
Chamomile flowers are commonly dried and used to make a calming herbal tea.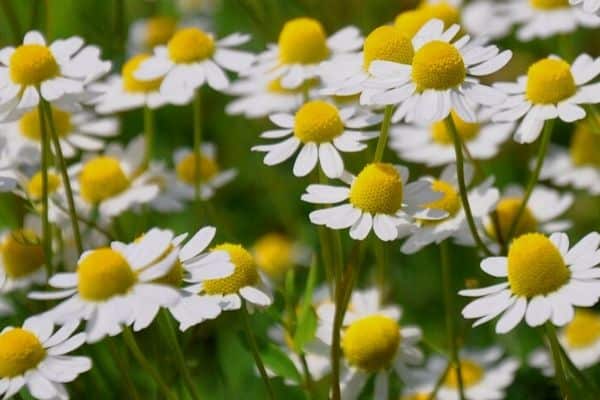 3. Mint (Mentha spicata)
Spearmint
is one of the easiest flowering herbs to grow, but it can quickly take over your garden, so it's a good idea to plant it in a pot to keep it contained or cut it back after flowering to stop the seeds spreading.
Mint will grow in full sun or part shade and you can pick of the leaves as you need them and add them to drinks or make a refreshing mint tea.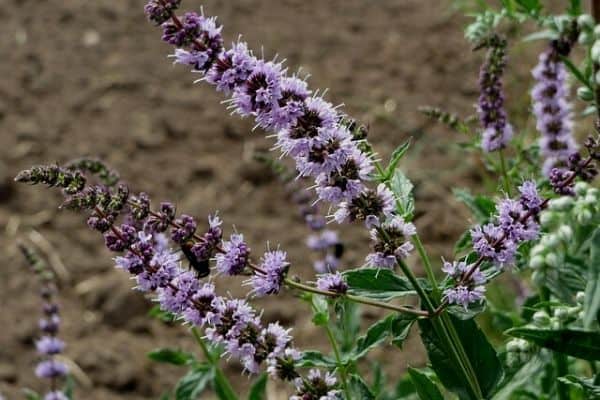 4. Echinacea (Echinacea purpurea)
Echinacea
, also called Purple Coneflower, is a beautiful perennial flowering herb that blooms from summer to early fall. [1]
It flowers best in a position with full sun and doesn't require much ongoing maintenance.
The flowers can reach up to 5 feet (1.5 metres) tall, so they really stand out in the garden.
RELATED: How To Grow Echinacea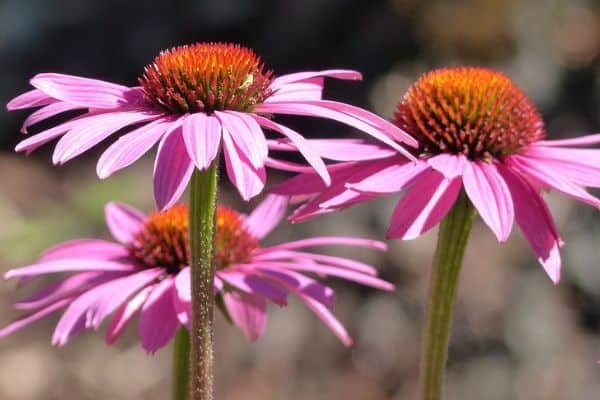 5. Chives (Allium schoenoprasum)
Chives
are a popular culinary herb with long upright green leaves and edible pink flowers.
When planted in the garden, chives will form a clump, which you can divide every few years to keep the plant healthy.
Chives can also be grown indoors on a sunny windowsill and you can snip off a few leaves as you need them.
RELATED: 9 Best Herbs To Grow Indoors
6. Sage (Salvia officinalis)
Sage
has beautiful purple flowers and the good thing about sage is that the leaves can still be used after the plant has flowered.
It's grown as a perennial in warm areas, but in cool areas it's grown as an annual.
Covering the plant with mulch will help it to survive during the winter.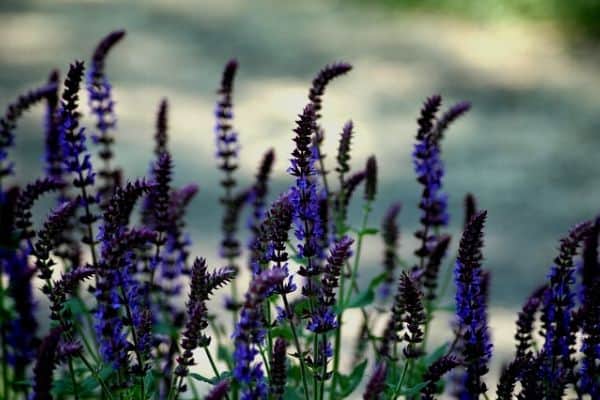 7. Rosemary (Salvia rosmarinus)
Rosemary
bushes produce small purple or blue flowers and the leaves look a bit like pine needles.
It's winter hardy in warm climates but it can also be grown in cool climates and overwintered indoors.
Rosemary needs to be cut back after flowering to avoid it becoming woody.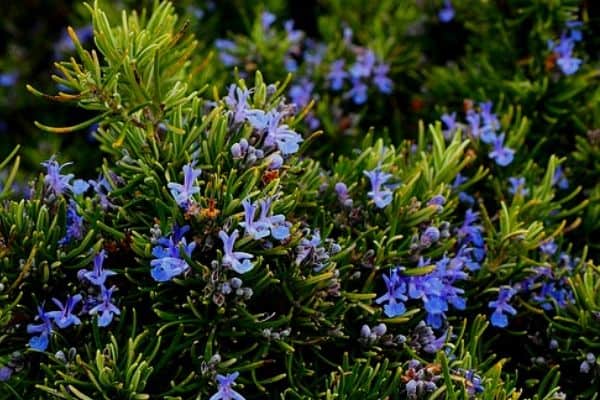 8. Catnip (Nepeta cataria)
Catnip
has beautiful purple spiky flowers and light green foliage.
It's a popular herb amongst cat owners because it can have a euphoric or calming effect on cats.
Catnip grows 3 to 4 feet (90 to 120 cm) tall and can quickly take over the garden if it's left to grow out of control.
You can plant it in a pot indoors to contain it's growth and prevent neighbourhood cats visiting your backyard.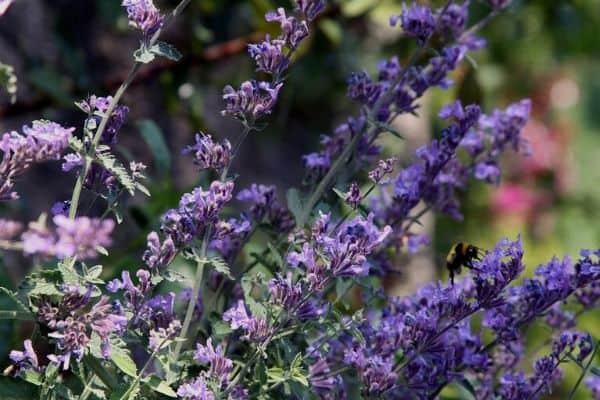 9. Thyme (Thymus vulgaris)
Thyme
is a fast growing perennial flowering herb that has an abundance of small purple flowers.
It's best to harvest thyme leaves just before the plant starts flowering for the best flavor.
Thyme grows best in a position with full sun and it can grow up to 15 inches (38 cm) tall. [2]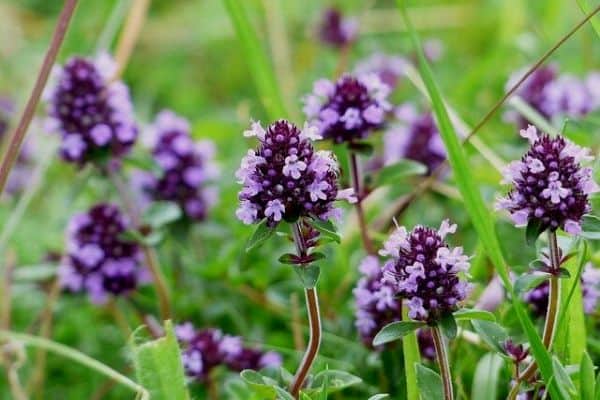 10. Yarrow (Achillea millefolium)
Yarrow
is a low maintenance perennial flowering herb that can grow up to 4 feet (120 cm) high.
The flower heads are tightly packed and can be pink, white, red or yellow.
Yarrow helps to attract butterflies, bees and other beneficial insects to the garden and it's frost and drought resistant.
RELATED: How To Grow Yarrow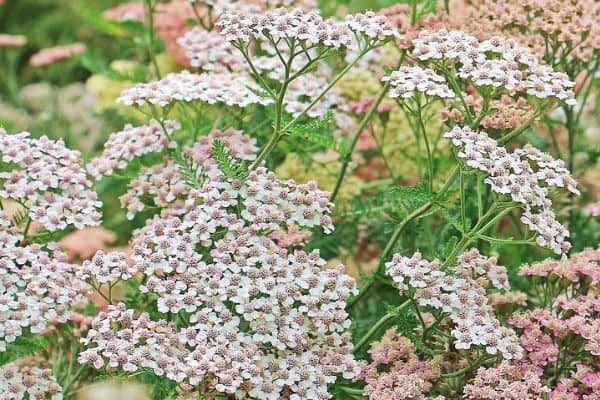 So there are 10 beautiful flowering herbs to add to your garden.
Planting these herbs is a great way to have fresh herbs on hand when you need them and you get to enjoy their gorgeous flowers.
The video below is an herbal flower garden tour with some great tips for harvesting and using herbs from your garden.
RELATED ARTICLES
Which of these flowering herb plants do you like best? Let me know in the comments below.
Are you on Pinterest? I have boards dedicated to Herb Gardens and Gardening Tips that you may enjoy. You can also find me on Facebook.
Don't forget to pin this post for later when you're ready to start planting.