The best climbing plants for trellises, fences, arches and arbors
Planting flowering climbers is a great way to make use of the space in your yard, especially if you have limited space to work with.
In this article I've listed 10 of my favorite flowering climbing vines that are great for covering up unsightly walls and fences and providing some extra privacy and greenery in your yard.
Most of these plants can also be grown as ground covers.
This post contains affiliate links. Please read the disclosure for more info.
10 BEST FLOWERING CLIMBERS
1. Wisteria (Wisteria chinensis)
Wisteria
is a deciduous climbing perennial with beautiful, cascading spring blooms.
The flowers range in color from light purple to mauve, pink, blue and white.
Wisteria is fast growing and can reach up to 25 – 30 feet (7 – 9 metres) in height.
It grows best in a position with full sun, so it's perfect for growing on top of a pergola or archway.
It's a good idea to plant Wisteria somewhere away from other plants because it can become invasive.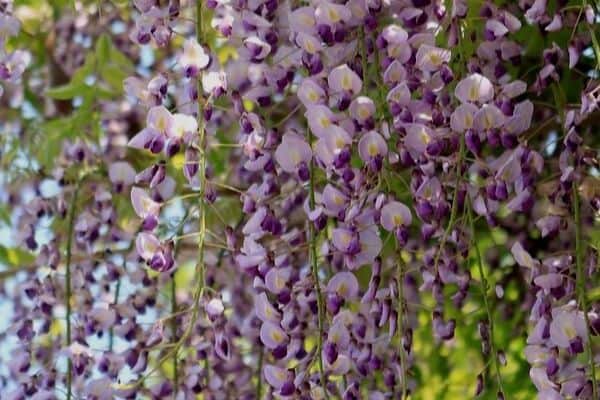 2. Bougainvillea
Bougainvilleas
are popular climbing plants with beautiful bright flowers.
The flowers are actually bracts, or modified leaves, and come in a range of colors including pink, red, purple, orange and yellow.
Bougainvilleas are fast-growing, drought resistant and they grow well in full sun.
They can be trained to grow over archways and trellises or they can be used to cover wire fences.
Bougainvilleas can also be grown in containers.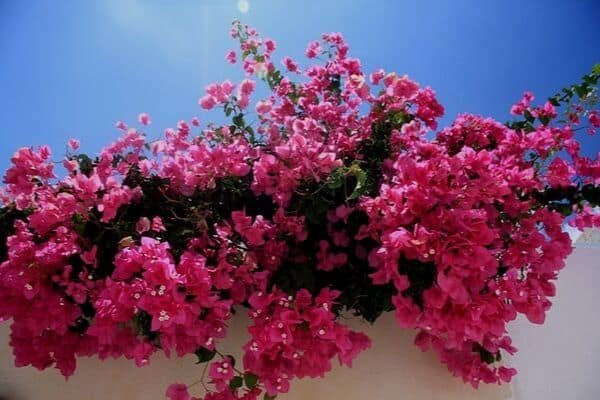 3. Climbing Rose
There are many varieties of climbing roses
that come in a range of different colors and sizes.
They look beautiful growing on a trellis, pergola, arbor or fence and will bloom from late spring or early summer until fall.
Bare root climbing roses can be planted in late winter or early spring to give the plant enough time to become established before summer.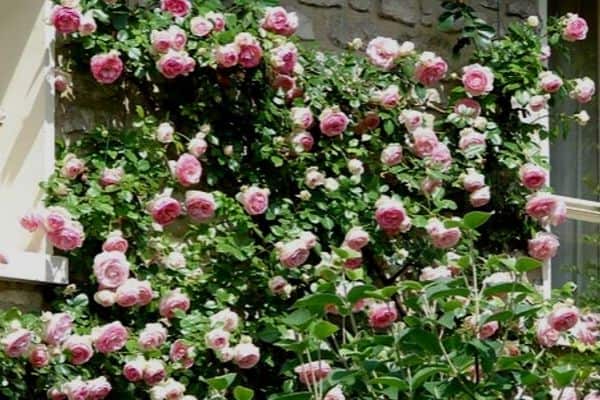 4. Star jasmine (Trachelospermum jasminoides)
Star Jasmine
is a popular flowering climber with beautiful white fragrant flowers.
It's an evergreen vine that will grow well in full sun or partial shade.
Star Jasmine is ideal for growing over a pergola, arbor, fence or trellis.
It also looks great as a ground cover plant and can be cut back each year to keep it tidy.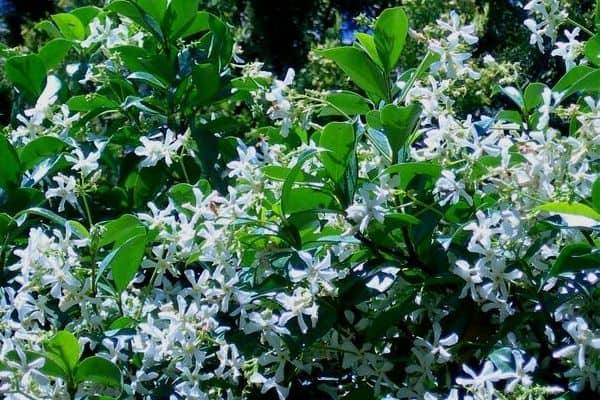 5. Clematis
Clematis
is a deciduous climbing perennial vine that comes in a variety of colors including red, pink, purple, blue and white.
Some varieties of Clematis grow to 3 feet (90cm) tall, while others can grow up to 20 feet (6 m).
Clematis grows best in cool climates and needs a good layer of mulch around the base of the plant to keep the roots cool.
They can be grown on a trellis, arch or pergola. They can also be used as a ground cover.
RELATED: 10 Purple Flowering Shrubs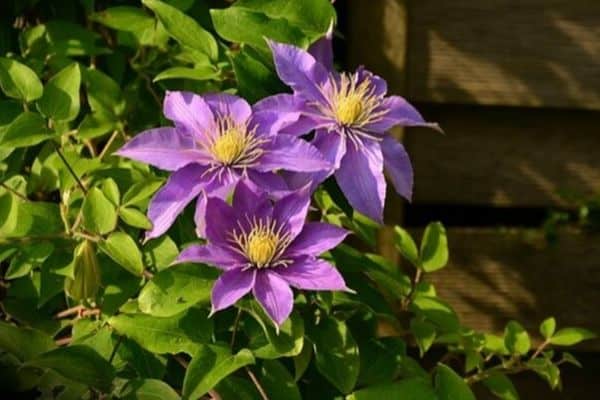 6. Trumpet Vine (Campsis)
Trumpet vine
is an easy to grow climbing flower vine with bright red and orange flowers.
It's adaptable to different conditions and will grow well in hot and cool climates and in positions with full sun or partial shade.
Trumpet vines are great for attracting hummingbirds to your garden and they can be grown on trellises, arbors, pergolas or fences.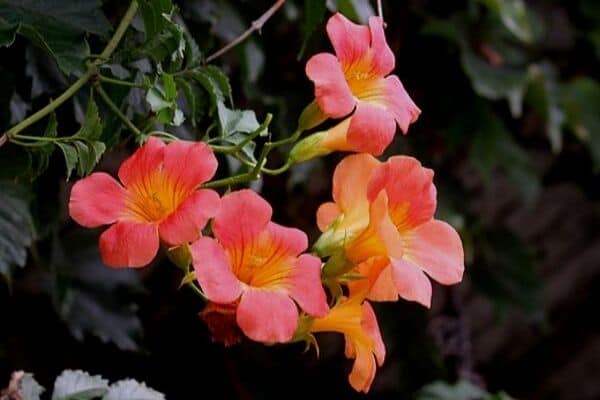 7. Passion Flower (Passiflora spp.)
Passion flowers
are perennial climbing vines with stunning flowers that open for only one day and then die off.
Each vine produces a number of flowers though, so you get lots of flowers to enjoy during the flowering season.
The most common colors are blue, white and purple, but they also come in red as well.
Passion flower vines grow fast and can reach 16 to 32 feet (5 to 10 m). [1]
They grow best in full sun to partial shade and can be trained along fences, pergolas or trellises.
RELATED: How To Grow Passion Flowers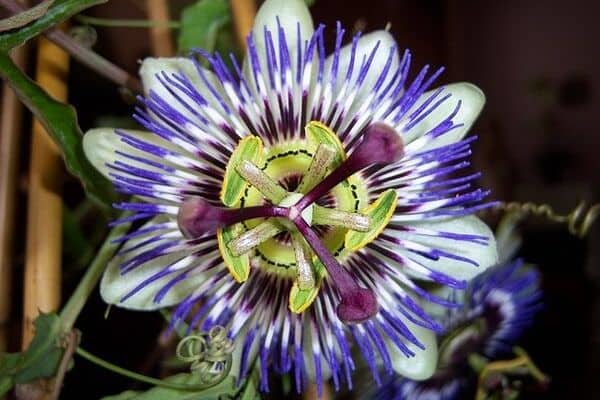 8. Sweet Pea (Lathyrus odoratus)
Sweet peas
bloom in late winter to early spring and they're great for climbing up trellises and archways.
They come in a wide range of colors including pink, red, purple, blue and white.
Sweet peas are easy to grow from seed and do best in a position with full sun to partial shade.
It's important to deadhead Sweet peas regularly because they will stop flowering once they go to seed.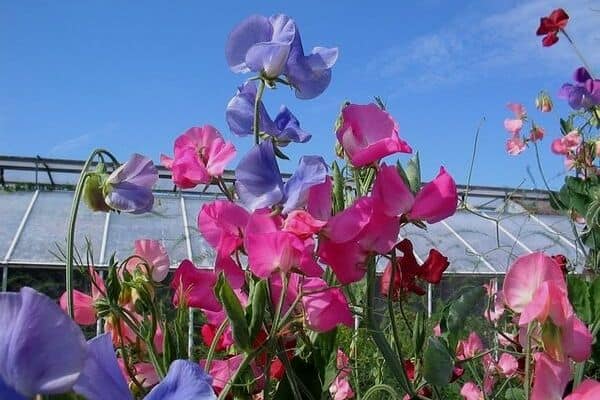 9. Morning Glory (Ipomoea)
Morning Glories
are annual flowering climbers with trumpet-shaped flowers.
The flowers can be purple, pink, blue or white.
Morning glories bloom from early summer until the first frost.
They're fast growing and re-seed readily, so you'll have free plants each year.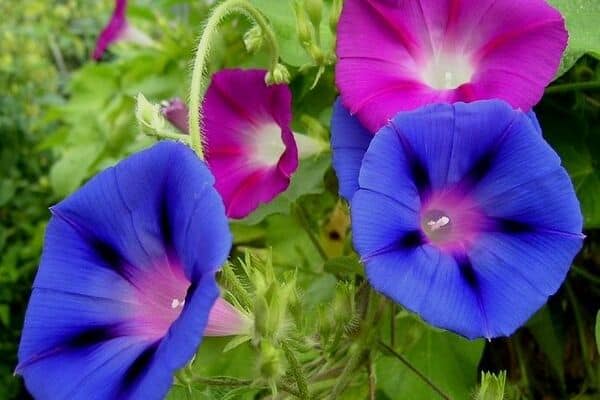 10. Potato Vine (Solanum jasminoides)
Potato vines are fast growing climbing vines with beautiful white flowers.
They can grow up to 25 feet (7.5 metres) long and will need a trellis or arbor to support them.
Potato vines are evergreen and will need to be cut back each year to control their size and keep them tidy.
The best time to trim them back is after they've finished flowering.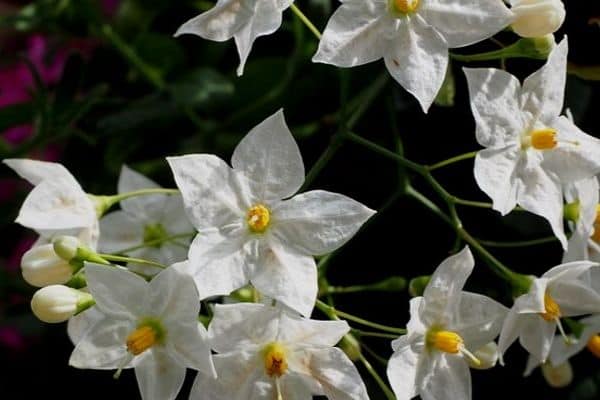 So there's my list of the best flowering climbing vines to brighten up your yard.
Here's a quick video with some great ideas for beautifying a fence with flowers. I think you'll like it.
RELATED ARTICLES
Which of these climbing plants do you like best? Let me know in the comments below.
Are you on Pinterest? I have boards dedicated to Flower Gardening and Garden Ideas that you may enjoy. You can also find me on Facebook.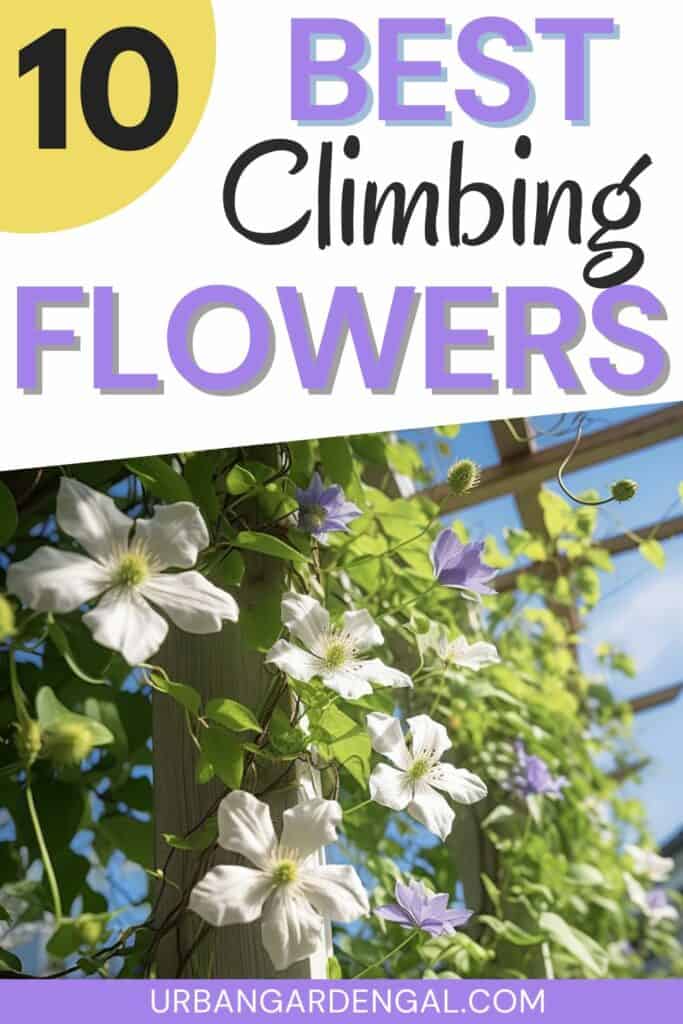 Best flowering climbers