Easy perennials for your flower garden
These low maintenance, easy to grow perennial flowers are ideal for beginner gardeners and anyone that struggles to keep flower plants alive.
If you're looking for easy perennial flowers to plant in your garden you're sure to find some great options on this list.
This post contains affiliate links. Please read the disclosure for more info.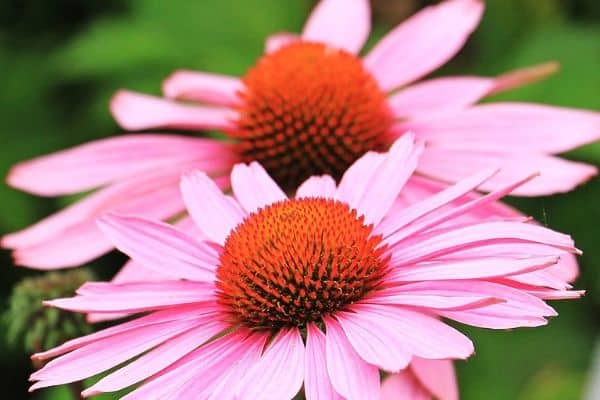 1. Yarrow (Achillea millefolium)
Yarrow
is one of the easiest perennial flowers to grow from seed.
The seeds need light to germinate, so place them on the surface of the soil and cover them with a very light sprinkling of soil.
Yarrow grows best in soil that isn't too rich, so you don't have to worry about digging compost into the soil before planting.
The flower heads are made up of clusters of tightly-packed small flowers that can be pink, white, yellow or red.
Yarrow is frost tolerant, drought resistant and great for attracting bees, butterflies and other beneficial insects to your garden.
RELATED: How To Grow Yarrow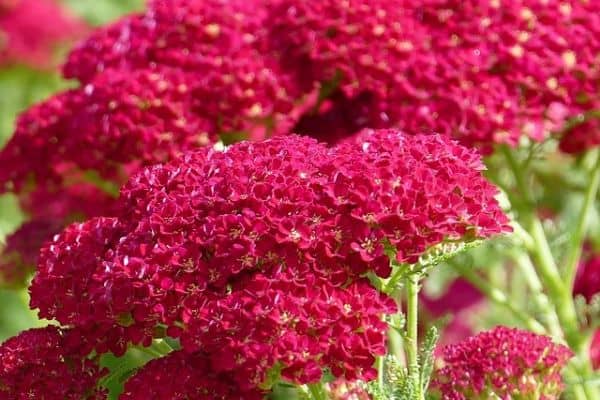 2. Daylily (Hemerocallis spp.)
Daylilies
are hardy perennial flowers that will grow in most types of soil including sandy and clay soil.
Their beautiful flowers only open for one day and then die off, but each flower stem has about a dozen flower buds, so you'll have plenty of flowers from late spring until fall. [1]
Daylilies grow best in a position with full sun, but in hot climates they will benefit from some afternoon shade.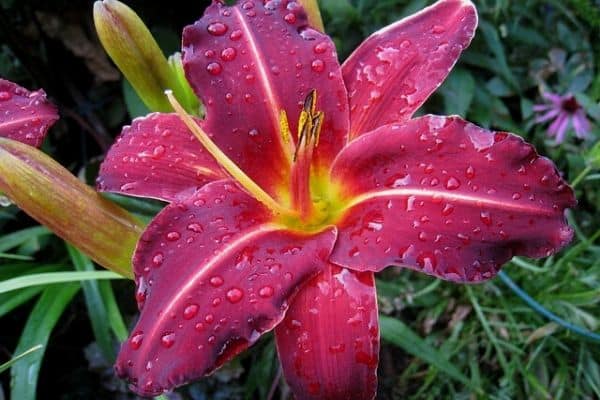 3. Echinacea (Echinacea purpurea)
Echinacea
, also known as Purple Coneflower, is an easy perennial that is perfect for beginner gardeners.
They're fast growing and usually germinate in about 10 to 20 days.
You can expect flowers in their first year of growth if they're planted early enough.
Some varieties of Echinacea can grow up to 5 feet (1.5 m) high and they have a thick stem, so they can withstand wind.
Echinacea grows best in full sun and flowers from summer until early fall, but you can extend the bloom time by removing the spent flowers.
RELATED: How To Grow Echinacea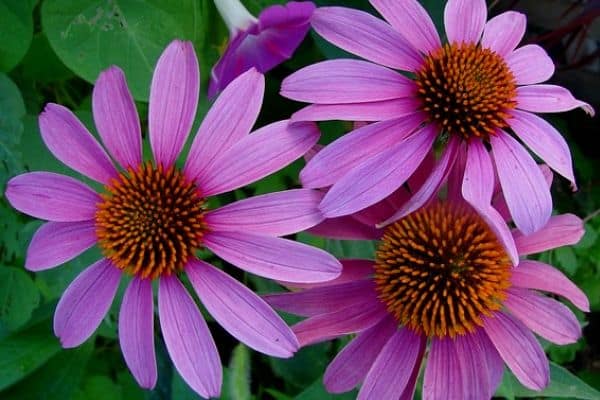 4. Goldenrod (Solidago canadensis)
Goldenrod
is a low-maintenance, easy to grow perennial with spiky golden colored flowers.
It's very easy to grow from seed. In fact, it grows so easily, it can become overgrown, so you'll have to cut it back regularly.
Goldenrod grows best in a spot with lots of sunshine and it's a drought tolerant plant, so you can let the soil dry out a bit between waterings.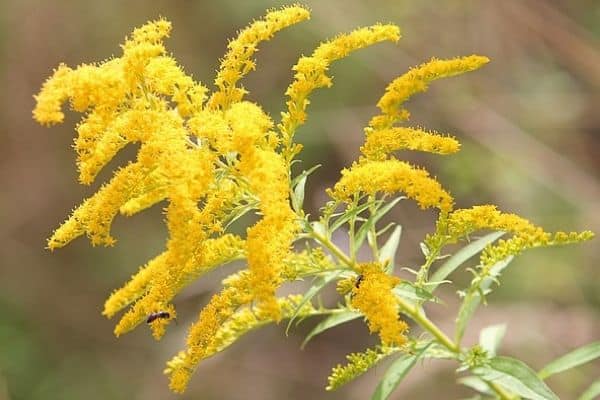 5. Iris (Iris germanica)
Irises
are easy perennial flowers that grow well in full sun to partial shade and begin flowering in early spring.
There are many beautiful varieties of irises to choose from including bearded iris, crested iris and dwarf varieties.
They're most commonly blue, violet or purple but you can also find pink, orange and red irises.
They're frost tolerant, deer resistant and great for brightening up your garden.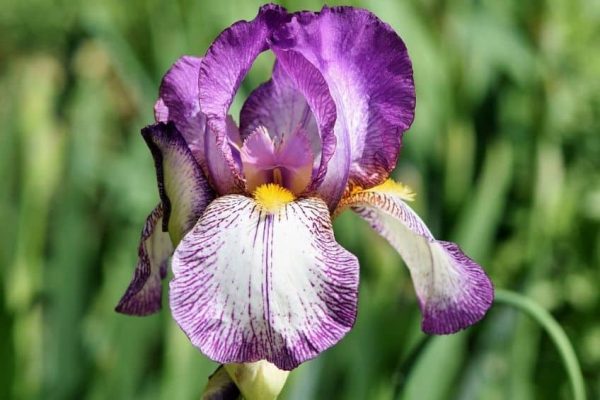 6. Millenium Flowering Onion (Allium Millenium)
Alliums
are spectacular tall perennials with large flower heads.
You can plant allium bulbs in your garden in fall for beautiful summer flowers.
They need a spot with full sun and they're drought tolerant so you don't have to water them too often.
Allium flowers are most commonly purple but you can also find white and pink varieties.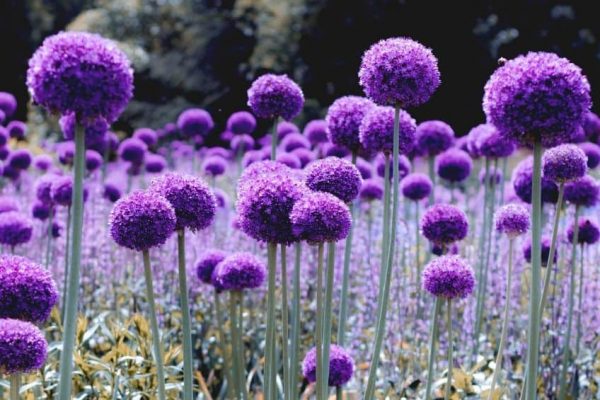 7. Black-Eyed Susan (Rudbeckia hirta)
Black-Eyed Susans
are part of the Sunflower family and have beautiful bright yellow flowers with black centers.
They can grow up to 3 feet (90 cm) tall and they spread out easily so you'll have masses of yellow flowers in your garden.
Black-Eyed Susans need to be deadheaded regularly to prolong the bloom time.
(Deadheading just means removing the spent flowers).
RELATED: 10 Beautiful Yellow Perennial Flowers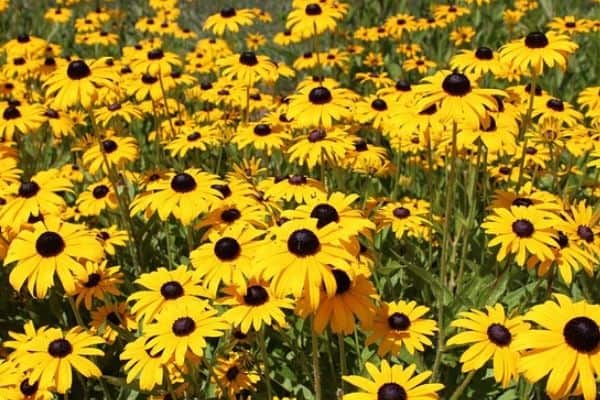 8. Peony
Peonies
are stunning, easy to grow perennials, with flowers in a variety of colors including pink, purple, red and white.
They're best suited to areas with a cool winter climate because the cold temperatures are needed to help the flower bud develop.
Plant peony tubers in a sunny spot in your garden before the first frost arrives.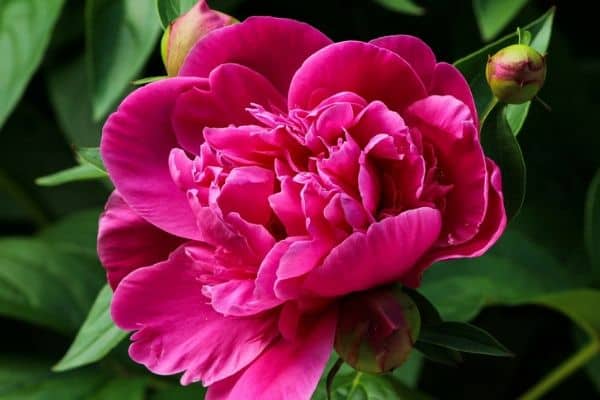 9. Red Hot Poker (Kniphofia uvaria)
Red hot poker
, also known as torch lily, is a beautiful bright perennial plant that is very easy for beginner gardeners to grow.
They can reach 5 feet (150 cm) tall and 3 feet (90 cm) wide, so they will need plenty of space in the garden.
Red hot poker plants need full sun and they're great for attracting beneficial insects and birds to your backyard.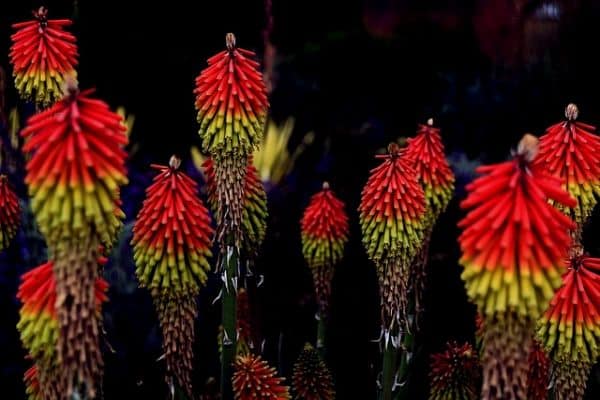 10. Coreopsis (Coreopsis spp.)
Coreopsis
, also known as Tickseed, can be grown as a perennial in warm climates or an annual in cooler areas.
They're hardy perennials with beautiful flowers that can be white, yellow, pink or red.
Coreopsis blooms in summer and you can get a second bloom in fall if you remove the dead flowers.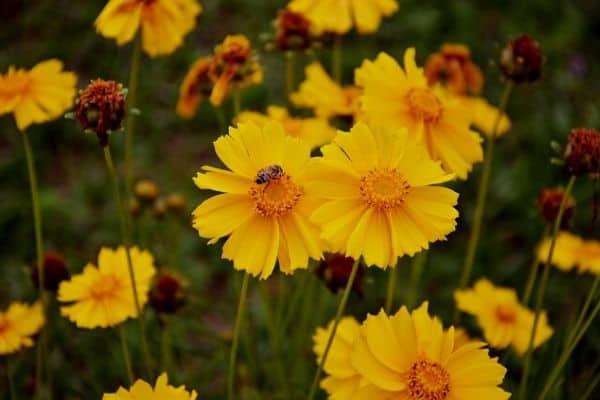 So there are 10 beautiful and easy to grow perennial flowers for your garden.
If you're a beginner gardener, you're sure to have success with these perennials.
RELATED ARTICLES
Which of these easy perennial flowers do you like best? Let me know in the comments below.
Are you on Pinterest? I have boards dedicated to Flower Gardening and Perennials that you may enjoy. You can also find me on Facebook.
Don't forget to pin this post so you can come back to it when you're ready to choose your perennial flowers.