Bell-shaped flowers are beautiful additions to flower gardens, containers and hanging baskets.
If you're looking for flowers shaped like bells you're sure to find some attractive options on this list.
This post about bell-like flowers contains affiliate links. Please read the disclosure for more info.
As a landscape gardener, I love using bell-shaped flowers in my garden designs to add a touch of elegance and charm.
Bell-shaped flowers come in a wide variety of colors, shapes, and sizes, so they're a versatile choice for any garden.
These flowers are also great for attracting pollinators like bees and butterflies to your garden.
15 BELL-SHAPED FLOWERS
1. Bluebells (Hyacinthoides)
Bluebells
are hardy, frost tolerant flowers that can be grown in the ground or in containers.
The beautiful bell shaped flowers are sweet smelling and great for attracting bees and butterflies to your garden.
Bluebell bulbs should be planted in fall, 4 inches (10 cm) deep in a spot with partial sun.
In warm, tropical climates they can be grown as annuals but in cool climates the bulbs can be left in the ground to re-emerge the next year.
Bluebells are left alone by rabbits, squirrels and deer, so they're great if you have wildlife visiting your yard but care needs to be taken so that pets and children don't ingest them.
RELATED: How To Grow Bluebells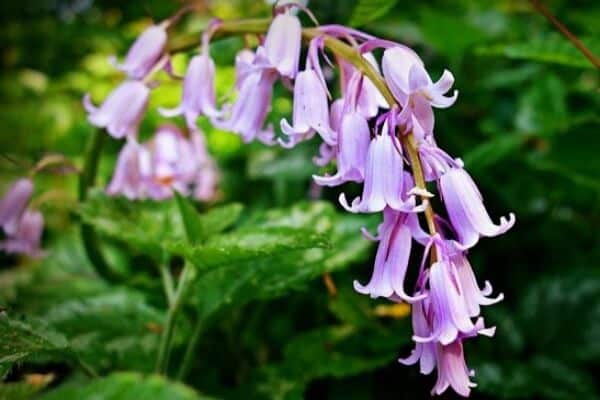 2. Coral Bells (Heuchera)
Coral bells, also known as alumroot, is a perennial plant with tall flower spikes.
The bell shaped flowers can be pink, red or white and they bloom from late spring until early summer.
Coral bell flowers are ideal for woodland gardens and they grow best in partial shade.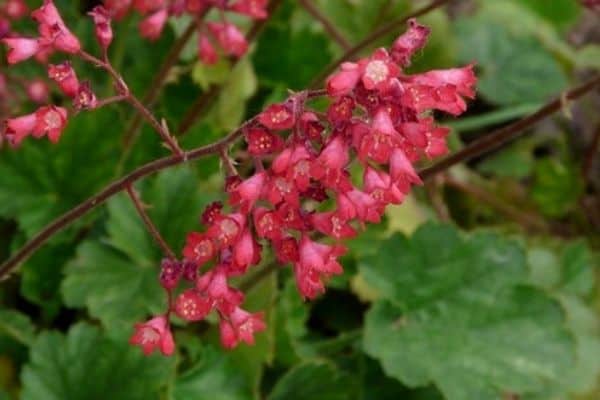 3. Lily of the Valley (Convallaria majalis)
Lily of the Valley
, also known as May Bells, is a perennial flower that grows naturally in woodland areas.
It grows best in a spot with partial shade and requires moist soil.
The stems can grow 12 inches (30 cm) high with up to 15 small white bell-shaped flowers that appear in spring and early summer. [1]
The plant then produces small red berries after flowering.

Lily of the Valley grows from underground rhizomes and they should be planted by late fall to provide the cold dormant period that the plant needs to grow.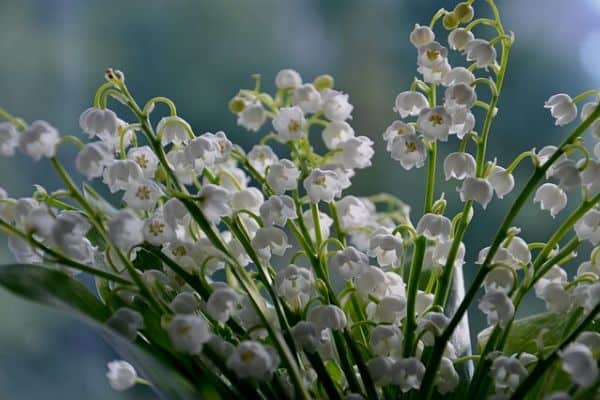 4. Bellflower (Campanula)
Bellflowers
are attractive, easy to grow perennials with beautiful blue or purple bell-shaped flowers.
There are over 300 different types of bellflowers that can range from small groundcovers to tall plants. [2]
They prefer full sun and grow best in areas with cool summer temperatures.
Bellflowers can be grown from seed or rhizomes.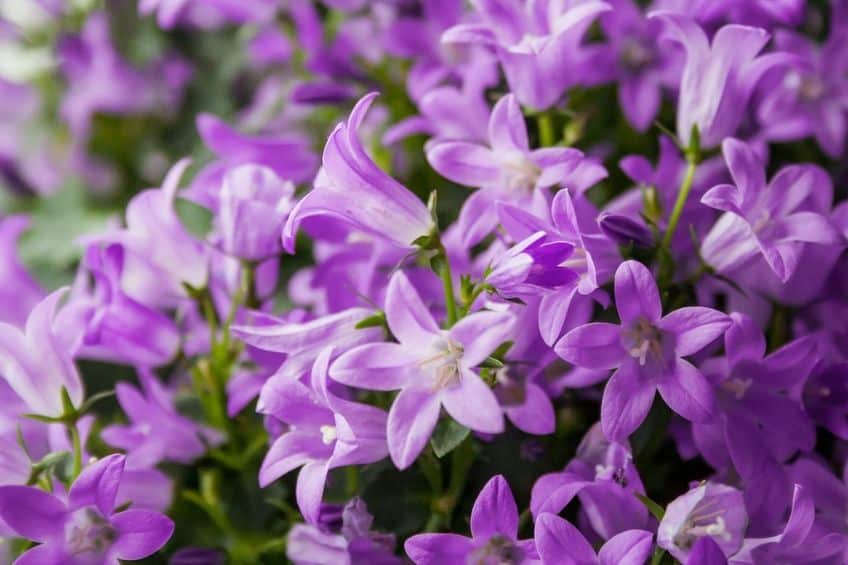 5. Foxglove (Digitalis purpurea)
Foxgloves
are tall perennials with tubular bell-shaped flowers along the stem.
The flowers can be purple, pink, yellow, white or red.
Foxgloves will grow in full sun or part shade, but in hot climates they'll need some afternoon shade.
Foxgloves self-seed easily so you can trim off the dead flower spikes if you don't want extra plants growing in your garden.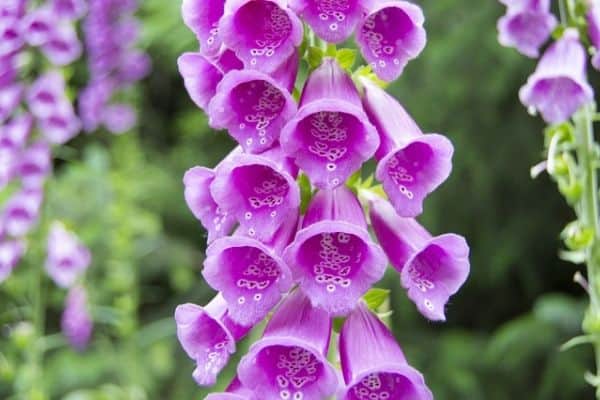 6. Canterbury Bell Flower (Campanula medium)
Canterbury bells are beautiful biennial flowers that can be purple, pink, blue or white.
They can reach 2 feet (60 cm) tall and grow well in partial shade or full sun.
Canterbury bell flowers are easy to grow from seed and they bloom from late spring until summer.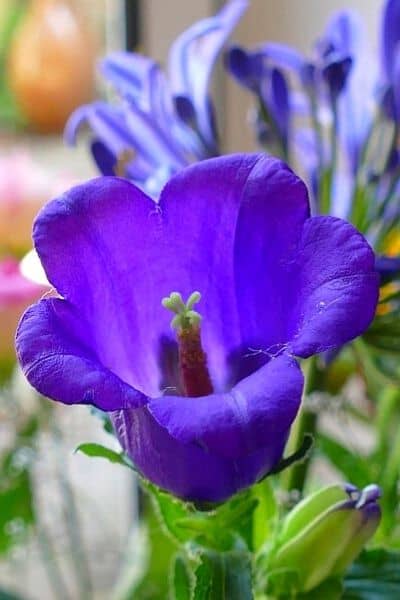 7. Snowdrops (Galanthus nivalis)
Snowdrops
are beautiful frost hardy white flowers that pop up in the garden in late winter or early spring.
They reach 3 to 6 inches in height and will flower even when there is snow on the ground.
The best time to plant snowdrop bulbs is in early fall but it can take 2 to 4 years for the plants to mature and bloom.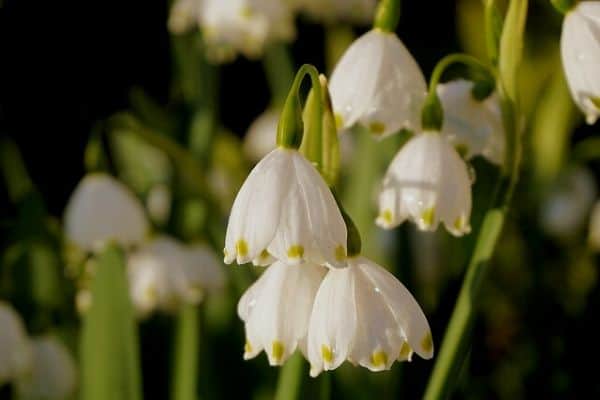 8. Snake Head Fritillary (Fritillaria meleagris)
Snake head fritillary flowers look similar to a snake's head when they first appear, and then open into a beautiful bell shape.
The flowers have an interesting checked pattern and they can be purple, burgundy or white in color.
Snake head fritillaries grow best in cool climates in a partially shaded spot.
RELATED: How To Grow Snake Head Fritillaries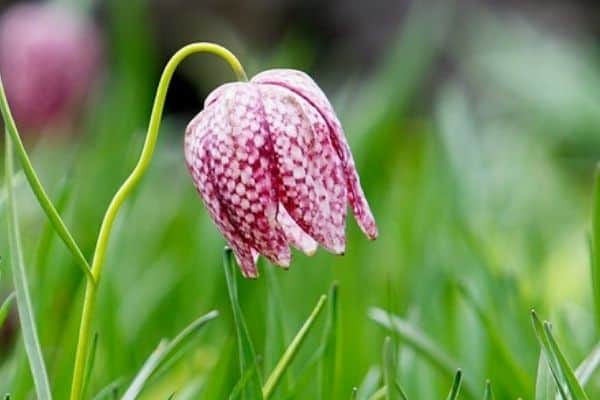 9. Bells of Ireland (Moluccella Laevis)
Bells of Ireland are stunning, tall flower plants with large green bell shaped blooms.
The flowers can grow up to 4 feet (120 cm) tall so they're ideal for planting at the back of garden borders.
Bells of Ireland flowers are easy to grow from seed and they're great for long lasting flower arrangements.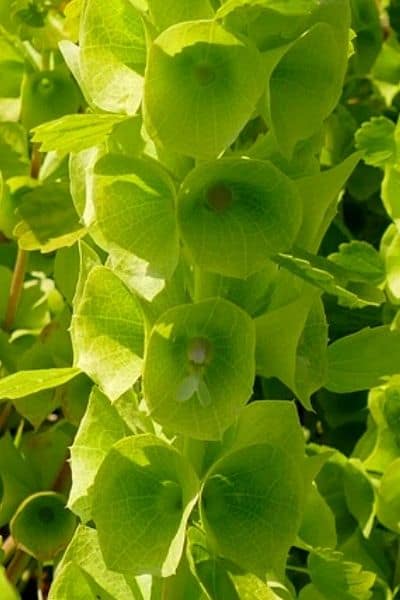 10. Angel's Trumpet (Brugmansia spp.)
Angel's Trumpet
is a fast growing shrub or small tree with an abundance of fragrant and brightly colored bell-shaped flowers.
They grow best in tropical regions but they can also be planted in a container and brought indoors over the winter months.
Angel's Trumpet is great for attracting hummingbirds to your backyard but they're toxic to pets and humans so it's recommended that you take precautions and wear gloves when working with these plants.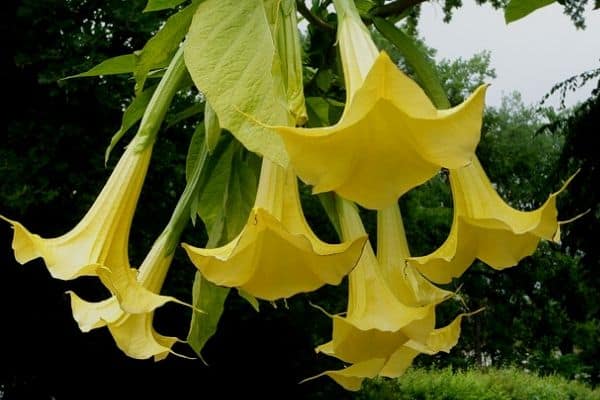 11. Fuschia
Fuchsia
is a tender perennial that can be grown as an annual in areas with cold, frosty winters.
They're great for hanging baskets and you can take them indoors when the weather starts to cool down.
Fuschia flowers hang down from the plant and can be pink, purple, red or white.
They grow best in partial shade and prefer cooler temperatures.
Regular deadheading and fertilizing helps to prolong the flowering period.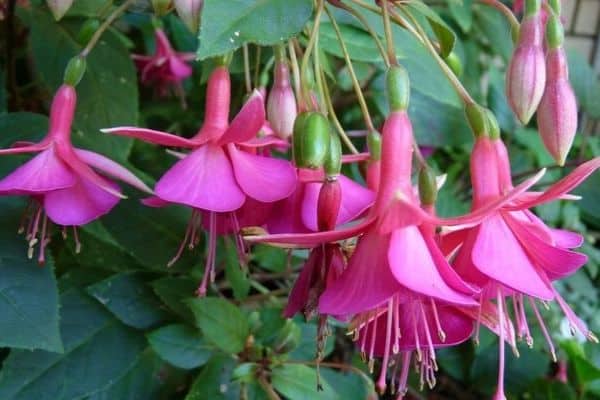 12. Mountain Laurel (Kalmia latifolia)
Mountain laurel, also called calico bush, is an attractive flowering shrub that produces lots of small white bell shaped flowers.
They grow best in partial shade and can reach 5 to 15 feet (1.5 to 4.5 metres) in height and width.
Mountain laurel bushes grow well in the same areas as azaleas and rhododendrons.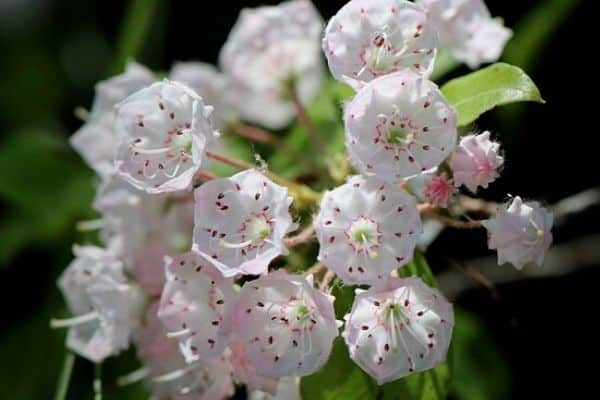 13. Penstemon
Penstemon are hardy perennial flowers that grow best in full sun.
There are many different varieties of penstemon that range in height from 6 inches (15 cm) to 5 feet (1.5 metres) tall.
Penstemon's bell shaped blooms come in a variety of colors and they're great for attracting butterflies and hummingbirds to the garden.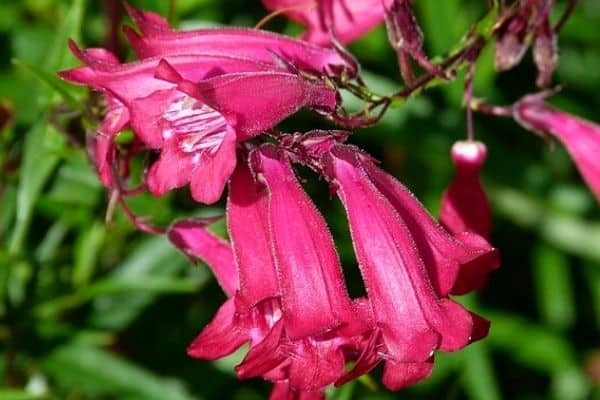 14. Grape Hyacinth (Muscari)
Grape hyacinths are gorgeous mini hyacinths that are ideal for growing in front of taller flowers.
They're hardy, drought tolerant and will come back year after year.
Grape hyacinth flowers are most commonly blue or purple but you can also find white and pink varieties.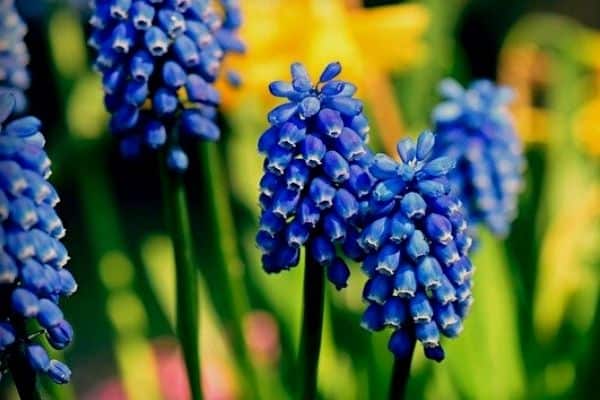 15. Daffodil (Narcissus pseudonarcissus)
Daffodils are bright, cheerful flowers that pop up in late winter or early spring.
The bulbs should be planted in fall and they look best planted in clumps in the garden.
There are many different types of daffodils to choose from in a range of colors including the standard yellow, orange, peach, white and bicolor.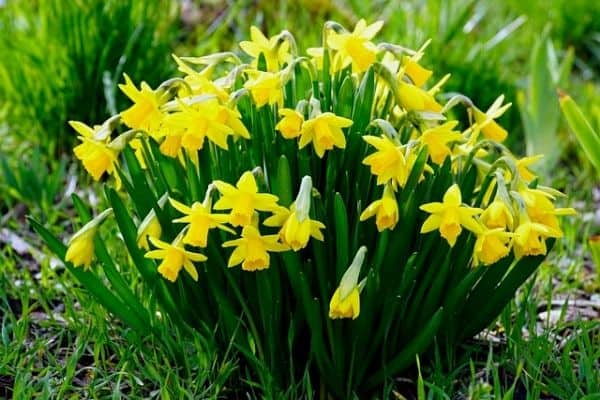 So there is my list of the best flowers shaped like bells.
These delicate and fragrant flowers would be excellent additions to your flower garden.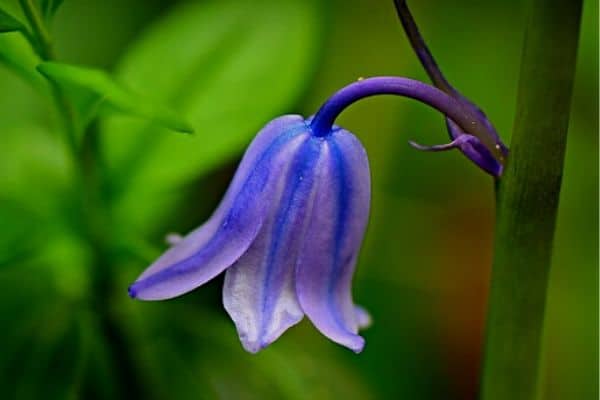 RELATED ARTICLES
Which of these bell shaped flowers do you like best? Let me know in the comments below.
Are you on Pinterest? I have boards dedicated to Flower Gardening and Garden Ideas that you may enjoy. You can also find me on Facebook.